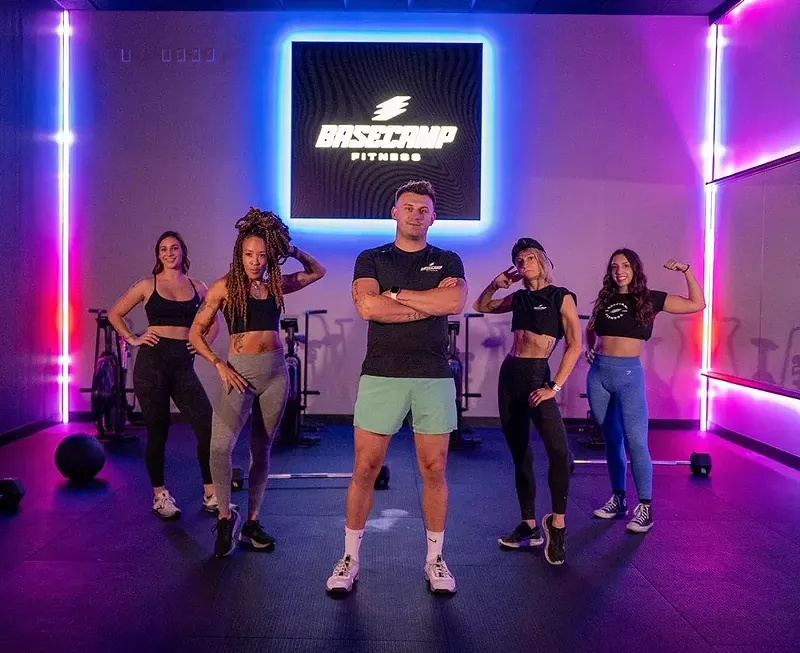 California-based fitness franchise Basecamp Fitness is expanding east, with plans to open its first Michigan location in metro Detroit later this year.
Founded 10 years ago by Nick Swinmurn, the founder of online shoe retailer Zappos, Basecamp Fitness (slogan: "Every diem, full carpe") is known for using a type of workout called high-intensity interval training, or HIIT, which alternates between short periods of anaerobic exercise with brief recovery periods.
At Basecamp Fitness, participants rotate every minute between an air bike and strength training with weights. The company claims its program packs a 50-minute workout into just 35.
Owner Deanna Paul says the chain is planning to open a 2,700-square-foot fitness studio into the former Shred415 space at 443 E. Big Beaver, Troy, with a target opening date by the spring.
Paul, who opened an Anytime Fitness franchise about three years ago, says she first heard about Basecamp Fitness when the chain was acquired by Anytime Fitness parent company Self Esteem Brands. She soon became interested in bringing the concept to Michigan.
"It's very high-energy, which I love," she says of the workout. "And I really like the aesthetic. The lighting package is like nothing I've ever seen before, and the music is very upbeat and powerful. So I think it really helps drive the workout."
The Basecamp Fitness studios are known for their colorful LED lights, which flash in sync to the music. "It's essentially like a workout in a nightclub, to be honest," she says.
Pauls says another feature of Basecamp Fitness is its sense of community. Each class can accommodate about 26 people, and instructors work closely with each participant to tailor a training regimen that works best for them.
"The energy is magnetic, everyone just really enjoys being there," she says.
With lots of people making new year's resolutions to get in shape, Paul says that this sense of team spirit can help people stick to their goals.
"Innately, as human beings, we like to be a part of a community," she says. "When you're just kind of walking in and you have your headphones on and your head down and you're not talking to anybody, you're a lot less likely to stay with that, whatever it is you're doing. But if you start to create and cultivate relationships with people, you start to get excited to go back, and then it really helps keep you involved."
She adds, "Even in my own gym, we've seen a lot of people stay on longer, because it becomes like a second home for them, and it becomes a happy place. They have acquired a lot of new friends there. Sometimes they've even found relationships in those spaces. It's a really cool phenomenon to see."
Paul also believes the combination of strength training and cardio appeals to both men and women, and points out that the air bike is low-impact, compared to pounding on a treadmill, which is good for people who have sustained injuries.
Basecamp Fitness has its own Apple Watch app, which tracks its users' health stats and offers rewards. "I think it's important that people track what's going on and kind of monitor that and get in touch and in tune with what's going on in their own body, not only from a health and wellness perspective, but to also see progress over time," Paul says. "And then if they use that consistently, there's a discount program in place, so they get money off of their membership just for consistency."
Paul says the high-intensity program should also be interesting to anyone who feels like they don't have a lot of free time, which is just about everyone.
"It kind of appeals to a lot of people who just want to get in and out, because you burn as many calories in the 35 minutes that you've put in a 60-minute class," she says. "So you're really getting that time back into your day, which is appealing to people because, you know, everybody's so busy these days."
The new location is offering presale memberships. More information is available at basecampfitness.com, by emailing [email protected], or calling 586-416-1800. You can also follow the Troy location on Instagram at @basecamptroy or Facebook at facebook.com/BasecampTroy.
Coming soon: Metro Times Daily newsletter. We'll send you a handful of interesting Detroit stories every morning. Subscribe now to not miss a thing.

Follow us: Google News | NewsBreak | Reddit | Instagram | Facebook | Twitter