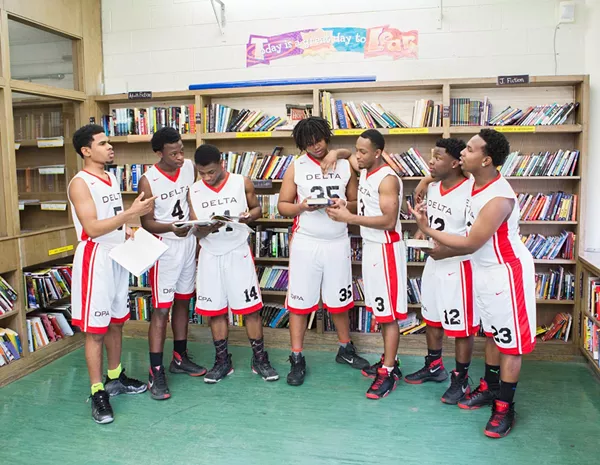 The
abrupt closure
of a Detroit charter school last week has forced students and parents to figure out new accommodations as the school year marches on.
On Wednesday, the board for Delta Preparatory Academy for Social Justice voted 4-1 to close the school with no explanation. The closure went into effect Monday.
The charter was managed by the non-profit Equity Education, which is offering to take in all of the school's roughly 200 former students at one of two other schools they manage, Detroit Leadership Academy or Detroit Collegiate High School. About 35 percent of Delta Prep students enrolled at an Equity-managed school on Monday, Equity's Managing Director of Partnerships Tyler Neiss tells
Metro Times
.
But after a final football game on Friday and a farewell party that was originally intended to be the school's annual homecoming celebration, most Delta Prep students are now spread out across DPS and other charter schools, if they're enrolled at all. Equity confirmed that at least some former Delta Prep students are now enrolled at Ecorse, Redford, DPSCD, Michigan Collegiate, Caesar Chavez, DEPSA, Chandler Park, Covenant House East, and Farmington Harrison.
Both of Delta Prep's publicly listed phone numbers were disconnected as of Monday, and emails to multiple administrators either bounced back or went unanswered. The school hosted two enrollment fairs last Thursday and Friday with DPS and charter school representatives to help match students to new schools.
Former Delta Prep senior Latalya Williams says she started classes on Monday at DLA and is glad she made made the switch.
"I needed a school with some more structure, so I actually prefer DLA. It's more orderly," Williams says. "But the school is small, so I just don't think there's literally room here for the 9th and 10th graders."
But some parents — like Kelye King, whose daughter, Ajah Jenkins, was a senior at Delta Prep and a member of the National Honor Society — are hesitant to hand their children over to an Equity school.
"I just want my daughter to have more than one option," says King, who enrolled her daughter at DLA, but is encouraging her to consider the Detroit Edison Academy charter school. "For a lot of us parents it's like, do we want to trust [Equity] again?"
"I just hope and pray that this is a good move for those babies," she says.
Detroit Leadership Academy did not return phone calls requesting comment on accommodations for transitioning students.
The July 2018 partnership agreement between Delta Prep, the Michigan Department of Education, the State School Reform Officer and the academy's authorizer, Ferris State University, shows the school was beset by myriad problems, including lower-than-expected enrollment. Earlier this year, the Michigan Department of Education identified the school as among the state's lowest-performing schools.
According to a budget resolution approved by the board on June 13th, Delta Prep expected to receive $2.2 million in state funding this year.
The support of a third party enrollment transition team can be reached by calling 844-642-4453 or via email at

[email protected]

to help families select a new school or help with any challenges they may experience in enrolling in a new school.
Will Feuer is a Metro Times fall editorial intern.

Stay on top of Detroit news and views. Sign up for our weekly issue newsletter delivered each Wednesday.