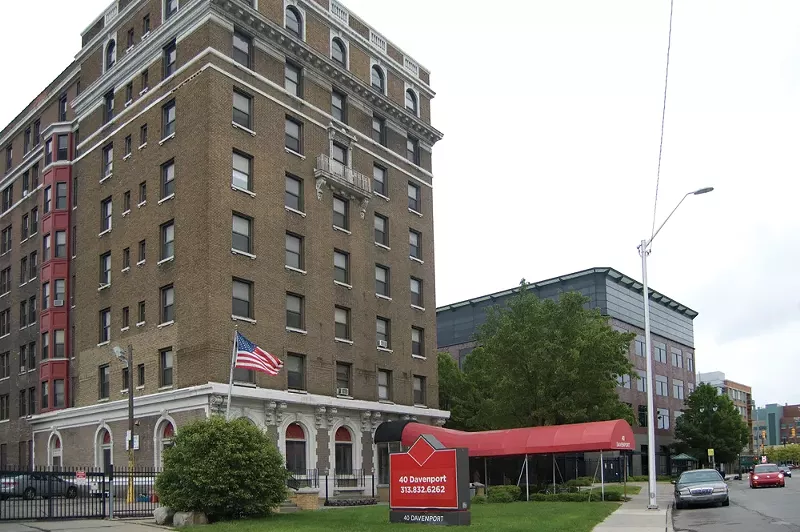 Another Midtown apartment building known to offer cheap units has fallen into the hands of big-name developers and is about to get a face — and rent — lift. But while Detroit officials say they've reached a first-of-its-kind deal with the new owners of 40 Davenport that would keep some units affordable in an effort to prevent displacement, residents in the building aren't sold on the plan.
Developer Broder & Sachse bought the stately 8-story building a stone's throw from Woodward's QLine tracks about a year ago and has planned a multi million dollar revamp that will require residents to leave for a year. Under the deal struck with the city, the developer has agreed to stabilize rent for returning households making less than a combined $40,000 per year. During the year-long remodeling of the more than 100-year-old structure, residents with qualifying incomes will get help securing temporary housing, with moving costs and any rent increase paid for by the developers.
In exchange, the city will cover about a half-million dollars of the $12 million redevelopment and support the project's request for a 12-year tax abatement. The developers have applied for an Obsolete Property Rehabilitation Act, or OPRA, abatement. The incentive is used to encourage the redevelopment
of blighted buildings that are often abandoned.

"This is a win for the residents and a win for the City," Arthur Jemison, director of Detroit's Housing & Revitalization department said in a release. "I am really pleased with the high standard [Broder & Sachse is] now setting for other developers in this community."

Broder & Sachse doesn't have a stellar track record when it comes to helping low-income residents stay in the buildings it flips. In 2014, the company was criticized for turning an expired affordable senior housing building in Capitol Park into a market-rate luxury apartment building called "The Albert." An arguably tone-deaf effort to market the new apartments also drew ire from
housing advocates and others.


Albert from Kate Levy on Vimeo.
Now, the company is hoping to chart a new course, and says it will create a "true mixed-income property" at the building it has dubbed "The Hamilton."

Said Broder & Sachse vice president Todd Sachse: "Developing a plan for sustained housing and support for residents of 40 Davenport has been our top priority."
Still, some residents aren't convinced.
"They're puttin' everybody out," said Dontrell Ford, who has lived in the building for six years. "It's the same thing going on all around the Downtown and Midtown area of Detroit."
This is the second time a building upgrade has forced Ford out of a home in one of the city's redeveloping areas. Before he moved to what was then known as the Milner Arms Apartments, he was given 90 days' notice to leave his apartment on W. Adams Avenue near Grand Circus Park, and never bothered trying to return.
Though, this time, the city and developers have promised to ease his transition and help him come back, Ford doesn't trust that will happen.
"They claim that but I haven't even received a call of what they're gonna do, they just basically said we have 60 days and we got to go," he said. "They're gonna raise the rent to the point when you can't afford to come back."
If he were to return, Ford and others living in households making less $40,000 per year would face a one-time five percent rent increase, and a no more than one percent-per-year increase thereafter. With average rent for a unit in the building running about $600, most qualifying tenants who return will be looking at a rent hike of about $30.

At least 44 households in the 93-unit building are believed to income qualify for the rent stabilization, according to the United Community Housing Coalition, which will help pair tenants with temporary homes. About sixty people live in the building.
Despite Ford's misgivings, UCHC executive director Ted Phillips says the plan is one of the best efforts yet by a developer in Detroit to preserve affordable housing at a building without any federal or state income restrictions.

"What's been committed is essentially a lifetime lease and a cap on their future rent and that's, to me, incredibly progressive," said Phillips.
He does concede that the year-long renovation may prevent some residents from returning. A 78-year-old man who lives in the building and asked not to be named said he doesn't think he'll come back, partly because it would require moving twice. He also says he's concerned because he hasn't been given any indication of where he may end up during the transition.
"They gotta get in touch with us and let us know where they're gonna relocate us," said the man, who told Metro Times that residents were first informed of the coming changes in mid-May. "They haven't done nothing."
As Broder & Sachse work to create what the city calls a "new model for responsible rehabilitation of an occupied building," housing advocates and others are hoping to see the city demand as much or more from development projects to come. They'd also like to see Detroit officials come up with a more cohesive plan to address a growing displacement problem.

"Even if you look at this in the most favorable light possible, it's still a one-off in light of a systemic crisis," said Peter Hammer, director of the Damon J. Keith Center for Civil Rights at the Wayne State University Law School. "I'd like to see a systemic approach in contrast with these sort of ad hoc deals that may or may not be what they purport to be."