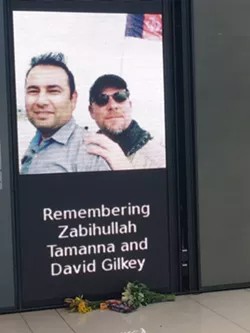 David P. Gilkey, 50, a former
Detroit Free Press
photojournalist and video editor, was killed in Afghanistan Sunday, while on an assignment for NPR.
According to NPR, where the award-winning journalist worked since 2007, Gilkey was killed alongside Afghan interpreter Zabihullah Tamanna, and an Afghan National Army solider.
"David and Zabihullah were on assignment for the network traveling with an Afghan army unit," the public radio station said in a statement. "They were in an armored Humvee driven by a soldier of the Afghan National Army. All three were killed after the Humvee was hit by rocket propelled grenades in an apparent ambush."
Two other NPR journalists who were also traveling with them were unharmed.
Gilkey's skills as a photographer — and desire to tell the human interest side of stories — earned him a bevy of awards. While at the
Free Press,
he was awarded a national Emmy in 2007 for a video series, "Band of Brothers," about Michigan Marines in Iraq. He was also named Michigan "Photographer of the Year" by the Michigan Press Photographers Association in 2004. While at NPR, he won the George Polk Award in 2010 and was named the 2011 Still Photograph of the Year by the White House News Photographers Association.
Getting not just a good picture but a
story
was a big part of Gilkey's work. As he told NPR in 2010 after covering Haiti's earthquake: "It's not just reporting. It's not just taking pictures. It's, 'Do those visuals, do the stories, do they change somebody's mind enough to take action?'"
In addition to be a talented journalist, Gilkey also sounds like a truly decent guy, as Robert Huschka, the
Free Press
executive editor, told the paper, "David was one of the most intense journalists I've ever met. He was committed to telling human stories — even when it meant putting his own life in harm's way. And, he was just a good guy."
This sentiment was repeated by many who took to Twitter to share reactions, tributes and praises of Gilkey. Below are just a few of them.
This sight greets visitors in the @NPR lobby today. Remember David Gilkey thru his images. https://t.co/hr3ITSt3vF pic.twitter.com/yEIojqbcD8

— melissa block (@NPRmelissablock) June 6, 2016
David Gilkey's photos were so hard to look at but you really couldn't look away. RIP pic.twitter.com/jfBpZBC7ho

— Amita Kelly (@_amita_) June 6, 2016
A funny Gilkey story: he went to Cuba on assignment and @kainazamaria told him repeatedly not to come back with a roll of images of old cars

— Gene Demby (@GeeDee215) June 5, 2016
David Gilkey was a #pubmedia treasure. His passion & humanity was evident through his work. Prayers to his family. https://t.co/i5Z7V7Zhbf

— Sonya Green (@SoNikkiG) June 6, 2016
Gilkey: "People need to see what the consequences are to an action like this, & it's the fact that people get killed"https://t.co/zWr1YRYNQF

— Anna Clark (@annaleighclark) June 5, 2016
I am staring and staring at David Gilkey's beautiful pictures. https://t.co/g4CcRrBjUz

— Linda Holmes (@nprmonkeysee) June 5, 2016
David Gilkey covered war and calamity without a zoom lens. He was close enough to feel it and make... https://t.co/gHvyUgsL5O via @NPR

— Paul Lane (@Trikarman) June 6, 2016
The attack marks first time in the 46-year history of NPR that one of its journalists has been killed on assignment https://t.co/O9utGJkDD9

— Victor Hernandez (@ToTheVictor) June 6, 2016
David Gilkey went above and beyond to deliver a glimpse of life during crises. See his work: https://t.co/L7bx0OTiZ1 pic.twitter.com/vQhAV10Xrl

— Chad Albritton (@Chad_Albritton) June 6, 2016
Fuck😩Devoted @NPR war zone journalist David Gilkey & Afghan translator Zabihullah Tamanna MURDERED by taliban rocket https://t.co/n5yJVtyTxG

— Dr. Grasshopper (@DrGrasshopper) June 6, 2016