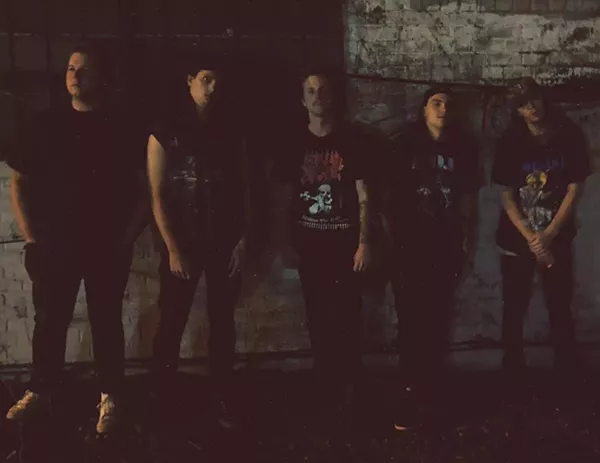 There is never a shortage of fun, peaceful, hippy-dippy events to experience on 4/20. But if you're looking for a bit more edge on Saturday, you can take a buzzsaw to your buzz with some up-and-coming metal bands at the Sanctuary in Hamtramck.
Local death metallers Breaking Wheel are celebrating the release of their latest LP,
Ceremonial Torture
, by throwing a party with fellow Detroit thrashers, Plague Years. Both bands are enjoying an uptick in worldwide exposure as of late, thanks in large part to shout outs from local legend Trevor Strnad, frontman for the Black Dahlia Murder.
Strnad and the Black Dahlia Murder got their start in 2001 playing to tiny crowds around Detroit. Eight albums and 18 years later and the Black Dahlia Murder sit upon the throne of underground death metal, having spread blast beats and guitar solos around the globe many times over. A lifelong nerd of the genre, Strnad now graces underground bands with his stamp of approval through his
"Obituarist" column
at
Metal Injection
. His reputation within the metal community can single-handedly spark enthusiasm for an underground band.
Two of those bands are right here in Strnad's hometown of Detroit.
"We didn't even know until a friend texted us that we were featured in his column," says Breaking Wheel frontman Kyle Mykietiuk. "[Strnad] seems like a really generous person who just wants to get people to come see these local bands. We're still small-time, so it's nice to get some recognition from someone who's been in metal for so long. We really appreciate him doing that."
Breaking Wheel's new album was released digitally
on Bandcamp
in February to positive reviews. Strnad's boost came on March 15, and now the band looks to keep its momentum going with the 4/20 release show and the possibility of releasing physical copies on the horizon.
Speaking of momentum, Plague Years parlayed a spot on Strnad's "Best of 2018" list for their
Unholy Infestation
EP into a deal with Entertainment One. The band announced on Facebook on April 5 that they had joined the media group's star-studded roster that includes a variety of acts from High on Fire to Snoop Dogg. The deal also set plans for a 2019 full-length release in motion.
"Without [Strnad] shouting us out, I firmly believe we wouldn't be where we are," says Plague Years guitarist Eric Lauder. "With him doing that, it got our music into the right ears and landed us the deal with Entertainment One. We're eternally grateful to the legend."
And believe it or not, having the record release party on 4/20 wasn't intentional.
"It just happened to be a weekend that worked for everyone," says Mykietiuk. "It's cool that it fell on 4/20. The metal and weed combo is good, man. I don't think you have to drink or do drugs to enjoy metal or get the most out of it. But it works for us."
Breaking Wheel will perform with Plague Years, Homewrecker, Detain and others at 7 p.m. on Saturday, April 20 at the Sanctuary in Hamtramck; sanctuarydetroit.com. Tickets are $12.


Mike Dionne is an editorial intern for
Metro Times
.
Get our top picks for the best events in Detroit every Thursday morning. Sign up for our events newsletter.