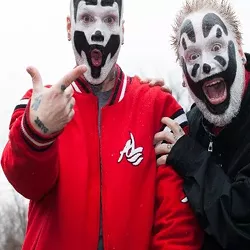 What's worse than being dropkicked by a
juggalo
?
Easy. Being the aging rap-clown that fails to land a hard-hitting dropkick on Limp Bizkit-frontman Fred Durst.
On Saturday at Rock Allegiance, a one-day rock festival in Camden, New Jersey, Insane Clown Posse's Shaggy 2 Dope ran on stage to attempt a hard-rock stunt that went terribly (and hilariously) wrong. Running out in a white tank, athletic shorts, and slides, Shaggy 2 Dope raises his hands in the air, beer gut in tow, before delivering a magnificently failed attempt at launching Fred Durst into the crowd.
Getting plenty of air but not enough oomph, Shaggy 2 Dope hardly manages a light tap on Durst's back that fails to make the vocalist even stagger step. Quickly grabbed by security which ends up in a scrappy dogpile side stage, both the crowd and Durst can be heard yelling "What a pussy, he couldn't even pull it off." before commanding the crowd to clap for the failed assailant. The music cues Steam's "Na Na Hey Hey Kiss Him Goodbye" as Shaggy 2 Dope is dragged off stage.
We've compiled the incident from three different vantage points (including slow-mo) for your viewing pleasure. Enjoy.
Get our top picks for the best events in Detroit every Thursday morning. Sign up for our events newsletter.