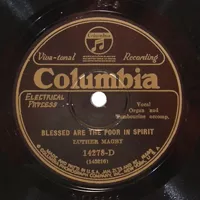 Let's have a listen to Luther Magby's transcendent 1927 recording "Blessed Are the Poor in Spirit." It's the only 78 made by the singer who who we can assume was part of the nascent tradition of evangelical singers inspired by the Pentecostal movement to preach and sing on streetcorners and in storefronts whose performances were caught on wax cylinder by fledgling record companies with a desire to reach newly developing niche and regional markets in the years before the Depression.
Magby was from South Carolina, and there is no reason to post this here today except that I'd say this is one of the most visionary American recordings made, and maybe you have never heard it. (Or maybe you have, and need to hear it again! Hah.)
It used to be there was only one known copy left of the original 78; I'm not sure if that is still true. A lot of 78s were of course melted down for re-use in World War II. (That's one of a million reasons that Harry Smith's 1952
Anthology of American Folk Music
remains such a Rosetta Stone to American music.)
At first it sounds like pure novelty, little more than an old man with marbles in his mouth singing from on top of a moving carousel. And the instrumental coda sounds like somebody tap-dancing along to a carousel pump organ. That backing is most likely in fact a harmonium. Library of Congress lists the record under "organ with tambourine accompaniment," which makes one wonder exactly how many titles are similarly classified.
But give it a few listens, if you can. The universe might just open itself up, that same one that the Voyager spacecrafts choogle out towards, containing the similarly sublime-doesn't-say-it "
Dark was the Night
" (which also was recorded for Columbia in 1927).
The title refers to a bit of scripture from Matthew: "Blessed are the poor in spirit, for theirs is the kingdom of heaven."
Who is this guy?
Wikipedia
tells us that "
Luther Martin Magby (June 5, 1896–November 10, 1966) was an American gospel singer who recorded two songs for Columbia Records in Atlanta, Georgia on November 11, 1927, in which he both sang and accompanied himself on harmonium and tambourine. He and his wife Mamie were born in South Carolina. At the time of the 1920 Census, they and their one-year-old son Luther C. were living on a farm in Greenville County, South Carolina; Luther's occupation was recorded as "Farmer, General Farm". He is recorded as having died in Hartley County, Texas; although his residence at the time is recorded as Dalhart, Texas, which is in Dallam County. In 2002, Luther Magby was performing in gospel shows at state fairs. The surname is uncommon, and that may have been the son, Luther C., already mentioned.
"