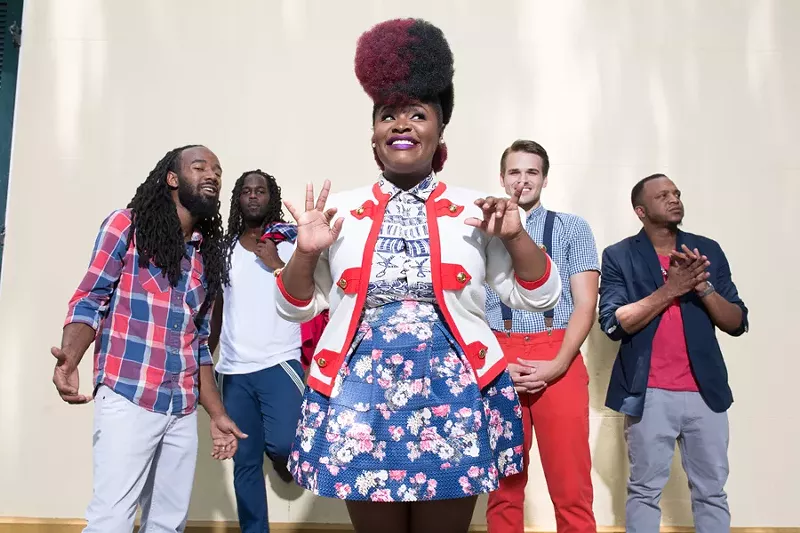 Sitting in the frigid, over air-conditioned back booth of El Club, waiting for Tank and the Bangas to finish their sound check, I realized I had the pleasure of enjoying my own, private show. The energy and genuine enjoyment expressed by the band, even when experiencing technical difficulties and a leaky roof watering their instruments, made me feel like I had walked into a little slice of heaven. The band's current tour has been drastically more successful than previous ones after winning NPR's Tiny Desk Contest and bringing almost the entire room to tears with their victory performance.
"We had people coming up to us crying after the show and we're like, 'What are you seeing that you're crying?'" Albert Allenbeck, the band's saxophone player, remembers. But it's not hard to understand why the band's live performances bring out such emotion in audiences. Tarriona "Tank" Ball's incomparable vocals, stunning theatrics, and addictive laughter is just as much of a presence during sound check in a hoodie and jeans as any superstar under the lights. The band seemed to have an effortless chemistry between them that speaks to countless hours of musical improvisation and time together in a tour van.
Norman Spence (bass and synth keys) has been performing with tank for almost ten years. "I met Tank and Josh at an open mic in New Orleans called Liberation Lounge," Spence remembers. From there, me and Josh joined the house band that became the "Black Star Bangas... eventually it was just Tank and the Bangas. And the rest was history. The band started gigging together and captivating audiences with their boundless energy.
However, their success didn't happen overnight. Allenbeck remembers a night a little over a year ago when they were playing a small venue, The Saturn Bar, in his home state of Alabama. "There were probably eight people in the audience, two of which were my parents, two of which were some crazy, diehard fans, and then the rest I think wandered in there by accident," Allenbeck says. "It was game seven of the world series, nobody cared. Then we go there in the spring of 2017 after winning Tiny Desk and it's sold out, 500 people in there. That's the difference, it's night and day."
The band's success certainly hasn't changed their down-to-earth dynamic between each other and with audiences. For instance, Spence had no hesitation screaming "Noooooo I just got something on my pants!" mid-interview. "The challenges of the road," Allenback adds. "There is something on his pants."
Clearly, the quick witted improvisation is not solely reserved for the band's stage performances. The freedom and improvisation that comes along with being in Tank and the Bangas is one of the things these musicians love about playing in the band. "It's more improvised than you would ever even imagine," Allenbeck admits. "There are so many human moments on our stage that it's scary — but no one ever notices it," Spence adds. "And if they do, they overlook it because they're so overwhelmed by all the other cool stuff that's happening."
What is this "cool stuff" that's happening? It's the best friend-esque call and response between Tank and Anjelika "Jelly" Joseph, the exuberant energy pouring out from all seven band members, and the theatrical and spoken-word elements interspersed between slick jazz scats and saxophone solos. This is most definitely not your average live performance and everyone should have the pleasure of seeing something this pure and amazing once in their lifetime.
If you were at El Club on Wednesday, Sept 20, you already know this. If not, you can at least catch a glimpse by viewing the band's Tiny Desk
submission
and
victory performances
.