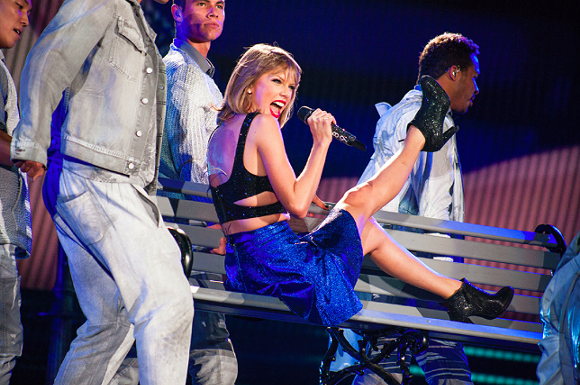 On Saturday, May 30, 2015, Taylor Swift brought her "
1989
Tour" to Ford Field in Detroit. Some notes from the show:
• Swift's fleet of "
1989
Tour" semi-trucks could be spotted outside Ford Field as early as Wednesday.
• Crazy Jesus megaphone guy, more commonly spotted warning young people about eternal damnation outside less-wholesome events like Movement Electronic Music Festival, made an appearance outside Ford Field. Swift's young fans — likely already Christians who don't use drugs — looked terrified. I wondered how much overlap Taylor Swift's audience had with Movement.
• Though I am no Lions fan, this was not my first time at Ford Field. The first was for the Super Bowl halftime show with the Rolling Stones in 2006, where the acoustics were terrible. The sound was much better Saturday night.
• I sat next to an older writer from the
Oakland Press
and a younger writer who said he was going to make a gif listicle "about all the feelings you feel at a Taylor Swift show" for
Entertainment Tonight
.
• The 25-year-old performer almost entirely abandoned her country persona for the show, instead skewing toward slick, synth-heavy pop, replete with costume changes, back-up dancers, and a catwalk.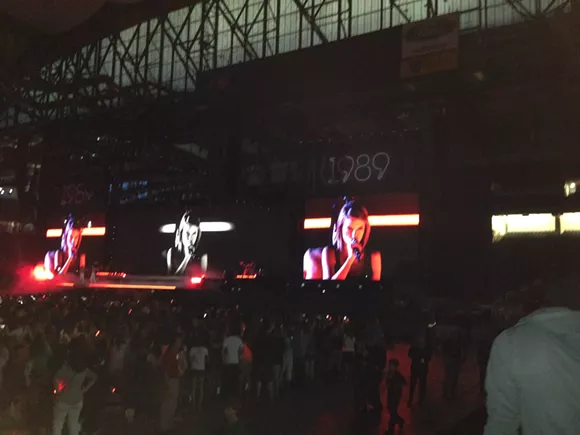 • During Swift's costume changes, a video played featuring figures like Lena Dunham, the Haim sisters, Demi Lovato, and others wearing all black against a white backdrop, talking about how amazing it is to be Taylor Swift's friend.
• I was digging a remixed version of "Trouble," aka "that Taylor Swift dubstep song." For some reason I texted my friend "Taylor_Swift_(chopped_and_screwed).rar."
• Perhaps the only thing more goth than double-fisting $10 Budweisers alone at a Taylor Swift concert is eating an entire plate of nachos alone at a Taylor Swift concert.
• Swift eventually did strap on a guitar for a few songs, including a rock version of "We Are Never Ever Getting Back Together" with a red, white, and black video backdrop that was almost a total rip-off (errr, homage?) of the White Stripes'
"Seven Nation Army"
video. I'm going to go ahead right now and predict Taylor Swift will eventually follow up with a "back to basics" country album produced by Jack White.
• At another point, Swift's backing band indulged in a "jam sesh" that sounded like Explosions in the Sky.
• Later, Swift played a piano that looked like it was designed by H. R. Giger. Not sure why —
Alien
came out in 1979, not 1989.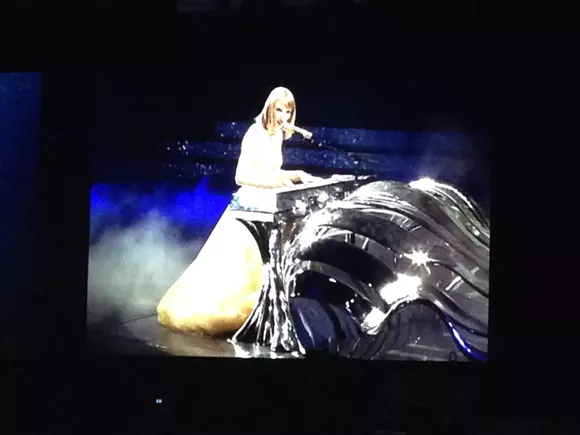 • The venue, Swift said, has been special to her ever since she scored an opportunity to sing the national anthem at a game when she was just 16. She has since brought her
Speak Now
and
Red
tours to the stadium.
• According to Swift, the sold-out show brought 51,000 fans to Ford Field. There is nothing like the sound of tens of thousands of girls screaming in unison.
• A mass exodus occurred during "Shake It Off." How did everyone know there would be no encore? Have they been tracking
Taylor Swift's setlist.fm
? I took the cue and tried to beat the rush, but that didn't stop me from getting stuck in a
"Garthlock"
-like mess, exacerbated by Saturday night's downpour.