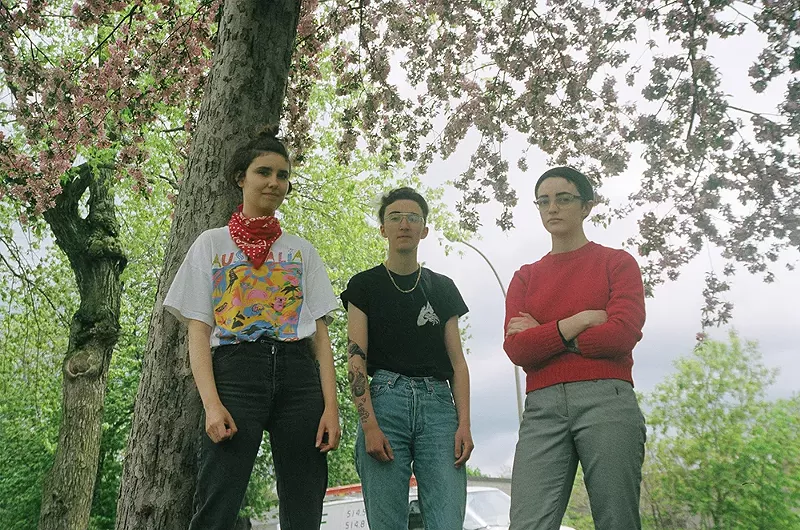 Canadian rock band Lonely Parade's forthcoming record, The Pits, is a quintessential coming-of-age album. The three singles preceding the album's release map out the peaks and valleys of young adulthood, landmarked by the fast food chains and parking lots of Peterborough, Ontario, the hometown where the band's members grew up.
The band — Charlotte Dempsey (bass), Augusta Veno (guitar and vocals), and Anwyn (Ani) Climenhage (drums) — say they all met around 15 years ago when their dads took them to the zoo. Years later, they began playing music together, mostly influenced by their parents' record collections. "We would just learn one song together and hang out," Climenhage says.
Luckily, they had some pretty cool parents. "I think the most covered song was 'Smells Like Teen Spirit,'" adds Dempsey.
Like most bands in their neophyte stages, Lonely Parade had some growing pains. "It was an incredibly awkward, long process [to get] to where we are now," says Climenhage. "Our earliest music sounds like children writing music."
Though the band has three former releases under its belt, the group admits that The Pits, due in September, is the first record they feel truly represents them. "To be honest, I really think it took us until this record to find our sound," says Climenhage.
The record bleeds with the angst that comes from feeling trapped in a small town that you have long outgrown. "We'd been in Peterborough for 15 years, and were looking for new experiences," says Dempsey. (The band is now based in Montreal.) "I personally had burned a lot of bridges with some formerly close friends, so I was looking for a fresh start."
The mundanity and apathy that comes from burning out of a social scene permeates the album, even with it's most fun track, "Night Cruise." The song is about driving around with a crush in a town where there's nothing to do but bounce from drive-thru to drive-thru, hoping someone will have the guts to make a first move — an all-too-familiar feeling for anyone who grew up in the suburbs or a city lacking in all-ages art and music venues.
In fact, The Pits covers most all of the rites of passage of growing up: being bored, falling in love, falling out of love, thinking about death, not liking your new roommate, grilled cheese dinners, Tinder romances, etc. In the band's latest single, "Not Nice," Veno sings, "I'm wondering now if you should've swiped left/ You're the flakiest person I've ever met," putting the frustrations of millions of her contemporaries into words.
Although The Pits could be mistaken as a teen angst album at face value, the band tackles topics like mental illness and manipulation with wisdom and honesty. "I'm So Tired," captures the anxiousness and self doubt that people who have seasonal depression experience in the dark of winter. But at the end of the day, Lonely Parade isn't trying to push an agenda or bemoan their misfortune with The Pits, but it hopes that listeners can find solidarity in its songs.
"I don't know if there's any lesson to be learned from this record," says Dempsey. "Moreso, I hope that it is something that people can relate to and hold onto when they're dealing with similar situations. Maybe the takeaway can be that things can change, things can become less bad."
Lonely Parade will perform with local acts Girl Fight and Emily Roll on Friday, July 20 at Trixie's Bar, 2656 Carpenter St., Hamtramck; Doors at 8 p.m.; Tickets are $6.
Get our top picks for the best events in Detroit every Thursday morning. Sign up for our events newsletter.