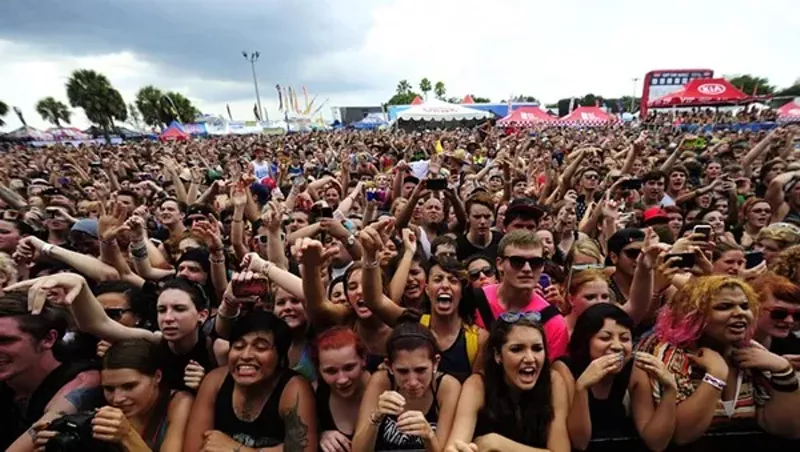 Last November, Vans Warped Tour founder and producer Kevin Lyman announced the 2018 traveling festival would be the last cross-country run for the longstanding "punk rock summer camp."
For more than two decades, the traveling music fest has featured pop punk, emo, and punk rock acts like Fall Out Boy, My Chemical Romance, and Blink 182. Katy Perry, Black Eyed Peas, No Doubt, and Eminem have also all performed on festival dates. Now, the final iteration will include a host of legendary acts, making this closing chapter something of a backwards glance at the Warped Tours that have gone before us.
The lineup includes acts like 3OH!3, Less than Jake, Simple Plan, Bowling for Soup, Four Years Strong, Reel Big Fish, Unearth, and Every Time I Die.
According to a press release, more special guests will be announced, but the otherwise full lineup is as follows:
Journeys Left Foot Stage
Journeys Right Foot Stage
Mutant Red Dawn Stage
Mutant White Lightning Stage
Owly.fm Stage
Full Sail Stage
Van's Warped Tour stops at Meadow Brook Amphitheatre in Rochester Hills on Friday, July 20. Doors will open at 11 a.m.
Tickets go on sale Thursday, March 8 at 10 a.m. for $45. A limited number of four-packs will be available for $120. They can be purchased at 313Presents.com, LiveNation.com, TicketMaster.com and the Fox Theatre and Little Caesars Arena box offices.
They're also available by calling 800-745-3000. Tickets can be purchased on the day of the festival for $55 at the Meadow Brook box office.