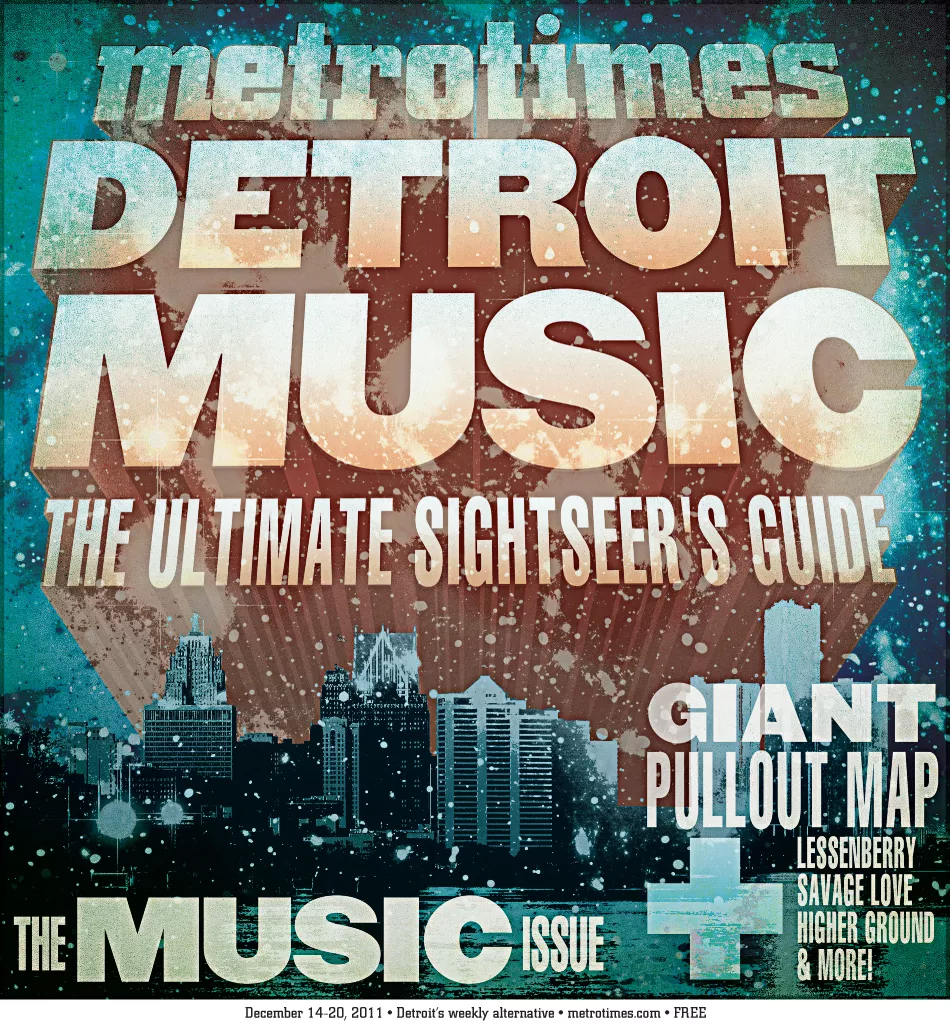 It seemed like a crazy idea when we started — crazier as we went along. Sort through the musical history of this swinging-rocking-funking-thrashing city and come up with, say, 100 key sites that have made Detroit what it is, spanning decades and genres, spanning the region from the river north, and from east to west, from iconic incidents to obscure, but telling, episodes. And here you have 100 map points, from the offices of Jerome Remick (publisher of such hits as 1906's "Dill Pickles Rag") to the seminal spots for garage rock and techno. And this is just the beginning of a sky's-the-limit digital project at metrotimes.com/detroitmusicmap that'll grow to ... we don't know how many sites. Send comments, suggestions and your annotated research for further sites to [email protected]
by W. Kim Heron, Brian Smith, Mike Hurtt, Michael Jackman, John Cohassey, Doug Coombe, Travis Wright, Jim Gallert, Rachelle Damico, Walter Wasacz, Brett Callwood, Tim Caldwell, Ricky Phillips and Adam Stanfel. Proofreading by Dennis Shea.
Design by Justin Rose. Photos by Doug Coombe unless noted otherwise.
Special assistance from Aaron Mondry, Rachelle Damico and Kelly Caldwell.
Apex Bar
7649 Oakland St., Detroit
All you need to know about the Apex Bar is John Lee Hooker and Little Sonny will be forever linked to the curved yellow brick walls that look exactly as they did when Hooker played his first gig there back in 1943. "I would never be on time," Hooker recalled of his Apex days. "I always would be late comin' in." The bartender, Willa, always had the same thing to say to him, he recalled. "Boom-boom — you late again.' Every night: 'Boom-boom — you late again.' I said 'Hmm, that's a song!" Some years later, he committed "Boom Boom" to wax on Vee-Jay Records. One wonders if Willa was still around to hear it. It became one of Hooker's signature tunes.
Baker's Keyboard Lounge
20510 Livernois Ave., Detroit
The oldest jazz club in the world (open since 1934), it became a jazz club when young Clarence Baker took over from his dad in 1939 and installed local pianist Pat Flowers. National acts (virtually all of them: Brubeck, Ella, Miles, Mulligan, Streisand, Metheny, etc., etc.) dominated from 1954 into the '80s. Seating little more than 100, it defined class, with a piano-shaped bar, a 7-foot Steinway (selected for the club by Art Tatum at the Steinway factory), intimate wall booths, etc. Records were cut there; singer Eddie Jefferson was fatally shot outside in 1979 (by an estranged former dancing partner). Clarence sold it in 1996 to John Colbert who revived it with a local emphasis, though it later faltered, was sold again this year and will hopefully rediscover its mojo. Meanwhile a documentary about the fabled club is in the works.
Florence Ballard
3767 W. Buena Vista, Detroit
In 1965, the newly minted Supremes — Florence Ballard, Mary Wilson and Diana Ross — all purchased homes, with Berry Gordy's assistance, on Buena Vista, an upwardly modest (by the Supremes' standards) neighborhood on Detroit's northwest side. Each cost about $30,000. This mock Tudor-moderne mini-manse, built in 1937, was the singer's home when Gordy famously booted her from the Supremes in 1967; it foreclosed by the early '70s. A divorce, a failed solo career, royalty lawsuit(s) against Motown, and three children later, the beautiful Ballard was tragically broke, applying for welfare. Around 1974 Ballard purchased a decidedly modest crib at 17701 Shaftsbury St., between Evergreen and the Southfield freeway. It was her last house; she died in 1976 at 32.
B-B Recording Studio
65 E. Alexandrine St., Detroit
Flick Records prexy Robert West selected disc jockey Bristoe Bryant's B-B Recording Studio to record the Falcons' "You're So Fine" in 1959. Coast-to-Coast musical multitasker Sax Kari, who was living in Detroit at the time, served as producer. The basement studio was so primitive that lead singer Joe Stubbs was placed in the bathroom for isolation and atmospheric echo. The result, with its clanging rhythm guitar and gospel-tinged vocals, has often been cited as the first soul record. Later that year, Bryant sold B-B's tape machine to Berry Gordy, who recorded many early Motown acts on it.
Renaldo "Obie" Benson
18461 San Juan St., Detroit
This tannish "Tudorbethan" near Curtis and Livernois belonged to the Four Tops' bass voice who, you'll recall, co-wrote the world-revolving masterpiece "What's Going On." Benson purchased this house after the Four Tops began hitting the charts with Holland-Dozier-Holland hits in the mid-'60s. Tops lead man Levi Stubbs lived around the corner at 18512 Santa Barbara.
Bert's Marketplace
2727 Russell St., Detroit
In operation for 24 years, it's the longest-running of jazz entrepreneur Bert Dearing's 10 or so clubs and halls going back to Bert's Black Horse Saloon in 1968. The Marketplace's Thursday night jam sessions have run continually for a decade (arguably sparking the city's jam session revival of recent years), and numerous local musicians (Larry Smith and more recently John Douglas come to mind) have had long stays. Among the Maretplace's predecessors, Bert's Place on Jefferson, had a legendary run from 1977 to 1987, featuring, as Dearing put it, "anybody that was in town," from Earl Van Dyke and fellow Funk Brothers to Marcus Belgrave, J.C. Heard to Lefty Edwards (they don't even have names like that anymore).
Blue Bird Inn
5021 Tireman St., Detroit
There'd been music at the club since the '30s, but in 1949 the owners went all-out and made it "the hippest modern jazz nightspot in Detroit during the city's bebop heyday." Thad Jones, Tommy Flanagan, Thad Jones, Barry Harris and Elvin Jones were eventually regulars (as was Joe Henderson much later). Charlie Parker dropped by to jam. Miles Davis played for a long stretch in 1953 while kicking heroin (and often returned later as a leader). The emphasis shifted to touring nationals in the late '50s; music ended in the '70s, with sporadic revivals. The building, long empty, still stands.
Belleville High School
501 W. Columbia, Belleville
Who knew that a quaint high school in this western Wayne County town with a mile of lake frontage and a cute downtown would find a critical place in pop culture history as an outpost of sonic afrofuturism? It's where techno pioneers Juan Atkins, Derrick May and Kevin Saunderson (the Belleville Three) went to school together and tinkered with electronic rhythms inspired by P-Funk, Chicago house, London glam and German sound engineering.
Bookies
870 W. McNichols Rd., Detroit
Bookies Club 870, a gay dinner bar on the edge of decomposing Highland Park, seemed an unlikely locale for ground zero of Detroit new wave, or, as it's claimed, Detroit's punk rock. But early in 1978, weekday shows by such Detroit bands as the Traitors and Coldcock kick-started the new scene. Then enter the Romantics, Sonic's Rendezvous Band, Destroy All Monsters and Wayne Kramer. National touring acts including the Dead Boys, Johnny Thunders & the Heartbreakers, the Police, Ultravox, the Damned, and countless others, helped to secure Bookies' place on the tour itinerary of punk rock royalists of the late '70s and early '80s. After a short resurgence in the late '80s, the club burned to the ground in 1989, leaving a parking lot in its space.
Brass Rail Bar
20 W. Adams St., Detroit
As Dexy's Midnight Runners sang: "Poor old Johnnie Ray!" Ray was arrested in Detroit — again — in December of 1959 for soliciting a Detroit vice squad cop for sex. After a trial, Ray was found not guilty, but the publicity likely ruined his career. The bar was known for attracting traveling musicians and gay men alike, and the joint's famous storefront — featuring an oversized carving of two men drinking over the doorway — likely had deeper significance to some of the clientele. The Brass Rail is gone, but you can still see the carving; it's indoors since 1987, at the Adair Bar, 8033 Saint Clair Hwy., Casco; 810-329-3056; we hear the original woodcarver's grandnieces come in regularly. (See our listing for Stone Burlesk Theatre.)
Joe Brazi's Basement
near McNichols, Detroit
Joe Brazil was a Ford machinist by day, saxophonist by night, and the basement of his three-bedroom ranch in the North End was the site of nonstop sessions for musicians before or after their regular gigs in the 1950s into the 1960s. Even youngsters would sit on the porch, hoping for acknowledgement from players coming or going. Names as big as John Coltrane stopped by (and Brazil played flute on one of Coltrane's 1965 Om sessions). Joe B's also functioned as an informal audition room; the late drummer Bert Myrick recalled discussing a possible tour with Coltrane during his 1960 Minor Key stop. A very lo-fi bootleg making the rounds captures Donald Towns (trumpet), Joe Brazil and Sonny Red (alto sax), Joe Henderson and Hank Mobley (tenor sax), Hugh Lawson (piano), Ernie Farrow (bass) and Roy Brooks (drums) on Sept. 25, 1958.
Brewster-Douglass Housing Projects
2700 St. Antoine St., Detroit
Someone shot a fabulous picture in the late '60s of the Supremes that you can find on the Web labeled as being in front of the Brewster Projects in 1967. Since the picture shows a high-rise behind them, it'd actually be in front of the Frederick Douglass Apartments of the Brewster-Douglass Housing Projects, where Diana Ross, Mary Wilson and Florence Ballard had been teens and formed their first group, the Primettes. And the girls had lived not in the towers, but the homes portion of the projects. The low-rises had been built and opened in 1938 as the nation's first housing project for blacks; and even when Supremes-to-be lived there 20-plus years later, public housing had yet to acquire the reality or the stigma of the slums that many were to become. As one writer described the Brewster homes, they were "clean, decent housing, established for lower middle-class hard-working families." Or as her father is quoted saying: "a place where large families could afford to live." (There were six young Rosses.) Nonetheless, there's nothing "lower middle-class" about the girls in the shot. Since then, some of the towers have been demolished, the low-rise homes all replaced by town houses (that look nothing like stereotypical public housing).
Caravan Gardens
Six Mile Road at East Davison Street, Detroit
Whether they played bluegrass, Western swing, honky-tonk or a forward-looking amalgamation of those styles, an astounding number of country musicians found work in Detroit in the early '50s, following the same hillbilly highway that brought so many Appalachians here for work. Caravan Gardens catered to the best of them, including Roy Hall, Skeets McDonald, Eddie Jackson and the York Brothers. Guitarist Joyce Songer worked as a hostess here when she wasn't waxing strikingly original records for Imperial, Coral and Fortune with her husband Earl and their band the Rocky Road Ramblers.
Cass Technical High School
2421 Second Ave., Detroit
Generations of great musicians have come from the school as far back as the swing era (J.C. Heard, Gerald Wilson and Wardell Gray), through bop (Donald Byrd, Howard McGhee, Lucky Thompson, Kenny Burrell, Paul Chambers), avant-garde (Alice McLeod, later Alice Coltrane), Motown (Diana Ross, Stevie Wonder's and Michael Jackson's collaborator Gregg Phillinganes), through later jazz (A. Spencer Barefield, Geri Allen, Regina Carter) and rock (Jack White) — and that's hardly an exhaustive list. The city board of education began diminishing the nationally recognized programs in some ways in the late '60s, which in retrospect seemed a prelude to abandonment and (eventual) leveling of the historic original building this year.
CCC Club,
southwest corner of Eight Mile and Brock
Eminem running bud and rising superstar rapper from D12 was shot to death here on the morning of April 11, 2006. The 32-year-old Proof (nee DeShaun Holton) was playing pool with Keith Bender Jr. when an argument broke out. Within minutes, shots were fired. Club bouncer Mario Etheridge (Bender's cousin) stepped in, plugged three shots into Proof's head and back, killing him. Proof had shot Bender and he died eight days later. CCC closed after the shooting. Proof is buried at Woodlawn Cemetery, in a crypt near Rosa Parks.
The Chessmate
17126 Livernois Ave., Detroit
Neil Young, Siegel Schwall Blues Band, Dave van Ronk, Jim and Jean, Tom Rush, James Cotton, the Blues Magoos, Joni and Chuck Mitchell, Johnny Otis Revue with Shuggie, the Hombres and more all played here. It was a legendary '60s folk and blues club, an anchor of the University of Detroit community. Its demise was most likely linked to rock's ascension: '60s college kids listened to folk; in the '70s it was rock. A great venue's day had passed.
Club Plantation, Club Congo, Club Sudan
550 E. Adams St., Detroit
The Norwood Hotel was a fine-entertainment spot starting in the early 1930s. For eight years, the basement Plantation club offered a chorus line, singers, dancers, comics and a tuxedo-clad emcee. Detroit violinist-bandleader Earl Walton regularly played for listeners and dancers; New York names like Fats Waller were imported. Legal difficulties around 1941 led to new management as Club Congo, and one of the decade's best Detroit house bands, including tenorists Wardell Gray and Teddy Edwards, trumpeter Howard McGhee and musical-director pianist Johnny Allen; Billie Holiday played a week in 1942, the year the Congo closed. Club Sudan followed in '46 with pianist Willie Anderson hosting jam sessions nightly. Under-21 players like Kenny Burrell and Barry Harris were regulars for the liquor-free (at least in theory) place. Like most Paradise Valley establishments, the hotel met its demise later in the '40s.
Cobb's Corner
4201 Cass Ave., Detroit
Now the site of the Spiral Collective, down the street from popular Avalon Bakery, in the late '70s, the corner of Cass and Willis was "the new jazz corner of the world." Detroiters like Marcus Belgrave and Griot Galaxy held forth; the Lyman Woodard Organization recorded live; poetry was read; art displayed; hipsters hung out, attracted to both the music and the charismatic proprietor Henry Normile, immortalized in a John Sinclair poem for "his personal creed: cocaine, pussy & lobster — in that order." Normile's shotgun assassination in his next-door apartment (never solved) took its toll on the scene, although the club continued along into the 1980s.
Cobo Arena
1 Washington Blvd., Detroit
Cobo Hall — strictly speaking, Cobo Arena — was one of the arenas that defined arena rock from the '60s on, giving the stage to everyone from the Grateful Dead to the Jacksons. And although Cobo's concert era ended in 2009 (with a Phish show) — to make way for an expansion plan that converts the arena into convention space — the echoes are there forever in LP grooves and digital-era data. Kiss recorded part of its breakthrough disc Alive! at Cobo Arena (those are proud Kiss fans at Cobo on the album's back cover, holding a handmade poster of their face-painted heroes). Bob Seger's Live Bullet, Kid Rock's Live Trucker, Journey's Captured, the Tragically Hip's Live Between Us and more were recorded entirely or partly at Cobo. Boston's J. Geils Band, which thought of Detroit as a second home, recorded two live discs and part of a third at Cobo. Madonna's music video Live — The Virgin Tour was caught at Cobo.
Conant Gardens
Seven Mile near Joseph Campau, Detroit
On Detroit's northeast side, you'll find Conant Gardens. It has two histories. One you'll find in the books, the other you won't. In 1863, anti-slavery societies developed the land now known as Conant Gardens. Shubael Conant was the founder and first president of the Detroit Anti-Slavery Society. J Dilla (see his house on this map), on the other hand, was the founder of a hip-hop sound that would come to define Detroit. The original hip-hop group Slum Village — Baatin, T3, Waajeed, Que D and Dilla — formed in Conant Gardens, as these guys grew up together in the neighborhood and all attended Pershing High. Others from the neighborhood include Frank 'n' Dank, Omar S and Amp Fiddler. In fact, Fiddler turned Dilla on to the MPC 2000, which Dilla used to craft beats for A Tribe Called Quest, Erykah Badu, Common, Ghostface and De La Soul. When you think of Detroit hip hop, you need to move from 8 Mile to Seven Mile for a tour of Conant Gardens.
Alice Cooper's farm
Brown Road near Jam Road, Auburn Hills (then Pontiac Township), about a mile from the Great Lakes Crossing Mall.
The Alice Cooper Group relocated here, (Alice was born in Royal Oak) from Phoenix, Ariz., in the late '60s. Cooper says the band was right at home living in Detroit and Love It to Death is a reflection of the city. They were living here when "(I'm) Eighteen" first hit anywhere in the world on Windsor's CKLW. "It was just a dumpy little farm," Cooper told Metro Times in 2002. "[Guitarist] Glen [Buxton] slept in the living room ... We had a barn out in the back and the barn is where we did all the rehearsing and all the writing for Love It to Death, eight or nine hours a day. We used to hang Budweiser cans from strings, and we spent so much time out there shooting the cans with BB guns; the guy who could split the Bud can in half with BBs and make the can fall on the ground would win." Lester Bangs was a frequent guest at the farm, as were other CREEM magazine staffers. Love It to Death inspired extreme negative reaction from parents, priests, rabbis and teachers the world over. Johnny Rotten says the record changed his life. Gary Dawson, a Pontiac rock 'n' roll fan, remembers visiting the Alice Cooper house as a teenager. "I had friends who lived on Jam Road off Brown. We'd go over to the Alice Cooper House and knock on the door. It was an old farmhouse that had the windows painted black. Usually no one answered. But one night, the band, without Alice, came to one of our Jam Road house parties ... they just wanted to party and hang out with the girls." Industrial development has changed the area — the old route and grade of the road — and very little is left of the original farm.
CREEM Magazine
3729 Cass Ave., Detroit
America's only rock 'n' roll magazine was founded in 1969 by Wayne State student Barry Kramer and Brit Tony Reray in a defeated building in Detroit's Cass Corridor. Early contributions from legendary writers such as Lester Bangs and Dave Marsh helped to capture the high-energy sound of Detroit's streets while simultaneously bringing a much-needed (and literate) sense of humor into rock 'n' roll. Think of CREEM as an art project gone awry, with all the beer-spurting frolic of a Stooges or Alice Cooper front-row circa early '70s — when rock 'n' roll could fuck you up. After a gnarly break-in, and the general down-the-toilet vibes of the Cass Corridor — and just after the arrival of Lester Bangs (recently fired by Rolling Stone) — CREEM yanked up stakes in 1971 for more spacious digs on 120 acres in the northern burbs of Walled Lake. CREEM rode out its glory days in Birmingham before its final move to L.A. in the '80s.
Detroit Institute of Arts
5200 Woodward, Detroit
A long history of involvement with jazz for this institution. which continues today. WJLB radio host Bill Randle's "Strictly Jive" concerts kicked it off in 1944 with then-Detroit vibraphonist Milt Jackson; Coleman Hawkins was among those to follow shortly. Barry Harris appeared with a big band in 1949 (with the late Harold McKinney organizing). In the '70s and '80s, the DIA had its own in-house "Jazz at the Institute" series, including a nationally syndicated radio program of the same name for a number years. And from 1979 to 1992, the Creative Arts Collective presented nearly 100 concerts, often bringing local and national avant-gardists together.
J Dilla
3103 E. Nevada St., Detroit
J Dilla's father Dewitt Yancey sits on the porch of 3103 Nevada. It was in the basement of this house — from about 1992 to 1997 — where Dilla set up a studio that gave birth to his revolutionary approach to hip-hop production. Slum Village, Common, Pete Rock, Q-Tip, D'Angelo, Jazzy Jeff and Erykah Badu are just some of the heavy hitters who've spent time there. DJ House Shoes laments, "I miss that basement. That basement is the birthplace of so many musical ideas. That was the center for the Detroit movement in hip hop."
Dixie Bell
Vernor Highway at Clark Street, Detroit
Remembered fondly by many stripes of music fans, this longstanding southwest Detroit club played host to bluegrass legend Jimmy Martin and the Osborne Brothers during their Detroit residency in the early 1950s, becoming the scene of many a riotous gig for the Royaltones a decade later when Dennis Coffey and Bob Babbitt — who played the trumpet and electric bass simultaneously — were in the band.
D-Town Records
3040 E. Grand Blvd., Detroit
Mike Hanks hated Berry Gordy with almost the same fervor he loved rhythm and blues. "They gonna find out one day," he was known to proclaim, "that he ain't the only one who tried to cut records!" Indeed, Hanks had been cutting records since the late '50s, and his projects on MAH's, Spin, Becco, Starmaker and countless other imprints proved it. In '62 Hanks founded D-Town Records, selecting this stately castle-like residence as his headquarters. Lee Rogers, the Fabulous Peps and Melvin Davis were just a few of the artists who benefited from Hanks' hard-edged productions.
Eastown Theatre
8041 Harper Ave., Detroit
Opened in 1931 as a 2,500-seat movie palace, in 1969 the Eastown took on the Grande Ballroom as Detroit's premiere counterculture concert venue. The vibe was gritty, the drugs harder and the music superb, recalls drummer Tino Gross of the Howling Diablos, who memorably describes it as a "hell pit of rock 'n' roll." While Howlin' Wolf, Pink Floyd, Muddy Waters, the Flamin' Groovies, Chuck Berry, Alice Cooper, Pink Floyd, Van Morrison and Captain Beefheart all enjoyed multi-night stands, Ted Nugent and the Amboy Dukes became the Eastown's de facto house band, recording their live album, Survival of the Fittest, there in 1970.
Eminem
5760 Winkler Mill, Rochester Hills
Back in 2003, Em forked over nearly $4.8 mil for this quant little charmer in Rochester Hills. The gated property, built in 1986 on a 6.6 acre plot, sports six beds and a whopping 9.5 poopers (it'd still be a hike to take a piss!) and nearly 15,000 square feet. There's an interior studio, an outdoor tennis and basketball court, swimming pool, lots of trees, grass and a pond. Still, his crib doesn't exactly adhere to the gaudy trappings one might expect from not only the world's richest rapper, but also the world's biggest pop star.
First Unitarian-Universalist Church
4605 Cass Ave., Detroit
The 1891 home built with a fortune made from Montana gold mines became a church in 1913, and then the parsonage for a new adjoining church building. Its musical significance: the site of a handful of concerts (MC5-Psychedelic Stooges double-bills in 1968, Negative Approach and Hüsker Dü in 1984), it was also the rented rehearsal space for Alice Cooper and his crew before heading into the studio to record 1971's Killer.
Flame Show Bar
4264 John R, Detroit
Roughly from 1950 to 1960, the Flame was the outlet for upscale black entertainment in Detroit, hosting giants like Billie Holiday and Joe Turner, launching locals like Jackie Wilson and LaVern Baker. Detroit legend Maurice King led the seven-piece band; Berry Gordy, whose sisters Gwen and Anna ran the photo concession, was a networking regular. "The whole corner was lit up by the Flame — they used to call it 'Little Las Vegas,'" band member and later Motownite Beans Bowles recalled. Now it's a parking garage.
Fortune Studio
3942 Third Ave., Detroit
Founded in 1947 by Jack and Dorothy "Devora" Brown, Fortune quickly developed into an aural microcosm of Detroit's' cultural diversity, recording every sound from gospel, blues and R&B to jazz, hillbilly, polka and even gypsy music. From Andre Williams to the Whirlwind Evangelists, Fortune's raw and unorthodox recording concepts established one of the most eccentric aesthetics in recorded music. Fortune's banner year was 1962, when Nathaniel Mayer's "Village of Love" and Nolan Strong's "Mind Over Matter" momentarily dented the national charts, paving the way for the decade's burgeoning independent label scene.
Fox Theatre
2211 Woodward Ave., Detroit
Erected in 1928 (designed by Detroit architect C. Howard Crane), it's still a gaudy head-trip of a theater. The first theater built with specifications accommodating the revolutionary new talkies, its grand opening had a 60-piece orchestra and a 50-voice choir, with much music to follow, including Cab Calloway, Nat King Cole, Elvis, the Motown Revues and numerous Motown acts. A worn-out sign of the times by the 1980s, it got a makeover rather than the wrecking ball; Smokey and the Miracles, and the Count Basie Orchestra performed for a grand 1988 reopening. Since then, it's hosted everyone from Tom Jones to DEVO.
Aretha Franklin
19346 Sorrento St., Detroit
Franklin moved back to Detroit from New York City into this suburban colonial (built in '49) in the early '60s, her toddlers and hustler-hubby-manager Ted White in tow. She was still signed to Columbia Records doing pop and jazz standards. The family lived here for a number of years in the '60s, until Aretha hit it huge on Atlantic, and neighbors complained of the noise from all-night parties and parked cars clogging sides of the street.
Rev. C.L. Franklin
7415 La Salle Blvd., Detroit
This five-pooper, 6,000-square-foot manor belonged to Aretha's pop, the hugely charismatic and revered Rev. C.L. Franklin, founder of Detroit's storied New Bethel Baptist Church. One night in June 1979, four men and two women attempted to rob the La Salle house with the owner in it and Franklin got shot in the knee and groin. His resulting coma lasted until his 1984 death.
Melvin Franklin
1160 Clairmount St., Detroit
The Temptations' bass singer, his vocal signature the killer "and the band played on" line from "Ball of Confusion — That's What the World is Today," was once shot in the head and leg while trying to stop some guy from stealing his car in Los Angeles. He was tough. He liked to be called the Black Batman too. The preacher's son died in 1995 after a number of seizures caused by his cortisone intake for arthritis. Before all that he lived in this tri-level vernacular, after having moved with his sister from Alabama, and in his grandmother's care, at 10 years old.
Garwood Mansion
foot of Keelson Dr., Detroit
Built in 1924 by designer, manufacturer and champion speedboat racer Gar Wood, this palatial 43-room manor was situated on an island (Keelson) on the Detroit River. The manse was large enough to have its own ballroom (with not only a grand piano but also the world's largest pipe organ) and an indoor swimming pool (in the basement). By the late '60s, countercultural youth had taken up residency there. The house band, Stonefront, were considered to have been one of the finest rock jam bands in the land. They hosted many a Grande Ballroom musician post-gig, partying and often jamming with such performers as Joe Cocker, Van Morrison, Johnny and Edgar Winter, Rick Derringer, Leon Russell and Rita Coolidge. The estate became a sort of utopian creative commune, and award-winning photojournalist John Collier documented the inhabitants and visitors to the manor. In the 1970s, the Outlaws Motorcycle Club held a bash in which they and guests trashed the building and toppled the grounds' figural statuary. It then remained abandoned for years, finally destroyed in a fire some attributed to a bolt of lightning. Garwood is finally gone — but now there's talk of an upcoming book of photographs by Collier, as well as a film documentary and audio recordings of Storefront. Until those projects pan out, you can still see footage of the grounds and interior in George Barry's humorous cult horror film Death Bed: The Bed that Eats, shot at Garwood in 1972.
Marvin Gaye
3067 Outer Drive, Detroit
In his book What's Going On, writer Ben Edmonds explains that this roomy ranch-style home — with its sunken living room and baby grand — housed Marvin Gaye during his spiritual bankruptcy and ensuing artistic renewal that gave up 1971's landmark What's Going On, much of which he conceived in this house. Note that this was Berry Gordy's home until he gave it as a gift to the his older sister (Marvin Gaye's wife Anna) and brother-in-law in 1967 and relocated to "Gordy Manor" on West Boston Boulevard. City directories show Gaye also had a home in the late '60s at 19315 Appoline Street.
The Gold Dollar
3129 Cass Ave., Detroit
Launch pad for the White Stripes, the Dirtbombs — as well as other sadly overlooked trailblazers such as Rocket 455 — and the whole "garage" ruckus that miraculously launched thousands of backward-gazing bash-and-din bands the world over, is this abandoned little dive near downtown, which operated as a music venue from 1996 to 2001. It was a classic moment in time when you actually had to be there to understand the magic. But if all those who claim to have been there actually were there, every night would've been sold out, which was hardly the case. Owner Neil Yee said the bar was the only place you can do a "show that'll draw six people where the owner will be happy about it." The place began as a lounge back in 1934 or so, had become, we're told, a drag bar by 1956, and was abandoned by 1990. Yee purchased the joint and turned it into an "experimental" rock bar. He had no idea it'd become world-famous, of course; in fact, he was sometimes too embarrassed to admit he even owned it. After Yee sold the Dollar (he says he just wanted to travel instead), the place became just another rotting and boxy Motor City structure defying gravity.
Berry Gordy
918 W. Boston Blvd., Detroit
Investigative writer Gerald Posner's 2002 Motown captures the Italian renaissance mansion that Gordy moved to when he left his Outer Drive home, giving to sister, Anna, and brother-in-law Marvin Gaye. "Originally built in the 1920s by an auto magnate at a cost of more than one million pre-Depression dollars, the imposing three-story stone and slate building looked more like a museum than a private home. Gordy loved showing off the marble-floored ballroom, the billiard and screening rooms, the sprawling gym, the English pub, the two-lane bowling alley, and the manicured Greek garden. ... The fifty-foot-long main room was dominated by a giant painting of Gordy dressed as Napoleon Bonaparte, done by a local Detroit artist. ... [I]t became the site of outrageous Motown parties over the years."
Grande Ballroom
8952 Grand River Ave., Detroit
After having his mind blown at San Francisco's Fillmore Ballroom in 1966, DJ Russ Gibb returned to the Motor City and began searching for a venue to hold psychedelic dance parties. A marvel of Spanish architecture with incredible acoustics, a spring-suspended wooden dance floor and a proscenium arched stage, the Grande hosted its first rock concert, featuring the MC5 and the Chosen Few, that October. Co-conspirator John Sinclair was instrumental in mixing national acts like the Who, Cream and Jimi Hendrix with potent locals like the Stooges, the Rationals and the Amboy Dukes.
Graystone Ballroom
4237 Woodward Ave., Detroit
With its sweeping marble staircases, wide balconies overlooking Woodward, indoor fountains, spring-mounted ballroom floor and tuxedoed bouncers — accommodating as many as 3,000 patrons — this was the grandest of the city's ballrooms. Co-owner Jean Goldkette's bands included stars Tommy and Jimmy Dorsey, Bix Beiderbecke, etc. McKinney's Cotton Pickers (also regulars) are ranked as one of the great bands of the '20s (though their fellow African-Americans were only allowed in to hear them on Monday nights). Berry Gordy bought the Graystone in 1962 for $125,000, used it for record hops, concerts and private Motown functions, but lost interest in the building, which deteriorated and fell to the wrecking ball in 1980.
Bill Haley
395 Florence Ave., Highland Park
Born July 6, 1925 as William John Clifton Haley in Highland Park, Haley would become one of the first rock 'n' roll stars, backed by his Comets, in the 1950s. His Highland Park childhood lasted a brief seven years; thanks to the deepening Great Depression, his Kentucky-born father, William Albert Haley, moved the family on to Pennsylvania. But proof of those Michigan roots remains, as a 1926 city directory shows the household of Wm. A. Haley, branch manager of Standard Oil Co., living at a private home on Florence Avenue, right off 12th Street — now a street of overgrown trees and burned-out buildings.
Harpo's Concert Theatre
14238 Harper Ave., Detroit
Around 2 a.m. on Jan. 14, 1996, 32-year-old Steve Krass, the charismatic frontman of popular Detroit punk band Feisty Cadavers, got shot in the head during a bungled robbery outside of this east side rock 'n' roll club. He was leaving the venue with his girlfriend and a friend in tow. High media coverage assisted in the capture of his murderers, who were, eventually, brought to justice. The juvenile killers were sentenced as adults thanks in part to an extensive petition that circulated on Krass' behalf by his friends and fans in the Detroit scene.
Tom "Storm" Hester's
Omaha Street, Detroit
Whether cutting records for D-Town, Ge-Ge or Wee-3 with lifelong friends Ronnie Abner and Joe Harris in the Fabulous Peps or waxing his own discs for Thelma, Tom "Storm" Hester's spirit was in many ways the essence of Motor City soul. Down-to-earth, kind and sophisticated, Hester was a sweetheart of a man and his recent passing has made his beloved Detroit a lonelier place. His family still occupies his longtime home; the free-standing screened-in party room he built for them in the backyard serves as a testament to one of the most stirring talents in Detroit soul.
Hideout Club
20542 Harper Ave., Harper Woods
In 1964, local college students Dave Leone and Punch Andrews transformed a Harper Woods VFW Hall into the first Hideout Club by hiring local garage band the Fugitives and hanging a sign outside the door. The original club soon spawned satellite locations in Southfield, Huntington Woods and Clawson. With lethal local combos like the Underdogs, the Pleasure Seekers (featuring a teenage Suzi Quatro), the Town Cryers and Bob Seger and the Last Heard, Leone and Andrews soon parlayed their venture into Hideout Records, one of the greatest garage labels of the '60s. Andrews continues to manage Seger to this day.
Hip Hop Shop
15736 W. Seven Mile Rd., Detroit
Forward-thinking clothing designer Maurice Malone opened the Hip Hop Shop on Seven Mile as a place to sell his highly sought-after jeans. But it was the Saturday open mics hosted by Proof from 1993 to 1997, that forever changed Detroit hip hop and the world of music. A few of the famous "graduates" of the Hip-Hop Shop include Eminem, Slum Village, Champtown, 5Ela and Phat Kat.
Brian Holland
19595 Renfrew St., Detroit
Motown's grossly underpaid Brian Holland, he of culture-altering songwriting trio Holland-Dozier-Holland, lived here with his wife Sharon during his 1967-68 split from Motown and later while heading up Invictus and Hot Wax record labels with Lamont Dozier and Brian's brother Eddie. This fetching, sunny, taupe brick house with a half-moon driveway in the Sherwood Forest subdivision near Seven Mile and Livernois was constructed in 1950.
Son House
Mount Hazel Cemetery, Lahser between Pickford and Clarita streets, Detroit
For his last 12 years, health and mind slipping, Son House came to live in a Second Avenue high-rise; he and his came to be close to family members here. Born in 1902, Eddie James House Jr. did 15 years at the notorious Parchman Farm Penitentiary in Mississippi for a juke joint killing. He played and recorded with the seminal Charlie Patton, influenced Muddy Waters and Robert Johnson, faded entirely from view a time or two, and was rediscovered in his 60s in the '60s. In 1999, 11 years after his death, the Detroit Blues Society put a fitting marker on his grave at Detroit's Mount Hazel Cemetery.
Jerome H. Remick & Co.
1250 Library St., Detroit
Before the phonograph and (even later) radio became home fixtures, hits meant sheet music, which boomed in the late 1800s along with pianos for middle-class parlors. Detroit lumberman-turned-publisher Jerome Remick and an early partner got in on the action for 1905's "In the Shade of the Old Apple Tree." His later Jerome H. Remick & Co. was, by some accounts, the largest music publisher in the world for a time, with numerous ragtime numbers and "pop" hits like "Baby Face" and "Bye Bye Blackbird." (George Gershwin dropped out of high school to work for the New York office as a "piano pounder" demonstrating songs.) Warner Bros. bought Remick out in 1929. Now the site of Vicente's Restaurant and loft apartments, the Library Street building was erected in 1907 for the company, which remained there until 1915.
Hank, Thad and Elvin Jones
129 Bagley St., Pontiac
Older brother Hank had long left town when the Jones family home became the site of weekly jam sessions from 1952 to 1955. This three-story brick house on the city's southeast side had a concert-style piano — which Hank and his sisters had practiced on for many years — that accommodated many of Detroit's jazz pianists, such as Tommy Flanagan, Roland Hanna and Bess Bonnier. During Elvin and Thad's tenure in saxophonist Billy Mitchell's house band at Detroit's Bluebird Inn (1952-1953), they spent Monday nights here jamming with band members and other musicians, such as trumpeter Clare Rockamore and baritone saxophonist Pepper Adams. Many neighbors came to hear the music; one recalled seeing Miles Davis at one of the sessions. Thad left Detroit to play with Count Basie in 1954. If there were any subsequent sessions, they would have ended with Elvin's departure for New York in 1955. The house was later torn down.
Eddie Kendricks
16531 Baylis St., Detroit
It's his creamy falsetto on the Tempts "Get Ready" and "Just My Imagination" and his own million-seller "Keep on Truckin" in 1975. Kendricks lived here in this 2,300-square-foot house, built in 1925, in pretty much the same northwest Detroit area, maybe a little southeast, as many of his Motown contemporaries did, nearly all of whom were due truckloads of money from Motown. Kendricks died in Alabama of lung cancer in 1992, a year after David Ruffin's fatal drug OD. He was 52.
Klein's Show Bar
8540 12th St., Detroit
A modern jazz showcase for nearly a decade. In late 1953, Klein's featured guitarist Kenny Burrell and the Four Sharps (pianist Harold McKinney, bassist Paul Chambers, drummer Hindall Butts); in 1954, trombonist Frank Rosolino — formerly with Kenton — performed. From 1956 to 1959, multi-instrumentalist Yusef Lateef led a house band and hosted the Monday night jams. National acts also appeared, including Monk, Miles (with Coltrane) and Sonny Stitt in 1959 alone. The club was sold in 1960, renamed Club 12, which for a short time had national acts like Monk. The club morphed into the Bambu Room, survived the 1967 riot, and was torn down for the Virginia Park Development. As Klein's declined, the Minor Key, on Dexter, took over as the heavy club in the area, a site for Coltrane's epochal Detroit appearances as a leader.
Gladys Knight
16860 La Salle St., Detroit
After Gladys Knight & the Pips signed to Motown, Knight lived here in the late '60s, early '70s, and her children attended Gesu Catholic Grade School near Six Mile and Livernois. The group became true superstars after switching to Buddah Records in 1973 and hitting with "Midnight Train to Georgia."
Koppin Theatre
528 Gratiot Ave., Detroit
Like its counterparts from Jacksonville, Fla., to New York, the Koppin was part of the TOBA — officially the Theater Owners Booking Association, unofficially Tough on Black Assess, the circuit for African-American artists in the vaudeville era. Ma Rainey, Ida Cox, Butterbean and Susie, the touring shows Shuffle Along (Noble Sissle and Eubie Blake) and Runnin' Wild (James P. Johnson) and countless others acts appeared 1914-1931. Bessie Smith's 1927 visit ended in chaos, with her entourage sneaking out of town to escape a jealous husband. The Koppin was done in by talkies and the Depression.
Bettye LaVette
9593 Delmar St., Detroit
"I've lived everywhere there is to live in Detroit," singer Bettye LaVette says with a laugh. But she spent many of her formative years in a house in the North End, the area roughly north of Grand Boulevard between Oakland and Hamtown. "There really is no North End," LaVette says, laughing again. "That is the east side. But since the east side was so notorious — we used to tell jokes," she laughs, "that the trees wouldn't even grow over there. If you lived between Woodward and the railroad tracks you'd say you lived on the north end." LaVette, who left Detroit at 16 in 1962, and basically "grew up on the road" after getting discovered by Johnnie Mae Matthews and releasing the hit "My Man — He's a Loving Man," still owns one place she lived at on the southeast corner of Trowbridge and Oakland. "Trowbridge used to be a thoroughfare that turned into Caniff that took you over to the Chrysler plant, so that street used to be bustling with activity; people who went to work with my sister and brother-in-law passing by — 'Hey, Bettye-Jo, how you doing?' People who knew me from school or singing. ... "If you came and stood on my back porch and looked southwest, counted five houses over on the next block, that's where Smokey Robinson lived. Smokey Robinson & the Miracles used to rehearse and meet at a school called the Maybe School, which was right up at the end of my street when I lived on Delmar." Born in Muskegon and Detroit-raised, the R&B singer says that families moved around a lot, but stayed close. "We never left that area. Lots of people lived up and down those streets. We moved to Bethune and Oakland and then to Melbourne and Oakland and then to Mount Vernon and Oakland. I lived right across the street from Smokey when I was 4. He was about, what, gosh, 10? ... Blacks especially were still in kind of that plantation mentality — store owners let you have credit so you didn't want to leave; we never had to leave the neighborhood. You had a black or a Jewish everything that you had downtown; department store, shoe store, women's or men's clothing store. And then on the North End there was the constant buzz of something like, 'Well, Jackie [Wilson] is home and he's going to be up at Oakland at 6 o'clock. And he'd be up on the corner singing."
Leland Baptist Church
2432 Finley St., Detroit
Sippie Wallace knew stardom twice, or maybe stardom and "stardom." When women blues singers were show biz queens in the 1920s, Chicago-based Wallace was up there with Bessie Smith and Ma Rainey, with guys like Louis Armstrong playing behind her. When aging blues singers were rediscovered in the 1960s, by-then Detroit-based Wallace returned to a smaller spotlight — not that she didn't tour extensively, duet with Bonnie Raitt and grab a blues Grammy in 1983. In between, she spent 40 years as pianist and organist for this Baptist Church, located at this address in the 1950s, now on Fenkell west of Lahser. Wallace died in Detroit in 1986, following a stroke while touring in Germany.
Lili's 21,
2930 Jacob St., Hamtramck
No Detroit rock club personified the irreverent, smartass "Boy Howdy" CREEM notion more than Lili's 21, a noisy den that made Detroit a beautiful place if you loved rock 'n' roll, and a bar that stole many a kid's youth. Lili Karwowski opened the bar as a beer-and-shot joint in 1975. Her son Art Lyzak sold her on the idea of booking original bands in summer of '79, and the bar became ground zero for the "Hamtramck sound" of combos such as the Mutants and the Reruns. Star drinkers included Iggy, the Clash and Bruce Springsteen, all of whom rubbed elbows with regulars. Lili's was shuttered in 2002, and sold in '05. It lives on in spirit, if not name, as the Painted Lady.
Lincoln Park High School
1701 Champaign Rd., Lincoln Park
Lincoln Park High was alma mater to the majority of the Motor City Five (MC5) in the early to mid-'60s, back when songs such as the Beach Boys' "Be True To Your School" were hitting. The band's second album, 1970's Back in the USA, showed non-ironic nods to Chuck Berry, Little Richard, and other rock heroes of the band members' youth, without the patented MC5 feedback. The Detroit-recorded album featured a leaner, cleaner sound, mostly due to rock journalist-turned-producer Jon Landau. Their song "High School" with its "rah-rah sis-boom-bah" choruses is an obvious paean to earlier, more innocent times, a tribute to Lincoln Park High School, which still exists much as it did back in their day. (Note the totemic phallus-shaped observatory still extant on the grounds).
Madonna
2036 Oklahoma Ave., Rochester Hills
Madonna lived in this four-bed, two-bath house with her parents and seven sibs. She moved out at 18 to attend the University of Michigan, which she dropped to pursue dancing in New York City, and the rest is, um, history. When her dad and stepmother moved out of this place in 2001, it sold for $270,000. A fire nearly took the suburban colonial in 2008. The former owners said they haven't been able to fix the home because the insurance company hasn't paid their claim. The insurance company believes the fire may have been arson. They failed to show up in court when neighbors complained about its condition as an eyesore. The house, built in 1969, was on the market in May 2011 for $48,600. Bank of America recently foreclosed on the place.
Majestic Theatre
4140 Woodward Ave., Detroit
Years before the Majestic complex became the center point for Detroit garage and indie rock, the storied Majestic Theatre was a movie house and venue for vaudeville acts. Built in 1915, the place has also been a church and a photo studio. In 1987, it began hosting both local and touring bands, and it remains one of the best places to watch live music in the city, alongside its in-complex venues the Majestic Café and the Magic Stick (where garage rock was famously and officially over the night Jack White punched out the Von Bondies' Jason Stollsteimer in December 2004.) In 2008, the Majestic was deservedly listed on the National Register of Historic Places.
MC5
1510 Hill St., Ann Arbor
Less a band party crash pad and more a political commune, the MC5 house in Ann Arbor was actually one of two houses, side by side, taken over by John Sinclair and his White Panther Party. The group moved out to A2 following constant harassment by the Detroit police, though Sinclair's presence meant that they weren't really left alone here either. Other residents included rockers the Up and countless artists and political activists. Nowadays, the house is inhabited by students, most of whom have no idea what happened. If only walls whispered, ...
Mellow/Universal/
Hot Wax Records
965 Dickerson St., Detroit
Mysteriously related to one another (Universal also gave the addresses 519 Lenox and 12942 E. Jefferson), Mellow, Universal and Hot Wax Records were some of the earliest labels to make records for — and by — the transplanted Southerners who were moving north for jobs on the assembly line. The York Brothers' "Hamtramck Mama," released in 1939, was the concern's biggest hit, setting the tawdry tone for their similarly themed "Highland Park Girl." Rye's Blue Yodelers' "On Down the Line" and Chick Fowler's "She Won't Turn Over for Me" followed suit and Detroit hillbilly music's double-entendre tradition was firmly established.
Joni Mitchell
92 W. Ferry St.
Joni Mitchell lived here, on the fifth floor, with her then-husband Chuck, who was from the Mitten, between 1965 and early 1967. The couple married quickly after meeting in a Toronto club in '65, played out as a duo, often at the Alcove near Wayne State, the Rathskeller, and at the Chessmate on Livernois. Buffy Sainte-Marie, Gordon Lightfoot and Tom Rush were among the couple's guests in the apartment. At least one song — "I Had a King" — on Mitchell's 1968 debut references her ex and the apartment, which Joni filled with thrift-store antiques, as well as a few on her 1970 Grammy-winning album, Clouds ("The Gallery" and "That Song About the Midway").
Motor Lounge
3515 Caniff, Hamtramck
Originally the fraternal Polish Falcons Hall, by the early '90s it became a hangout for punks and ska scenesters called the Falcon Club, and from 1996 to 2002 the building on Caniff in Hamtramck became Motor — arguably North America's top licensed and legal venue for techno, house, electro and ghetto-funk mayhem. International talent ruled while Hamtown neighbors fumed over the loss of parking spaces and after-hours pissing on their lawns.
Motown Records
2648 W. Grand Blvd., Detroit
Detroit's crowning musical jewel is a truly American success story that has rarely been duplicated in the history of pop music. With more No. 1 hits than any independent label — or any British Invasion band for that matter — could reasonably aspire to achieve, Motown dominated charts and sock-hop turntables. Starting with the most primitive of raw materials, Berry Gordy and a handful of Detroiters set the world on fire, becoming the standard in pop music for much of the '60s, inspiring generations of fans and fellow musicians. Automobiles aside, this Grand Boulevard address continues to define our city the world over.
Mutt Records
27316 Michigan Ave., Inkster
One has to wonder whether bail bondsman Nate Dore ever sprung someone from jail and then cut a record on them. It's possible; his studio was located in the back room of his bail bonds office. He was certainly willing to take chances on local artists like the Majestees, the Ruins, Little Leon and Jake Wade and the Soul Searchers, releasing some of the most interesting local sides of the late '60s. Mutt had several subsidiaries, including Desiree, Big Country and Country Caravan. The latter was home to Cass Corridor honky-tonker Gene Nitz's great "Running From the Law." He backed it with the Dore dedication "Bail Bondsmen."
New Bethel Church
8430 Linwood St., Detroit
A 300-car caravan marked the arrival of the Rev. C.L. Franklin and his congregation to their new home, a former theater. Some 17 years earlier, Franklin had been recruited from Buffalo to pastor the Detroit congregation, then in Paradise Valley. The growth of the church and their move to a new Paradise Valley building and then here mirrored Franklin's rise as a pastor, as a political force and civil rights leader, and as a recording artist (through his sermons distributed by Chess). His daughter Aretha, long a star to the congregation, was then three years into her tenure at Columbia Records. A Detroit News article last year charted the church's decline in recent years, "struggling to survive a dwindling population, shaky finances, and an onslaught of bloodshed, blight and despair." The congregation that once numbered 10,000 was reported as down to about 300.
New Music Society/World Stage
13525 Woodward Ave., Highland Park
Kenny Burrell and fellow Wayne State students organized their society in 1953, intending to, as the Michigan Chronicle put it "give free expression to jazz in Detroit where mostly young people gather at concerts." The group hooked up with other students who'd found this Highland Park address for theater-in-the-round. Donald Byrd's first disc as a leader was recorded at one of the concerts here. This groundbreaking DIY effort at self-determination was resurrected in spirit in the '80s with the New World Stage Café in the John Sinclair-helmed Jazz Center and with Donald Walden's Harmonie Park loft, the New World Stage.
Old Miami
3930 Cass Ave., Detroit
A scrappy Vietnam Veterans bar ("Miami" stands for "Missing in Action in Michigan") in the Cass Corridor, the Old Miami serves as a reminder of the unlikely environs that often embrace underground music in its infancy. Years before it reached visible saturation at the Gold Dollar or Magic Stick, the seeds of Detroit's future garage explosion were being planted here, as widely ignored bands like the Gories, the Covingtons and the 3-D Invisibles were welcomed with open arms.
Orchestra Hall, Paradise Theater, the MAX
3711 Woodward Ave., Detroit
Like the Fox, it's the work of architect C. Howard Crane, built in 1919 as a condition of employment for conductor Ossip Gabrilowitsch (Mark Twain's son-in-law, to digress). Financially battered in the Depression, the DSO bailed, leaving the hall to be reborn from 1941 to 1951 as the Paradise Theatre, a mecca for jazz and then-emerging R&B. Duke played there, Count, Ella and Billie too. While touring, Johnny Otis hosted a 1951 talent show there, discovering three future stars: Jackie Wilson, Little Willie John and the Royals (later to recruit Hank Ballard and evolve into the Midnighters). Eventually abandoned, then saved from demolition by activists, the hall again became the home of the DSO in 1989 and was expanded to become the MAX.
Packard Plant
1580 E. Grand Blvd., Detroit
The Albert Kahn-designed Packard Plant was a manufacturing center from 1903 to 1962, when Studebaker (which bought out Packard in 1955) ceased production. It wasn't until its third decade of decline in the 1990s that the hulking factory space would become an apt ground zero for Midwest rave culture (intersecting with scenes in the UK and Germany), led by crews Syst3m, Poor Boy and Richie Hawtin's Windsor-based acid empire.
Lawrence Payton
19464 Cheyenne St., Detroit
Once the Four Tops' money began to roll in, Lawrence Payton, who was also a songwriter, got this place near Vassar where it turns into Outer Drive. Payton was a Top for more than 40 years; he died in 1997 at his home in Southfield.
Perfecting Church
7616 E. Nevada St., Detroit
More than a church, here's a manifestation of the ascendance of the Winans family as a major force in the world of gospel. The Winans — four Detroit brothers discovered by Andrae Crouch — were pioneers in the '80s style of melding gospel and R&B. But besides pioneering contemporary gospel, the brothers were just the first wave for the family in this new territory, followed by their parents (Mom and Pop Winans), siblings (including the duo of BeBe & CeCe) and children (Winans Phase 2). And the brothers went on to establish solo careers. Perfecting Church is pastored by the Rev. Marvin Winans, of the original brothers' group, who has also recorded with the church choir. He was nominated for a Grammy award for Best Contemporary R&B Gospel in 2007.
Ray's Bar
Milwaukee at Brush, Detroit
Ray Taylor came to Detroit from Alabama in the early '50s, waxing bluesy hillbilly classics like "My Hamtramck Baby," "Connie Lou" and "Clockin' My Card" for Troy's Clix label, and opening Ray's Bar to showcase local musicians. "Ray Taylor was really a super, super man," says guitarist Ernie Brown. "I started playing in Ray's Bar with Doyle Starnes and Gene Nitz in the West Virginia Ramblers. The bar was at Brush and Milwaukee, on the southwest corner. When it closed at night we would just sit around and jam." Brown was playing with Taylor on the night that a man came in and stabbed him. "This guy cut him all to pieces and shortly thereafter I bought the bar from Ray. After I sold it they made a grocery store out of it."
Martha Reeves
16170 LaSalle St., Detroit
Public records show Reeves was living here in the late '60s and early '70s. It's still a comely place in a neighborhood that's fiercely standing tall against inner-city rot. Its 3,200-square-feet appear intimately scaled on the exterior, like most houses on the street, and Reeves' old abode can be had now for around $30k, which is about what it fetched in the mid- to late '60s.
Smokey Robinson
581 Belmont St., Detroit
William "Smokey" Robinson Jr. lived here as a pup, down the street from Diana Ross' childhood home, and near a very young Bettye LaVette. Smokey attended Northern High, at which time he formed the pre-Miracles combo, the Matadors. Built in 1913, this bungalow duplex is worthless now — it'd be yours for a song, and you could likely eBay it for fat profit to some Euro fanboy. T. Burton's recommended book Home in Detroit lists 2750 Sturtevant St., Apt. 101 as a later Robinson address, where he lived with then-wife Claudette Rogers.
Diana Ross
635 Belmont St., Detroit
Roll a few houses down from Smokey's and dig the old Ross family place — and hazily imagine a 12-year-old Diana out front playing hopscotch and humming Frankie Lymon's "Why Do Fools Fall in Love." The single-family home housed Ross in years leading up to her 14th birthday, at which point she moved with her folks to Brush Park's now-hauntingly abandoned Brewster-Douglass Housing Projects. The rest is history.
David Ruffin
17385 Parkside St., Detroit
The tempestuous, incredible-voiced singer had been two great solo albums — and a third rejected by Motown — out of the Temptations by the time he bought this English Tudor in fall 1970. The heat would sometimes be disconnected because Ruffin parted with money as quickly as he got it. He'd been evicted from his last place, a big house on Hazelwood, while out on tour, his belongings reportedly placed out in the front yard. In 1965 Ruffin was living at 3747 Gladstone for $75 a month with his girlfriend Genna. He's buried at Woodlawn Cemetery; section 3, lot 243, grave 3.
Rust Belt Studios
118 E. Seventh St., Royal Oak
The Royal Oak studio is second home to Kid Rock, and a bunch of framed records in various precious metals hanging there celebrate that fact. Producer-engineers Al Sutton, Eric Hoegemeyer and Marlon Young have worked their magic over the years on a list of clients that reads like a who's who of contemporary Detroit rock. As well as Kid Rock, there's the Hentchmen, the Detroit Cobras, Sponge, the Go, the Electric Six and Millions of Brazilians.
Sacred Sound Records
1587 Highland St., Detroit
Detroit's underground gospel scene reached its apex at the turn of the '60s in Dave Hamilton's storefront studio next to the Lodge Freeway. Hamilton, a funk brother of the first order, took his Motown success and parlayed it into his own TCB Productions, waxing many notable Northern Soul gems, but it was Hamilton's Sacred Sound imprint — and artists such as The Sensational Angelettes, Umble Faith and the Pure in Heart Travelers — that perfectly captured the collision of a profanely soulful Saturday night and the riotous holy ghost fire of a Sunday morning.
St. Andrew's Hall
31 E. Congress St., Detroit
Never a church (it was owned by the St. Andrew's Society), this space became one of the area's most important venues starting in 1980, subsequently hosting bands on the way up, such as New Order and R.E.M., back when alternative music really was a small- and medium-hall phenom (St. Andrew's holds 1,000 people in its main ballroom). To name a few other St. Andrew's acts: the Red Hot Chili Peppers, Soundgarden, Smashing Pumpkins, Nine Inch Nails, Nirvana and Pearl Jam. The smaller, grungier and more intimate space in the basement, the Shelter, hosts live acts and DJs. It was one of Eminem's first stages, and the namesake of the venue he plays at in 8 Mile.
The Stooges
2666 Packard, Ann Arbor
By all accounts, Iggy Pop, Asheton brothers and Dave Alexander were slobs, quite content to live dirty, thank you very much. As a result, Stooge Manor (aka Fun House), a cold and dilapidated farmhouse to begin with, was not the most luxurious of band houses. The Velvet Underground's Nico, once a Chanel model, embarking on a brief but passionate fling with the Igster, fled after a brief period in her beau's attic bedroom. No heat, aesthetically challenged, with no food in the fridge, the Stooges shaped themselves into the legends we now know while living here.
Stone Burlesk Theatre
2511 Woodward Ave., Detroit
Weepy crooner Johnnie Ray was known more for his onstage antics — banging on pianos and writhing and bawling on the ground — than for his offstage life. But in 1951, shortly before his career took off, he was arrested after soliciting a man for sex in the men's bathroom of the Stone. Then an unknown singer, Ray quietly pleaded guilty and — given a choice between 30 days in jail or a $25 fine — paid the fine. Initially, the incident wasn't reported in newspapers, but tabloids would tell the tale later, compromising his singing career. Perhaps the bust played into Ray's 1952 marriage to Marilyn Morrison, daughter of an L.A. club owner. Morrison had said of Ray's orientation, she'd "straighten it out." The couple divorced in 1954. (See our listing for the Brass Rail Bar.)
Strata Concert Gallery
46 Selden St., Detroit
Neither the concert gallery nor the Strata Records label lasted more than a few years in the early 1970s, but both had an outsized impact. Pianist Kenn Cox and trumpeter Charles Moore, also principals in the Contemporary Jazz Quintet, were key to the place that was serious about presenting artists as artists, including acts that few clubs would even consider (the Art Ensemble of Chicago, Ornette Coleman). The label's output included Lyman Woodard's revered underground classic Saturday Night Special.
Tamla Records
1718 Gladstone St., Detroit
After penning hits for Jackie Wilson and producing and leasing Smokey Robinson sides to diminishing returns, Berry Gordy figured he couldn't do any worse with his own label. Borrowing $800 from his family, he took Marv Johnson into United Sound and cut "Come to Me," releasing it on his own Tamla Records. Without the resources to take the record to the next level, Gordy agreed to lease it to United Artists. They liked it so much that they bought Johnson's contract for $25,000. Gordy was on his way.
Tera Shirma Studios
15305 Livernois Ave., Detroit
Destined to be one of the city's shortest-lived studio success stories, Tera Shirma was only active from 1966 to 1969. But from Freda Payne to Funkadelic to Frijid Pink, owner Ralph Terrana seemed to make every second count. Dennis Coffey and Mike Theodore brought him so much business that Terrana gave them office space, while Ralph's brother Russ brought his engineering expertise, learned at Golden World and Motown, to the proceedings. Though the '67 riots left the studio miraculously untouched, the same could not be said for the city's independent music scene, and after Isaac Hayes' '68 breakout album Hot Buttered Soul was mixed there, Terrana was forced to close its doors.
Transmat
1492 Gratiot Ave., Detroit
Begun in 1986, Transmat is techno original Derrick May's baby, a label releasing seminal tracks by Octave One, Model 500 and May's own Rythim is Rythim project. It's also historically significant for its location in Eastern Market, on a block dubbed "Techno Boulevard" after Juan Atkins' Metroplex, Kevin Saunderson's KMS and Transmat took root there. May is still here — one reason you might see Japanese tourists hanging out with cameras at the corner of Gratiot and Riopelle.
Tribe Records
81 Chandler, Detroit
Like Strata, Tribe was part of a '70s cultural self-determination movement. It didn't have a concert space, but Tribe was more than a record label, with an Afro-centric magazine of the same title. Saxophonist Wendell Harrison — the operation centered was based at his family home — was at the center of the enterprise along with the trombonist Phil Ranelin, trumpeter Marcus Belgrave, pianist Harold McKinney and others. The music has been championed in recent years by any number of DJs around the world, techno-innovator Carl Craig, BBC's Giles Petersen, various foreign labels that have reissued the Tribe discs, and the folks at Wax Poetics magazine, who gave Tribe the big historical treatment last year.
Trumbullplex
4204-4210 Trumbull St., Detroit
Originally organized in 1993 as a housing collective opposed to racism, sexism, homophobia and the oppression of poor people, the Trumbullplexers have always been on the vanguard, whether it was governing by consensus, urban agriculture and beekeeping, reclaiming devalued housing and more. In keeping with that progressive ethos, they've also been at the forefront with the musical programming — run out of the barnlike performance space behind their two charming, ungentrified Victorians. An all-ages venue for some of the more theatrical local acts — including Flint's Tunde Olaniran and Marco Polio & the New Vaccines — it also draws national acts ranging from punk (the Max Levine Ensemble, Star Fucking Hipsters) to out-there avant-folk (Chicago's Laughing Eye Weeping Eye), and shows no sign of stopping.
Twenty Grand
5020 14th St., Detroit
Opened by Leo and Bill Kabbush in 1953, the venue at 14th Street and Warren Avenue, which Berry Gordy lauded, had a 22-lane bowling alley and two second-floor venues — the Driftwood Lounge and the Terrace Garden. Rebuilt after a fire in 1958, the venue reopened with three new performance rooms. Adjacent to the bowling alley, the Fireside Lounge, featured jazz. The second-floor had two concert spaces: the Gold Room, accommodating a whopping 1,200 patrons, and the Twenty Grand's "flagship" performance room, The Driftwood Lounge. The Twenty Grand offered national acts like Arthur Prysock, Joe Tex, and Sam and Dave, and was a Motown music showplace for artists such as Marvin Gaye, the Miracles, the Four Tops, the Temptations, and the Supremes. It also billed such acts as Parliament and Funkadelic, who, according to Westbound Records' founder Armen Boladian, developed part of its stage act during a residency at the club. The Twenty Grand stayed open until the 1970s. The building has been torn down.
UAW Local 212
12101 Mack Ave., Detroit
Country fiddler and bandleader Casey Clark presented the Lazy Ranch Barn Dance every Saturday night here throughout the '50s, cutting records on the Boulevard and Sage and Sand labels, and giving many country musicians their first taste of notoriety. Jimmy Martin and the Osborne Brothers gained fame with the revue, as well as on Clark's weekly television show broadcast on CKLW. One night, Little Jimmy Dickens plucked steel guitarist Buddy Emmons right out of Clark's band and brought him to Nashville where he remains one of the most respected in all of country music.
Underground Resistance/
Submerge
3000 E. Grand Blvd., Detroit
Organized as an alternative business, creative production and socially militant enterprise in the late 1980s, Underground Resistance and Submerge are inextricably linked. The best way to tell them apart is to think of UR as a talent collective (with Mike Banks, Jeff Mills and Rob Hood its most notable contributors) and Submerge as a label and a place — from 1992-2000 at 2030 Grand River Ave. — and now at 3000 E. Grand Blvd. Banks remains the prime mover and anchor more than two decades later, the other two long gone from the Detroit scene.
United Sound
5840 Second Ave., Detroit
Opened in 1933 by Italian immigrant Jimmy Siracuse, and owned for years by soul producer Don Davis, to survey the ancient sign and solid brick architecture of United Sound is to bask in the very essence of Detroit music: Todd Rhodes' "Dance of the Redskins," John Lee Hooker's "Boogie Chillun,'" Jack Scott's "The Way I Walk," Marv Johnson's "Come to Me." Out-of-towners also favored the studio. From Miles Davis and Max Roach to Jimmy Work and the Rolling Stones, you'd be hard-pressed to find a genre-defining musician who didn't record at United Sound Systems. In short, so much music of so much gravity was captured within these walls that it simply boggles the mind.
The Village Teen Club
3929 Woodward Ave., Detroit
Opened in 1962, the Village was a "race-free zone" where young musicians both black and white exchanged ideas, trading and teaching one another the tricks of the show biz trade. As many as 15 acts a night were presented featuring musicians — both seasoned and amateur — from all over the city. Nolan Strong and Nathaniel Mayer were regulars, as was trombonist McKinley Jackson and a young Mitch Ryder, then known as Billy Lee, who fronted vocal trio the Fabulous Peps before changing his name and hitting pay dirt with the Detroit Wheels.
West End Hotel
515-21 S. West End Ave., Detroit
According to Jim Gallert and Lars Bjorn's Before Motown, this "was the major place for after-hours sessions on weekends in the late 1950s." House bandleaders included Kenny Burrell and Yusef Lateef. The late pianist Harold McKinney told the story of a night when Sonny Rollins came looking for Lateef in the wee hours, saxophonically confronting him with sprays of bluesy 64th and 128th notes to which Lateef responded with long-noted wails: "'Whooooo doooo doooo dooooooo. ... Hooooo dooo dooo dooo dooo dooo,' ... People were hollering and laughing, and I looked and Sonny Rollins had disappeared out the back door."
Jack White
1731 Seminole St., Detroit
Before relocating to Nashville in 2006, Jack White lived in this beautiful colonial in Indian Village, which boasts nearly 6,000 square feet on more than a half-acre. The mansion was designed in 1916 by architect C. Howard Crane, who, you'll note, also designed Detroit's Orchestra Hall, the D.I.A, and the Fillmore. The White Stripes album Get Behind Me Satan was recorded here and mixed in Memphis, and the master bedroom was hand-painted by White. The house sold in 2007 for $590,000. Before this, White lived at 1203 Ferdinand in southwest Detroit.
Otis Williams
17376 Wisconsin St., Detroit
The Tempts' baritone and co-founder, Otis "Big Daddy" Williams, lived here with his second wife Ann in the late '60s-early '70s.
Paul Williams
14th Str. and West Grand Boulevard, Detroit
By August 1973, Williams' career had skidded out. The Temptations best dancer had basically drunk himself from the group in 1971 — though the boys never ditched him. He owed back taxes, his wife kicked him out of their home (at 19734 Appoline St.), and he kept his mistress shacked up in a house he bought her over on La Salle. He fought with her the last night of his life and was found, early morning, dead with his gun and a hole in his head in an alley beside his car near the northeast corner of this intersection. The whole scene had barely explainable circumstances and some, including family members and former Temptation David Ruffin, thought it murder. Williams had a new solo single in the can ready for release. The song title? "Feel Like Givin' Up." Motown shelved it.
Jackie Wilson
16522 La Salle St., Detroit
Bettye LaVette tells us how Jackie Wilson — who, like many on this list, is one of America's greatest musical treasures — lived all over the North End with his family, and would sing gospel and blues out on Oakland, causing a crowd to gather. The swivel-hipped son of an alcoholic, who also boxed and had a juvenile record, went through a number of Detroit groups, including the Royals and the Dominoes, signed to Brunswick, became "Mr. Excitement," an influence on Elvis, wielded a trendsetting coif and sold millions of records. The singer, who tragically died broke at 50, had also been shot a couple times over the years, and three of his children from his first wife Freda died young, two violently. Wilson lived in this still well-kept English Tudor near Puritan. Both Martha Reeves and Gladys Knight lived on La Salle too.
Stevie Wonder
18074 Greenlawn St., Detroit
Berry Gordy got this house for then-"Little Stevie," his parents and siblings. Here he'd return after tours in the United States and abroad. When at home, the young multi-instrumentalist genius would be "down in my mama's basement ... you know, working on different things."