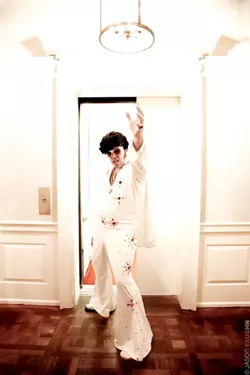 They've played for years, and they always seem to let us know they're playing approximately 20 hours before a gig. Which means that, outside of gigs at local festivals, it's hard to get the advance notice to write about the group in a weekly. But today, having heard they'll be opening for female-fronted punk group Choking Susan tomorrow night at the Cadieux Cafe, we can at least get the word out a day in advance.
As always, you can expect the band, fronted by an Elvis impersonator, to do at least one or two songs made famous by the King, but they also have a bunch of punk rock, including Misfits covers, that they resort to when the time is right. Tomorrow night seems like the perfect opportunity for the King to intone, "I want your skull."
Eastside Elvis will likely take the stage 9:30-10 p.m. as they open for Choking Susan at Cadieux Cafe, 4300 Cadieux Rd., Detroit; estimated cover $5.