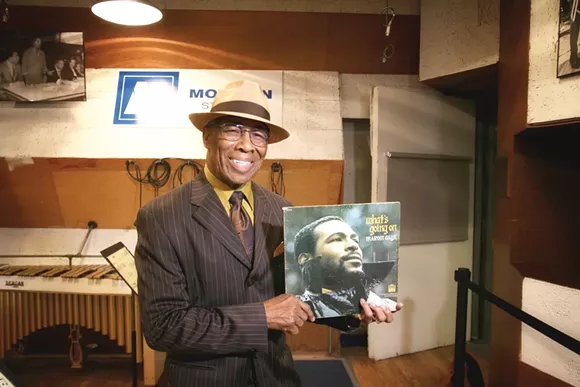 "What's Going On" is a hymn to man. A soulful, spiritual anthem that has stood the test of time. After all these years, the song — as critic Ben Edmonds once put it — still floats in its own atmosphere.
Forty-five years ago this week, Marvin Gaye's landmark album of the same name was released on Motown's Tamla label. Motown founder Berry Gordy initially hated the title track and refused to release it, calling it "the worst thing I've ever heard in my life." But when Gaye threatened to go on strike, Gordy relented. When the song finally hit the airwaves, it skyrocketed to the top of the charts.
In 2007, Metro Times understandably voted it No. 1 in our list of "100 Greatest Detroit Songs."
In the years leading up to the album's release, Gaye befriended Detroit Lions stars Mel Farr and Lem Barney, who, along with Bobby Rogers of the Miracles, were recruited to sing background on the title track.
Gaye, of course, died tragically at his father's hand in 1984. In the years since, Rogers, Farr, arranger David Van DePitte, and many of Motown's legendary house band, the Funk Brothers, have also died. But Barney is still with us, and recalls the making of an American classic.
We caught up with Barney recently at the Motown Museum to see what the song and the album mean to him 45 years after their release.
Metro Times: Lem Barney, what's goin' on?
Lem Barney: Hey, brother, like solid. Right on.
MT: Ha! Is that your line?
Barney: It is!
MT: Who's making that wild trilling sound at the start of the song?
Barney: That's me!
MT: So that's you and Mel Farr, Bobby Rogers from the Miracles, Elgie Stover, and Kenny Stover, you guys are the party at the start of the song on the album version. Were your lines scripted or did you guys just ad-lib 'em?
Barney: No, it wasn't scripted at all. Marv wanted to make it like a party, man. He told us to just go on and do it.
MT: I think it's Stover who kicks the song off, "Hey, what's happenin'!" Who's that at the end going, "Get the football! Get the football!"
Barney: That's me too!
MT: Next thing you know, you're gonna tell us you played the bass, the piano, and the drums!
Barney: [Takes a seat at the vintage drum kit in Studio A.] I used to play drums in high school.
MT: So 45 years later, Marvin and What's Going On are still relevant and still as poignant as ever. Does it still resonate with you?
Barney: Absolutely. Believe it or not, I listen to the album every day. In the mornings, I pray in my library, then ... I'll go down to my man cave and my workout room, and I'll play some Marvin down there. Then I'll come up and sit in my library and play my man again. So, you know, I've got him covered like a wide receiver!
[The opening notes of "What's Happening Brother" fill the air of Studio A].
Barney: Oh, man. That's strong. I work out to this!
MT: That's solid.
Barney: Right on!
MT: So here we are in Studio A, the heart of Motown Records. What's it like to be back in "the snakepit" again?
Barney: Man, it's just a joy to get back here after all these years. It really is.
MT: So when you get to Detroit in 1967, you're 21, Marvin's already a star, Motown's in its heyday, but the rebellion has just broken out on 12th Street, and the city is in crisis. What do you remember from that first visit? I read that you were actually driving to Detroit during the rebellion.
Barney: I got here the week after the riot, 1967, reporting to training camp out at Cranbrook. It was crazy across the world, man. You had the Vietnamese conflict, we had the Watts riot in Los Angeles, there were some things down in Birmingham [Alabama] that went crazy, and then the Detroit riot. It was just unbelievable, but I was here for a reason and that reason was for football. So even though Detroit was going through some tough times, I still had to stay focused.