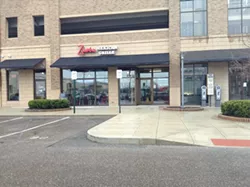 You know Detroit has come full circle when suburban businesses are now clinging to the city's coolness brand, as what appears to be the case for Zumba Mexican Grille in Royal Oak. To be transferred to new ownership, Zumba closes Sept. 30 and is to be renamed Detroit Taco Company by mid-October. The new format is expected to commence on its grand opening Nov. 1-2,
The Detroit News reports.
Known for its fast-casual Mexican concept a la Chipotle, the menu will remain mostly the same, but will be taken over by Jeffrey Omtvedt, who runs Rojo Mexican Bistro, formerly part of the Andiamo Restaurant Group. Zumba owner Tim Castañeda will stay on as a consultant for the new venture and at Rojo. Zumba is supposed to hold a farewell party Oct. 12, 4-10 p.m. The Detroit News reports that Omtvedt wants Detroit Taco Company to be "known for is its Mexican street corn, served on a stick and covered with chipotle cream, salt and Cotija cheese" (a Royal Oak take on
elote
?). Seems like a nice snack before catching a movie next door.
What's interesting to us about this shakeup is not so much the new ownership, but the choice of name change. Up until a few years ago, the suburbs was its own thing and wanted nothing to do with the bad rep its big city neighbor bore. But with the so-called Brooklynization of Detroit, more and more entrepreneurs are grabbing onto its new-found street cred. We saw it when Shinola rolled into town. We're seeing in the form of splashy NY Times articles about the city's renaissance. Now the 'burbs are finally coming around and jumping on the Detroit bandwagon (
also as evidenced by the Birmingham-to-Detroit expansion of Townhouse)
. It signals a shift in metro Detroit that's been in the works for a decade now, ever since Slows Bar-B-Q opened a million years ago back in 2005. Seems like Omtvedt has plenty of restaurant experience, and Castañeda, whose family has roots in the northern Mexican city of Monterrey, has the cultural ties needed to make this reformatted concept a success. We may have to give one those elotes a shot sometime soon and check in on their progress.