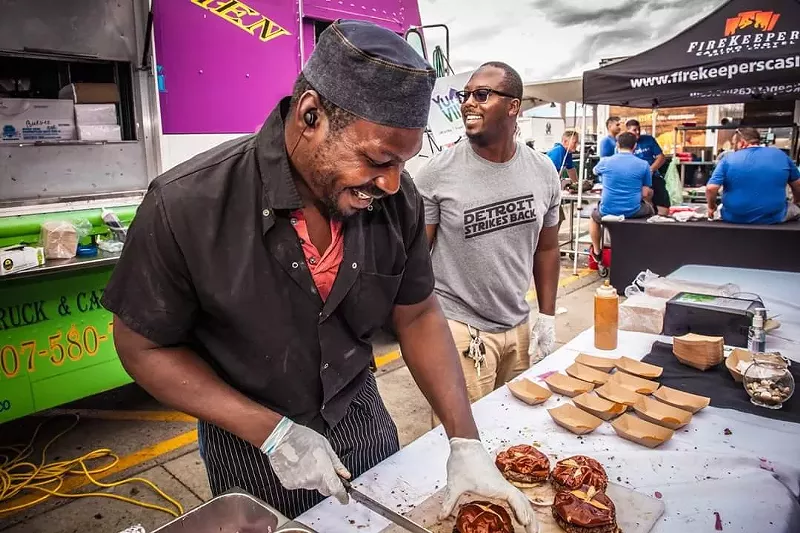 After launching over the summer, the YumVillage Food Truck established itself as a fixture at the Villages Biergarten in West Village, and is well-loved for its West African and Caribbean cuisine.
But there's much more than meets the eye. Owner Godwin Ihentuge's ever-evolving venture started out as a catering company several years ago before he began using his marketing background to develop it into a culinary incubator that helps young chefs develop, gain experience, and get their name out.
Ihentuge, a board member at the Restaurant Opportunity Center's COLORS restaurant, tells
Metro Times
that his role is similar to that of record labels in the music industry as he tries to advance the careers of young chefs who might need some assistance.
"What I am trying to do is fuel this social aspect," he says, adding that his goal is for chefs who work with him for several years to show that they're able to hold an equitable stake in a restaurant.
And all that ties in with the YumVillage food truck's operation. For example, one of Ihentuge's employees is Jeremy Morgan, who developed Morgan's Manly Marinade. The marinade is used in YumVillage's dishes and sold on the truck, so it gives Morgan experience that he may not find in other kitchens.
It also creates a new revenue stream for Morgan. That's important, Ihentuge tells us, as it's sometimes tough for upstart chefs to earn enough money while focusing on their craft. YumVillage pays a respectable $15 an hour.
"I know chefs who have to go work for Uber because they can't earn enough money in the kitchen anymore," Ihentuge says.
Up next for the first-generation Nigerian chef is the development of a brick and mortar establishment that he says will feel something like the popular Bucharest Grill restaurants, except with craft beer. Or imagine 8 Degrees Plato in Midtown, except with a good, affordable, fast, casual restaurant.
And, as always, there's more to the plans. Ihentuge also wants to develop a space that offers food trucks a commissary kitchen for food prep, parking, and services for maintaining the trucks. Such businesses exist in cities like New York and Miami, but there's nothing like it here, Ihentuge says.
He also envisions that coexisting with a biergarten and event space along the lines The Villages Biergarten.
There's no timeline in place for the next chapter as Ihentuge is still looking for the right spot. In the meantime, catch him on weekends at The Villages Biergarten through the end of October. Find The YumVillage Facebook page here.