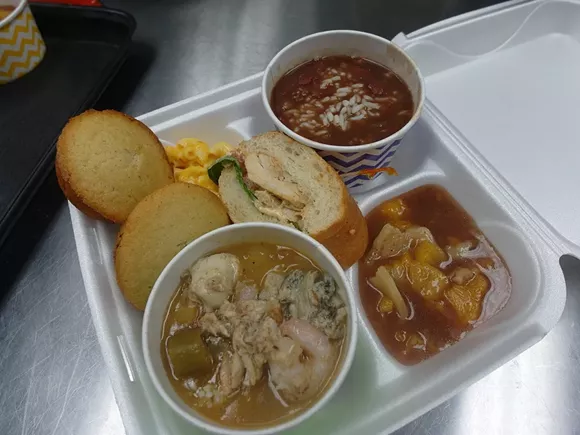 Detroiters have long been fans of Louisiana Creole Gumbo on the edge of Eastern Market. Now, a second location has opened on the city's northwest side and more growth is on the way for the eatery.
We stopped in to check out the new space last week during a grand opening party, with Detroit Mayor Mike Duggan helping to cut the Marti Gras-beaded ribbon. Co-owner Joseph Spencer also announced plans to launch two food trucks to expand the eatery even further.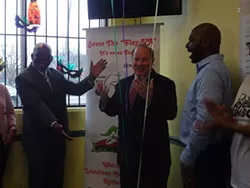 The expansion comes in part after the restaurant won both $100,000 from the New Economy Initiative's NEIdeas: Rewarding Ideas for Business Growth challenge and funding from Motor City Match.
The new spot is primarily for take-out (though there is some high-top seating available), but is brightly and somewhat modernly designed in a pale yellow and green color scheme and a mural of its signature gator mascot on one wall.
Among the specialties on the menu (first created by original founder Joseph Stafford in 1970 when he opened Luzianne Creole Gumbo in 1970), obviously, is the gumbo.
We dug into the premium seafood gumbo, which came with a generous helping of fresh-tasting extra-large sautéed shrimp, oysters, lump crab, and rice. The savory original red beans and rice, with nicely seasoned ground beef was also drool-worthy, as was a creamy serving of mac 'n cheese.
Duggan tells us he's been known to lunch at the Gratiot location with members of City Council, and recently sampled the catfish and gumbo when he came to check out the new outpost.
"I can say I had more than my share," Duggan says.
The mayor's endorsement of Louisiana Creole Gumbo is one issue we can agree on and we look forward to seeing more of its famous Cajun cuisine.
The new location is at 13505 W. Seven Mile. The original spot is at 2051 Gratiot Ave.