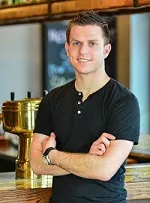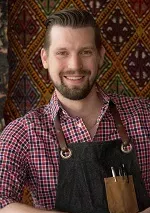 A meat-centric restaurant and cocktail bar is headed to Midtown next spring, to be launched by two Chicago chefs. First reported by the Chicago Tribune, chefs John Vermiglio and Josef Giacomino have been planning a restaurant in Detroit since they relocated to the Motor City in September.
Prior to defecting, Giacomino was executive chef at A10, a French-Italian inspired eatery in Chicago's Hyde Park neighborhood. He was also named to Zagat Chicago's 30 Under 30 culinary class earlier this year. Vermiglio, a metro Detroit native, worked as culinary director of Chef Matthias Merges' restaurant group that includes A10, Billy Sunday, and Yusho.
Not much has been released about the concept for the duo's Detroit restaurant, other than that it will be called Grey Ghost, an homage to the legend of a rum-running pirate on the Detroit River, and that the menu will focus on meat.
The two have already brought on Selden Standard bartender Will Lee as beverage director. Over the next several months the chefs and Lee will host a series of 5-course, pop-up dinners known as Ghost Tour to introduce Detroiters to the cuisine. The series launches Dec. 4 at Yemans Street in Hamtramck. Cost is $75 and tickets can be purchase on the pop-up venue's website.
Details about menu offerings and the specific location are expected to be released in the coming months, though we're told that the restaurant will be along the Brush Park border.
News of the new restaurant comes as chefs from elsewhere are increasingly taking interest in the restaurant boom in Detroit. Makes sense. Folks who've worked in kitchens in New York and the West Coast, who have later relocated here tell us that the industry in Detroit is far more inviting to young chefs wanting to make a name for themselves.