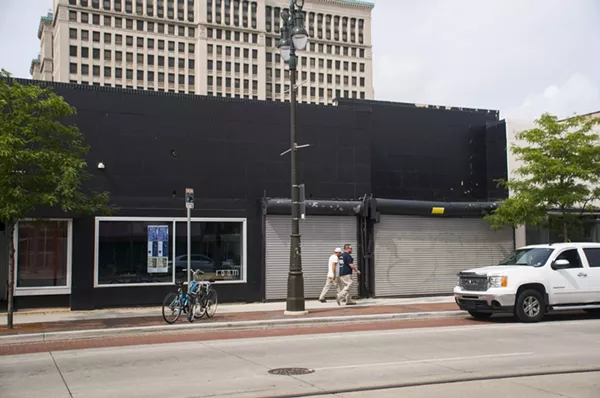 The owner of one of Detroit's favorite — and busiest — pizzerias will soon send pies out of a new restaurant in New Center.
Supino Pizzeria owner Dave Mancini tells
Metro Times
that he purchased a building on the same block on which
Selden Standard's owners
and
Baobab Fare
are planning their eateries, and it could be open as soon as mid-2019.
Though Mancini is still considering what to do with the menu and hasn't yet settled on a name, he says to expect the new store to "focus on pizza" and "essentially be Supino part two."
But he adds there will likely be a few pasta dishes and other items that diners won't find on the Eastern Market location's menu. That store opened on Russell Street 10 years ago and offers thin-crust pies that are the closest thing Detroit has to a NY-style slice. In 2016, Mancini opened Italian restaurant La Rondinella next door to Supino before closing it in early 2017 and converting the space into a dining and bar area for the latter.
"One of the beauties of this is I'll have the whole building to myself ... and what I'm hoping to do with it is build some efficiencies into the kitchen that I don't have now," he says.
The dining area will hold 50 to 60 seats while the bar — which will feature affordable and approachable Italian wines and beer — will have eight seats. Mancini says he envisions offering a happy hour at which someone working in one of New Center's office spaces could grab a plate of crostini and a glass of wine for $10 or less.
The basement kitchen will also be utilized for catering so Mancini can offer trays of lasagna and pasta to nearby businesses, which he says will help Supino boost its revenues without straying far from its focus.
"I'm always trying to create opportunities for people who work for me, pay them well ... but to do
those kind
of things you got to make some money, so I'm looking at some other ways to generate revenue," he says.
The new store could also help take some pressure off of the Eastern Market location, which has always been busy and seems to be getting busier as more people move downtown. The volume keeps Mancini working up to 60 hours per week at the restaurant.
"There are a lot more people downtown and there's more stuff going on, more events — it's been crazier than ever," he says.
Mancini describes the New Center location as the "perfect spot" with a mix of new and old Detroit neighbors. He's still working on plans with his architect and finishing up financing the project, so the earliest he expects to be open is summer 2019.
Regardless, he plans to "sweat and cry in the kitchen" at his new building, which he owns and will remain in for a long time to come.
"I'm not trying to buy a building to flip it," he says. "It's a retirement plan — get this thing up and running for 10 to 20 years, then I'll go off into the sunset."
So many restaurants, so little time. Find out the latest Detroit dining news with our weekly food newsletter delivered every Friday morning.