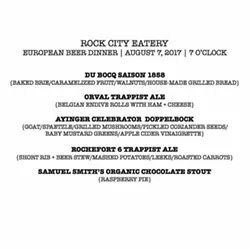 When Rock City Eatery made its move from Hamtramck to Midtown in September, owner Nik Sanches planned a bar program that featured high end European beers that would be a rarity in Detroit.
But when he opened, Michigander's general preference for IPAs and domestic beers over darker, heavier, fuller European beers reshaped the bar menu, leading Sanches to scrap the idea and stash away some bottles in Rock City's cellar.
Well, beer nerds rejoice - your chance to sip some of those brews in between bites of Sanches's cuisine is coming in early August when he throws Rock City's Beer Dinner.
The idea came out of a recent meeting with a beer rep in which Sanches mentioned the bottles in the cellar. When the rep learned which specific beers were stashed, he got super excited, Sanches says, because they're even better if they've aged.
But instead of throwing the bottles back on the menu, Sanches is giving customers the chance to drink the beer with the German and Belgian dishes with which they pair well.
After a greeting beer, the dinner includes five courses of dishes like goat with spaetzle, and short rib and beer stew. Those are paired with
Ayinger Celebrator dopplebock
and
Rochefort 6 Trappist ale
, respectively.
The Rock City Beer Dinner is scheduled for Aug. 7 at 7 p.m. Tickets are $75 and available either at the restaurant or by calling 313-265-3729 and reserving seats.