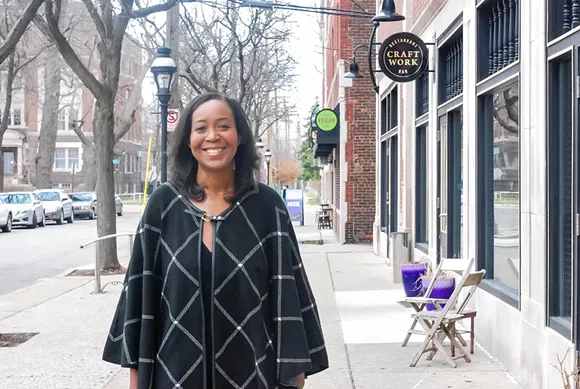 There's nothing superficial about the way Devita Davison thinks about the food scene in Detroit. She's not so much interested in figuring which trendy eatery she'll visit next (but believe us, she knows all the hot spots), but rather how food can uplift all of us.
Davison, who heads communications for small business community FoodLab Detroit, is looking at the whole picture: from supporting the urban farmer who's feeding an otherwise food desert; the way that food businesses can create economic opportunities; to promoting healthful eating habits that empower people of color.
When she's not traveling the country speaking to other food warriors, hanging out at FoodLab member businesses, or dropping mics all over social media, you just might find her at her favorite little halal cart in her "second home" in NYC.
Metro Times: What is one thing people don't know about you that you wish they did?
Devita Davison: Whenever someone introduces themselves to me as a "foodie", I cringe. For years, the word was used sparingly. Now "foodie" is so overused. The word is very similar to hipster—linguistically lazy, poorly defined to the point of meaning everything and nothing at the same time. The word 'foodie,' has been relegated to mean anyone who likes food and/or eats out a lot. I would love to see the word "foodie" refer to someone who gets beyond all the fun of food and actually pays attention to how food is produced and the impact it has.
MT: What daily ritual is non-negotiable for you?
Davison: I get up between 5:30am and 6am, make coffee, read two newspapers: The New York Times and the Washington Post, check my social media platforms, emails and any other messages that may have come in overnight. Every morning!
MT: If you could have any superpower, what would it be?
Davison: My Black Girl Magic is my superpower! My magic is about celebrating the tension, love, sisterhood and complexities of being a black woman in this world. The odds are almost never with us, and yet look at how we drive culture. It so complex and yet very simple.
MT: What is the most positive thing in food or drink that you've noticed in Detroit over the past year?
Davison: Senator Debbie Stabenow (D-Michigan) recently introduced the Urban Agriculture Act of 2016 in hopes of getting it included in the next Farm Bill. The bill aims to create economic opportunities for urban farmers, expand U.S. Department of Agriculture (USDA) farm loan programs to urban farmers, support the creation of urban farm co-ops to help bring products to market (and allow those co-ops to manage loans for urban farmers), invest in urban ag research, and improve access to fresh, local foods. The bill is long over due!
MT: Who is your Detroit food crush?
Davison: Emily Staugaitis & the Bengali women gardeners of Bandhu Gardens
Who's the one person to watch right now in the Detroit dining scene?
I've noticed an increasing numbers of African-Americans choosing a plant-based lifestyle. It makes sense because once we move past the stereotypes of African American cuisine, the foundations are really healthful foods: nutrient-dense greens like mustards and turnips and kale and collards and dandelions, and butter beans and sugar snap peas and pole beans and black-eyed peas and sweet potatoes. Detroit Vegan Soul has been a game changer! They are opening a restaurant in Grandmont Rosedale next year and I can't wait to see with Erika and Kirsten Boyd do next!
MT: Which ingredient is most representative of your personality?
Davison: A study by a group of researchers at Penn State found that people who were most inclined to enjoy action movies, adventure-seeking and exploration were about six times more likely to enjoy the burn of a spicy meal. I guess that would describe why hot sauce is most representative of my personality.
MT: If you weren't working in the restaurant business, what would you be doing?
Davison: Everyday, I work to support a growing community of people who were concerned about our food system. All across the nation, I have friends who are working on issues from sustainable agricultural practices, food justice, climate justice and nutrition, to state and federal policy. I'm inspired by the work and organizing that's happening in the community on the ground. So if I weren't the Director of FoodLab Detroit, I would probably be running for office, so that I could help to pass legislation around equitable food systems. I truly believe food and agriculture is the most important issue of my lifetime.
MT: Name an ingredient never allowed in your kitchen.
Davison: Canned collard greens. I tried them once, and bite after bite after bite, they taste like oppression! Nothing can save canned collard green. Not hot sauce. Not salt. Not garlic. Nothing! My rule of thumb when it comes to collard greens is the same as macaroni and cheese, if it didn't come out of my mother's kitchen, I'm probably not eating it.
MT: What is your after-work hangout?
Davison: Every second Monday of the month you'll find me hanging out at a FoodLab member business from 6-8 at our monthly member meet-ups.
MT: What's your food or beverage guilty pleasure?
Davison: "The Platter" at the Halal Guys on 53rd & 6th in New York City. There are lots of good halal carts around New York City; but their white sauce is what sets them apart.
MT: What would be your last meal on earth?
Davison: I would eat my way through the menu at Reuben Riffel's restaurant in Cape Town, South Africa. Not to be missed would be his chili-salted squid with a nuoc chum dipping, the blue cheese and mascarpone tart with tomato jam and the offal and unusual meat cuts like lamb's tongue, calf kidney and chicken liver.
See also:
Side Dish: Rock 'n roll chef Blair Wills makes a better brunch at Kelly's Bar in Hamtramck

See also:
Meet the 'world's best young pastry chef' right here in metro Detroit