Late last year, we poured out a little bone broth for Thuy Trang, the excellent Madison Heights pho parlor that for reasons unknown to us quietly closed.
It was one of the greats, but, fortunately, Madison Heights is basically awash in excellent broth, and you don't need to go far to find more fine pho. In fact, across John R from Thuy Trang is Que Huong. It's a go-to for banh mi, but its pho is also fine — deep, complex broth that shimmers even though the 10-table shop is dim. Like the dozens of other pho spots in Madison Heights, Que Huong can run out of space in its small 1970s strip mall location.
Its pho tai is a personal favorite, with slices of pork meatball studded with little, hard, translucent fat globules. The meatballs are flavorful and gingery, and the bowl arrives with the requisite fresh and crunchy jalapeños, bean sprouts, and fresh basil. For the more adventurous, the same broth is found in the pho dac biet filled with tendon, meatballs, tripe, and sliced tenderloin.
While Que Huong does make some of the city's best banh mis, they're sort of a secret, as they're not listed on the menu. But ask the server and you shall receive. The Vietnamese-French sandwiches are served on a big, crusty roll similar to a baguette. The barbecue pork banh mi is assembled with a sweet and acidic layer of pork, crunchy shredded carrots, sprigs of cilantro, slices of spicy jalapeño, and large slices of cucumber. The "chicken" option comes with hunks of chicken and a sweet pate mixed with a healthy amount of mayo, and that's spread between the bread with daikon, carrots, cilantro, and jalapeño. The "pork" banh mi holds a salty and slightly funky pork pate with pressed pork tabs, lots of mayo, and the same accompaniments.
While banh mi and pho are excellent, you might've already tried both. The best part of Que Huong's menu are the deeper cuts and the house specials — dishes with which your Midwestern taste buds might not be familiar. Among those is the banh cuon cha lua thit nuong, a swine-heavy dish that's busy with complementary tastes and textures. It's composed of steamed rice sheets rolled with minced pork bologna, and the rolls are topped with super flavorful bits of diced, fried, and dried onions. That's served with barbecue and thin slices of "pork roll," which is essentially bologna. All the salty meat is balanced with fresh, crunchy cucumbers, shredded carrots, bean sprouts, and fresh basil. Use your chopsticks to mix up the package and douse it with a bowl of sweet and savory fish sauce-based dressing, and you've got some of the best bites of food on John R. That's saying something, as there few corridors in metro Detroit with better bites of food.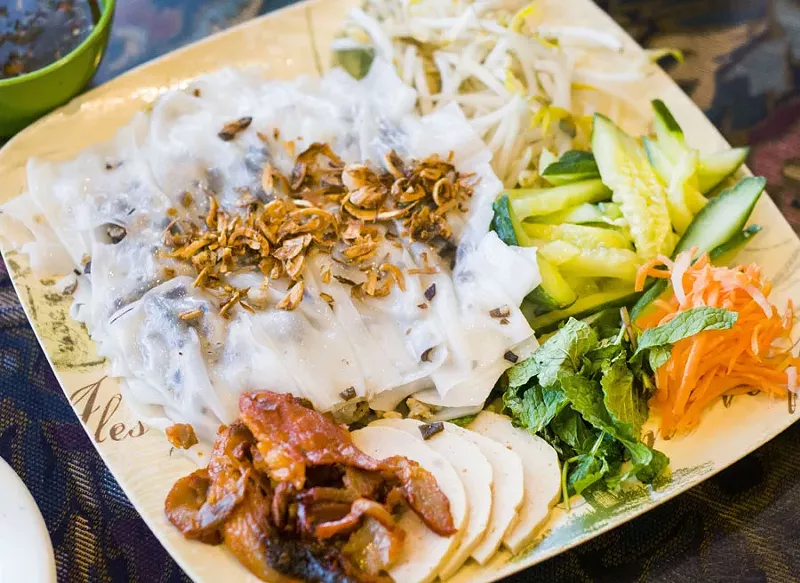 Com tam suon bi cha, a plate of Vietnamese pork chop served adjacent to a small pile of shredded pork skin; a pork-and-egg "meatloaf"; and a fried egg with a runny yolk is yet another swine celebration that you'll want to get in on. The pork chop is sweet and salty and benefited from being cooked with aromatics, though I could do without the funky tasting shredded pork skin. The package is served with a puck of white rice and a small bowl of sweet and savory fish sauce dressing.
Com suon bo dai han is essentially the Vietnamese doing Korean barbecue. The plate comes with griddle-grilled, nearly bite-size triangles of sweet and savory beef on the bone that's slightly chewy and likely flavored with garlic, onion, soy, sesame, brown sugar, and more.
Slightly more familiar is the bun bo xao sa, which at its core is a beef and lemongrass stir-fry served atop a pile of soft rice noodles, romaine, carrot shreds, and crunchy bean sprouts that should be drenched in the sweet and savory fish sauce dressing. The com ga xao gung is a dish driven by fresh ginger, and lots of it, with soy sauce and garlic. It's slightly sweet and fully excellent. Que Huong serves the bird aside a puck of white rice and under a couple big sprigs of cilantro for accent. Did I mention there's a lot of ginger?
In general, Que Huong's menu isn't too different from most in Madison Heights, but there are always some who are going to do it a little different or a little better, and this is one of those spots.
So many restaurants, so little time. Sign up for our weekly food newsletter delivered every Friday morning for the latest Detroit dining news.