If on your next taco quest you head west on Michigan Avenue through Southwest Detroit, keep driving when the signs turn from Spanish to Arabic near the Dearborn-Detroit border. Just as you pull into East Dearborn you'll find M Cantina, a restaurant that its chef and co-owner Junior Merino — aka the "Liquid Chef" — bills as "nuevo Latin street food."
While the street food label is one that's perhaps used a little too liberally these days, it generally indicates that you'll be using your hands a lot, and that's what M Cantina's menu offers — a deep selection of inventive, contemporary tacos, tortas, elote, wings, and more.
Given its location, it's easy to assume that Merino's tacos Arabes (Arabic tacos) are a nod to the surrounding neighborhood, but it's actually a product of the relatively large Arabic population in the central Mexican state of Puebla, Merino's home. The tacos Arabes are a highlight at M Cantina, reminiscent of a gyro with strips of moist chicken seasoned with chile ancho, chile pasilla, smoked chile peppers, and more spices. Those are folded into a flour tortilla along with a smudge of cucumber-yogurt sauce, cilantro, and not tomatoes, but tomato confit.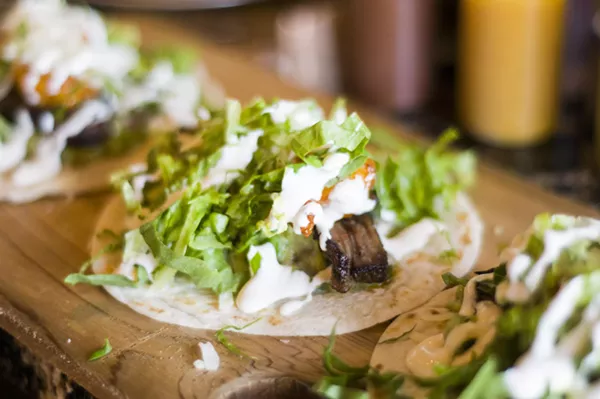 The latter is the kind of touch that Merino — who runs the restaurant with his wife, Heidi — is about. M Cantina is your classic "contemporary take on traditional dishes" restaurant, and the al pastor and chicken tinga are both worth trying for the new twists. But the braised short rib made with a tangy and unusual mole-barbecue sauce is the best item for an adventure. Merino uses his family's mole recipe (which his mom travels up from Mexico to make) and combines it with a barbecue sauce redolent of tamarind and other central Mexican spices. Though arguably the best taco was a bit of a surprise — the chiles rellenos. Each corn tortilla holds a poblano pepper stuffed with small blocks of queso fresco, as it's done in Puebla — rice, beans, and salsa de tomate further enliven the package.
The cecina tacos were the taco menu's only dud; the well-done beef held little flavor in an otherwise exciting mix of caramelized jalapeños and onions, beans, queso Oaxaca, and salsa roja. However, on a later visit, the "surf and turf" taco offered tender, well-seasoned beef that arrived on a tortilla with lime-marinated shrimp, fresh guacamole, fresh pico, crema, queso Chihuahua, and shreds of green lettuce. The torta menu isn't quite as deep, but it is no less creative. The carne enchilada with chili marinated pork is served in a sloppy mix between two pieces of panini-pressed teleras, and is among the best choices.
In the starters menu, the tlayuda is a traditional Oaxacan dish of masa with a layer of chicken topped with strings of caramelized onion and Oaxacan cheese. It wasn't the most flavorful in Merino's repertoire, so instead try the arepas or elote. Perhaps the best option among the starters are the fried plantains and salsa made with thin-sliced, crisp plantain chips that are cut thin lengthwise. That allows you to experiment with the roughly 20 salsa flavors like chickpea, serrano agua chile, scorpion pepper, and avocado oil infused with chile seco.
That's where Merino stands out. As noted, he's the lauded Liquid Chef, the nation's first Latino sommelier, a "master mixologist" who develops recipes for companies like Starbucks and Campbells. He knows liquids, and his salsas and juices are perhaps his best offerings — M Cantina even holds a juice bar at which customers sit. Most everything is squeezed fresh on the spot or each morning, and that makes all the difference. Who could have known that a freshly made horchata could be so complex and deep? Who ever thought of going to a Mexican restaurant for a drink of liquified romain, chlorophyll, and green apple in Merino's Detox juice? Or the deep banana, granola, and espresso in M Cantina's Energy juice? The "bartender" at the raw bar also makes the salads, of which the carpaccio stands out.
While it's a little odd that the Liquid Chef is rolling without a liquor license, it doesn't feel like a strike against a Dearborn restaurant. The city's large Muslim population was well-represented during trips to the roughly 30-seat restaurant. And when there are drinks as good as the Chocolate — with chocolate, chile pasilla, pomegranate, and soy milk — you won't miss your Corona.