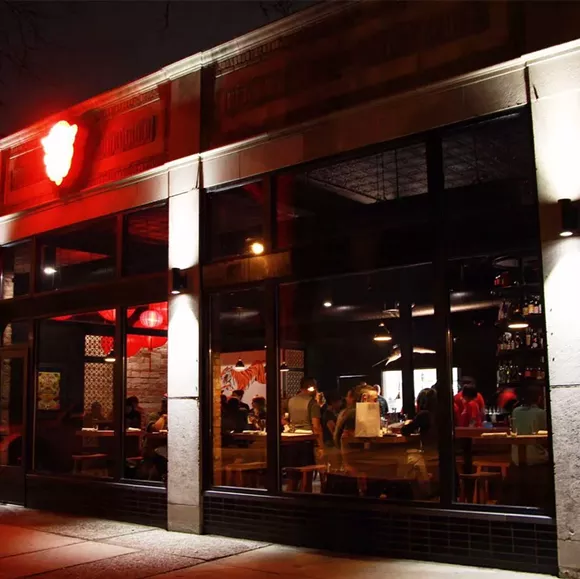 Three major restaurant openings are set for the next week in Ferndale, Detroit's former Chinatown district, and Corktown.
First up, Pop's for Italian in Ferndale, operated by Kramer Restaurant Group (which also runs One-Eyed Betty's and the recently-opened
Daily Dinette
). We heard whisperings that the new Italian eatery has been holding soft openings the past several days. The group's executive chef Emmele Herrold confirmed that with us today and said the new spot will officially open Wednesday.
Situated in the former Buffalo Wild Wings and Twisted Shamrock at 280 West Nine Mile, the 10,000-square foot space is split, with Pop's facing Nine Mile and the diner facing the rear parking lot. The new restaurant will specialize in Neapolitan pizza and boast a spacious wine and beer garden.
On Thursday, hotly-anticipated Chinese American eatery The Peterboro is set to open its doors, following a series of soft openings for friends and family. Crain's Detroit reported the official start
date
, and says the spot, which occupies a vacant store in the city's former Chinatown at 420 Peterboro St., will seat 72 and does not accept reservations.
Peterboro Chef de cuisine Brion Wong (formerly of Antietam and restaurants in NYC) has been given free rein to flex his creativity with a Chinese American-influenced menu that includes cheeseburger spring rolls and his take on a Detroit staple, almond boneless chicken.
This venture is backed by The Detroit Optimist Society restaurant group, which runs The Sugar House, Wright & Co., Café 78, and Honest John's.
Next up is Katoi in Corktown, a Thai restaurant and bar that started out with humble beginnings as a food truck outside of Two James Spirits, and later as a pop-up in Ann Arbor.
Set to open March 21, this establishment has chef Brad Greenhill running the kitchen, Courtney Henriette as creative director, and bar service headed by Drew Pompa. (Katoi also has a partner in Philip Kafka, based in New York, who helped the crew
famously
set up a billboard bolstering Detroit and the upcoming restaurant.)
A departure from the southern Thai cuisine most Americans are accustomed to, Katoi focuses on cooking techniques typical of the north of Thailand, which emphasizes the use of pork, veggies, and sticky rice. We attended the first of several soft openings on Friday and were treated to a feast of duck noodle soup, sweet potato tostones, crispy fried ribs, and a spicy medley of greens.
Katoi is situated in the old Willie's Garage building at 2520 Michigan Ave. It seats about 60 and does not take reservations.