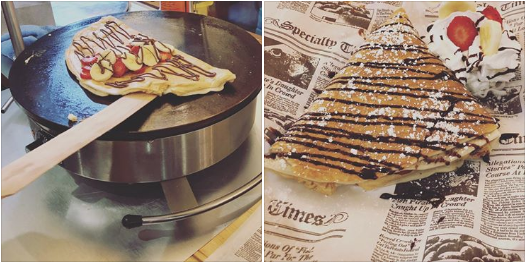 We're a little behind on this one, but it's definitely worth mentioning that a new New York-style pizzeria held its soft opening in Greektown in late December.
Eat-N-Out makes the big, thin-crust pies that are a bit of a rarity in a city where deep dish is the signature style. As at NYC pizzerias, owner Ahmed Nasser makes 18-inch and a 12-inch pies, and he offers a range of specialty pizzas. The restaurant also makes breadsticks, cheese bread, salads, pastas, and more.
Nasser notes that he uses high-quality cheese, prepares his sauce in house, and makes his
ranch from scratch
.
But the pizza is only part of the attraction. Nasser says he's the first person in the world to offer a chocolate gyro, and explains how he goes about producing it: "First I make you a fresh crepe to duplicate the pita bread, and I get fresh strawberries, fresh bananas, and mix it in with some Nutella, then put it in the crepe. Then I shave off the white and dark chocolate that's on a little spit. I then put in a little white marshmallow sauce, that's like the tzatziki sauce, top it off with some whip cream, fold it just like a gyro, and you're on your way."
Beyond that, Eat-N-Out offers a gelato bar with all Michigan-made, all-natural gelato that's produced with real ingredients produced on Michigan farms.
Nasser — also known as DJNass — works as the resident deejay at neighboring Exodos, and says the space at 531 Monroe St. sort of fell in his lap. He says he always loved NY-style pizza, and Detroit doesn't have a lot to offer, so he jumped at the opportunity when the shop became available.
Nasser says he'll hold an official grand opening party as soon as he finds more employees. If you're looking for work, now's the time to act on becoming one of the world's first chocolate gyro makers/pizza pie slingers.