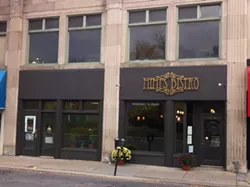 Quaint diner Mimi's Bistro, which joined the ranks of other Pointe eateries last year, is celebrating its one-year anniversary by expanding upon its menu with new vegan options (hint, one new item includes a vegan schmalz and pancakes). Also on the agenda for the week-long festivities, the spot's brownies are free with the purchase of any entree and a musical performance by Austin, Texas-based bluegrass band Whiskey Shivers.
Mimi's is also using this milestone to promote an exhibition opening of local artist Eric Perry at the adjacent Charles Schridde Gallery, named after the late father of owner Melanie Schridde (we're told he was a noted western-themed painter and graphic illustrator). Sounds like an opportune time to slow down the pace and enjoy the neighborhood.
Mimi's opened last summer and features a German-inspired menu influenced by Schridde's heritage. Her father's paintings adorn the walls of the restaurant, making for a unique and homey space to grab breakfast or lunch and then perhaps be inspired to take in the gallery next door. The anniversary activities will take place Nov. 10-17.