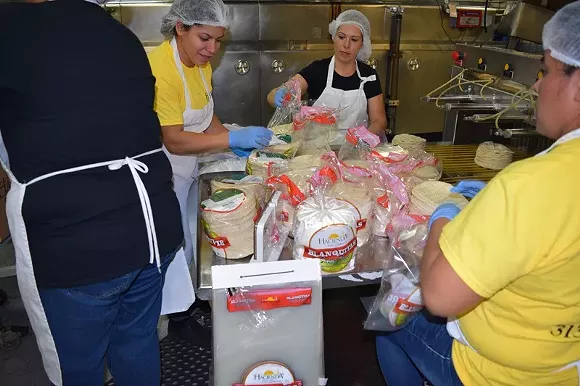 Michigan-based grocery store chain Meijer has expanded its distribution deal with Detroit's Hacienda Mexican Foods, allowing the family-owned
tortilleria
to expand its operations in Detroit.
Lydia Gutierrez, who started Hacienda Mexican Foods with her late husband in the early 1990s, says that the new deal has doubled her business, and she can hire 40 additional workers at her Southwest Detroit plant.
"The jobs we are giving to the community are for people who are hard workers, but maybe they do not have all the education," Gutierrez says in
a press release
. "We've been able to change lives, change a community. We could not do what we're doing today if it was not for Meijer's willingness to work with us. It's been such a blessing."
According to the release, Hacienda Mexican Foods makes the tortillas and tortilla chips daily. The partnership started in June 2014 with a tortilla distribution deal in 50 of Meijer's Michigan stores. Now, the products will be distributed to more than 200 Meijer stores across Michigan, Ohio, Indiana, Illinois, Kentucky, and Wisconsin.
Watch a video announcing the deal below: