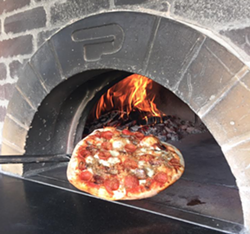 Mark's Carts customers will get to choose from two new options this year as the food truck court is joined by Everest Momo and wood-fire pizzamaker Wood Fired Up.
Mark's released the news
via its Facebook
page along with word that Simply Spanish, Great Grilled Sandwiches, Pita Cruiser, Hut-K Nutrilicious and El Manantial A2 will be returning.
According to
its website
, Everest Momo is a purveyor of the cuisine of the Sherpa people in Nepal, Bhutan, and Tibet. Their dishes include momos, a dumpling stuffed with different meats and vegetables, and Tibetan Thukpa, a spicy and simple noodle soup, among others.
MLive
reported
Wood Fired Up are Harbor Spring transplants who previously rolled all over Michigan for music and beer festivals, but will hang in Mark's Carts for the season to make life easier for the family.