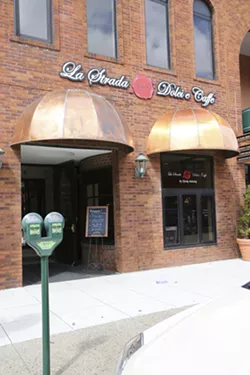 We visited Birmingham's charming La Strada Dolci e Caffe back in April and marveled at the attention to detail paid to its impressive menu and European ambiance.
The offerings are vast - from a quick pick-me-up cappuccino and a flaky croissant at the counter to, a burrata salad with poached apricot or an indulgent spaghetti alla carbonara - all set in a refined, yet relaxed space, open for breakfast, lunch, and dinner.
What more could we ask from the Birmingham café? Perhaps a bit of vino with our meal, or outdoor seating to take in the balmy summer breezes? Turns out owner Zharko Palushaj will get the final approval needed to start serving alcohol in his establishment. And as for dining al fresco, the patio is now open, seating about 20 guests.
We're told diners can expect a short, elegant drink selection made up of fine wine, vermouth, some digestifs - not so much of a craft cocktail or beer place.
That vibe suits the rest of the concept just fine. We'll be sure to stop in one of these warm evenings to check out the expanded offerings.
La Strada Dolci e Caffe is open 8 a.m.-4 p.m. Monday, 7 a.m.-10 p.m. Tuesday-Saturday, and 8 a.m.-3 p.m. Sunday and is at 243 E. Merrill St.