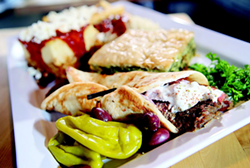 Kouzina Greek Street Food
is one of our fave places to grab a bite to eat, whether it's a fresh salad, a yummy gyro, or some French fries smothered in fresh feta cheese. The downtown Royal Oak location delivers, too, and we've never been disappointed in the service.
Now residents of Washtenaw County can enjoy the simple and quick options the fast food-style restaurant has to offer. Kouzina Greek Street Food is opening a second location on Main Street in Ann Arbor on June 1,
according to an MLive article
.
The restaurant will be located at 332 Main St., the former location of Middle Earth (insert frowny face emoji here), which owner Bobby Laskaris and his crew spent close to a year renovating. Patrons can expect the same menu and reasonable prices as offered at Kouzina's original location at 121 N. Main St. in Royal Oak.