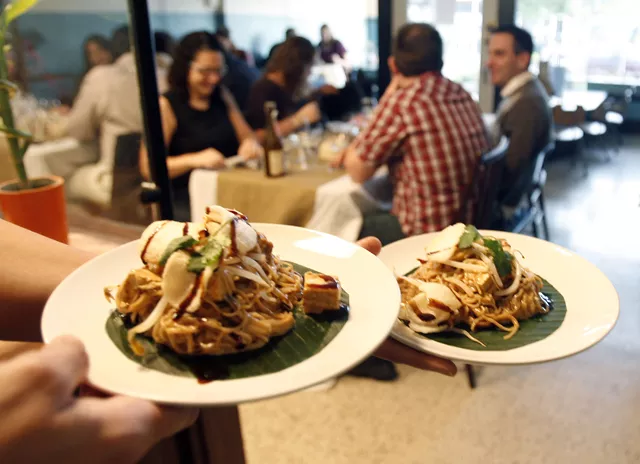 Komodo Kitchen
Location varies
komodokitchen.com
Handicap accessibility may vary
Prices: $25-$35
Hours: Sunday evenings
Indonesian food hasn't been among the more well-represented fare in the generally diverse culinary world of metro Detroit. We ostensibly love our Asian cuisine — everything from spicy tuna hand rolls to Vietnamese soup with pineapple and okra — but Indonesian is hard to find.
That's changed a bit with the first installment of the Komodo Kitchen pop-up supper club.
Unfamiliar with the pop-up concept? Fortunately, it's pretty straightforward: Organizers announce a time and place, generally an off day for a borrowed bricks and mortar restaurant, and offer reservations for as many seats as they have available. Rinse and repeat.
Komodo isn't the first metro area pop-up, but it's among the most focused in terms of its offerings. Its operators — friends Gina Onyx, April Boyle and Deanne Iovan — are committed to bringing all the spice and subtlety of Indo-fusion to metro Detroiters.
Their first gathering took place on Sunday, Oct. 23, in the recently reopened space on West Nine Mile Road that houses the Red Hook coffee shop and Pinwheel Bakery.
All three members of the Komodo Kitchen team have a history in the food industry ranging from the front of the house to working over a wok, but it's the Indonesian-born Onyx who brings the cultural know-how to this particular endeavor. She'd catered for large groups before — including at Iovan's wedding — and the trio decided to find a way to offer this experience to others.
A pop-up without all the commitments of more traditional operations seemed like a perfect way to begin. They were right.
The first course was ketoprak, a rice noodle and tofu salad served over a slice of banana leaf attractively trimmed to fit the center of a plate. Cooked to a soft texture without becoming gummy, the noodles are tossed with peanut dressing and garnished with fresh, crunchy bean sprouts and shrimp crackers.
Both the peanut sauce and the crackers were homemade, and they could redefine people's expectations of what those ingredients can be in a dish. No one in our party could claim expertise in Indonesian fare, but the depth of flavor and richness of the sauce were unmatched by anything similar we'd ever tasted. And the shrimp crackers were notably starchier and more flavorful than the standard accompaniments of some Thai takeout.
Pacing for the meal was steady, with ample time to meet tablemates or chat with friends, but never so long as to feel slow. Between the first and second courses, they poured a pandan tea, which, despite a remarkably interesting grainy sweetness and an understated floral flavor, finishes crisp and dry — an ideal palate-cleanser. The tea was sweetened using syrup they made from palm sugar and pandan leaf, a common ingredient found fresh in Indonesia but available to Komodo in dried form here.
The second course was udang goreng kecap, sautéed shrimp (or tofu for vegetarians) over al dente green beans and accompanied by rice and a sweet-and-spicy soy dressing. Our entrées were beautifully presented — care was taken at each step with regards to plating, garnishes and color — but what was so immediately striking was the aroma.
Simple grains aren't generally a standout in any meal, but — elegantly scented with bay leaves, lemongrass and more pandan, cooked with coconut milk, and topped with crispy fried shallot — the jasmine rice was so beautifully perfumed as to be especially memorable.
Shrimp for the dish came from Okemos' Shrimp Farm Market, a sometimes difficult-to-find farm-raised product with a flavor so clean and so sweet, one might be hard-pressed to even compare it to the typical, fishier-tasting crustaceans we're accustomed to. While the preparation and the soy dressing lend aggressive flavors, the quality and taste of the seafood were nonetheless very apparent.
The first two dishes surely highlighted flavors that are common in (and unique to) Indonesian cuisine — the richness of the peanut sauce, the unique sweetness of pandan, the prevalence of jasmine — but dessert was something else entirely.
For our final dish, a shallow, chic bowl filled with gently sweetened coconut milk arrived. Floating inside were avocado, strands of coconut, and a mixture of fruits — some traditional, some contemporary — including jackfruit, black jelly fruit and palm fruit, each just a bit sweet and just a bit chewy.
As Onyx explained, this es teller — or Sweet Drunken Jack, as the Komodo Kitchen crew refer to it — is practically as common a dish as one could find in Jakarta. Apparently, it's a street food, served as a refreshing, replenishing and reinvigorating cocktail for people on the go. Given the nutrients and the subtle sweetness, which never gets heavy or cloying, this makes perfect sense — and it was an absolutely delicious end to a well-prepared meal.
For $28 per person, this three-course dinner — as much an educational experience as a gustatory one — was practically a bargain. Future dinners will be announced via their e-mail list and on the website, which is the sole mechanism for making reservations. Diners should keep in mind that future menus, pricing and locations will change.
For the time being, the trio behind Komodo Kitchen is remaining cautious, planning one dinner at a time. But if their first pop-up event was any indication, they'll have plenty of people clamoring for more.
Komodo Kitchen happens Sunday evenings, approximately once a month.