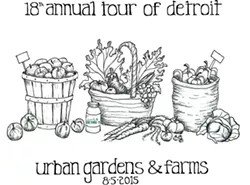 Get that bicycle tuned up and be ready to experience a tour of some of Detroit's 1,400 urban gardens Aug. 5. Keep Growing Detroit is hosting the 18th annual event, which will start promptly at 6 p.m. at Shed 3 at Eastern Market.
Following the tour, a reception will be held that includes food prepared by local chefs. Guests will also be able to partake in a Good Food Bazaar to learn about starting a community garden, prepare to launch a business in food and shop for locally-handcrafted items. Keep in mind, there is a fee when you register - which is on a sliding scale between $15-$100.
Keep Growing Detroit works to promote food production within the city and partners with hundreds of residents and community-based organizations to provide resources for urban gardeners and farmers. For more information, go to detroitagriculture.net or call at 313-757-2635.