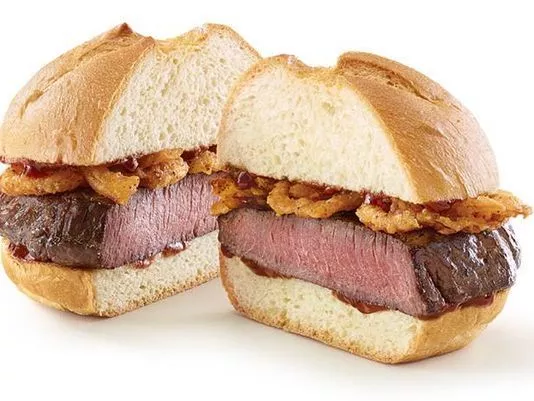 Because you should never return home empty-handed from a hunting trip up north, Arby's will be testing venison sandwiches at four Michigan locations.
MLive.com
reports
that the sandwich will feature thick-cut venison steak (which will be free-range, grass-fed farmed deer), crispy onions, berry sauce, and a toasted roll.
A staggered test run will commence Oct. 31 in Nashville, followed with stores in Wisconsin, Minnesota, and Georgia, then Michigan Nov. 12-14, and finally in Pennsylvania.
Says Rob Lynch, Arby's Restaurant Group, Inc. marketing officer in a news release: "Hunters hunt the meats, and we have the meats, so it makes sense for us to connect with them and offer a sandwich that they can't get at any other restaurant chain."
You'll note that the Michigan venison offerings are strategically situated along major freeways, convenient for folks headed to and from prime hunting territories (in case you strike out on the hunting front).
4229 W Vienna Rd., Clio, Mich.
4040 17 Mile Rd. NE, Cedar Springs, Mich.
1215 M 89, Plainwell, Mich.
8685 Birch Run Rd., Birch Run, Mich.
Get in the deer hunting spirit with one of four Arby's commercials, below: