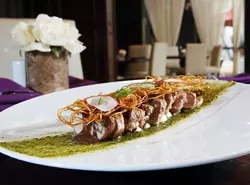 Jefferson House
2 Jefferson Ave., Detroit
313-965-0200
Handicap accessible
Entrées: $19-$32
Open 6:30 a.m.-10 p.m.
Sunday-Thursday, 6:30 a.m.-11 p.m. Friday-Saturday
If ever a hotel deserved to have a good restaurant, the Pontchartrain Crowne Plaza does, with its long history and its river views (from the rooms, not the restaurant, alas). And if ever a restaurant deserved more customers, it's the hotel's Jefferson House, open since July 15 but often echoing emptily thus far. One reviewer described chef Justin Vaiciunas as "forward-thinking," and it's true — be ready for some uncommon preparations. Of course, all the forwardness in the world wouldn't matter if the dishes weren't delicious, but they are.
The hotel lobby is impressive in white, the restaurant itself less so, with royal purple napkins and sparkly and gauzy beige curtains that don't say "elegant," despite their intent. The view from the big windows and from the patio is … Cobo.
But forget that and focus on what's put in front of you.
First surprise of the evening: a shaved prosciutto salad. You might have thought it would be prosciutto over greens, as I did, but no, the prosciutto was the salad, artfully curled and arranged over an oblong bed of mascarpone with radish slices. Salty and sweet, and titillating, if not exactly the palate-refresher you expect in a salad. Think of the relative prices of greens and prosciutto and you'll forgive that and the $12 price tag.
Second surprise: the squash blossom starter. Deep-fried, per usual, but stuffed with smoked Gouda and bacon, rather than a more common ricotta or goat cheese. Unexpectedly hearty, therefore, but complex, with unami galore.
A quinoa-kale salad came warm and chewy, with feta and red onion and a sherry-pecan vinaigrette that was the least appetizing color I've ever seen in a dressing: gray, sort of like sausage gravy. But it tasted marvelous, and a quinoa cake was even better, toasty around the edges, with little tendrils of baby arugula.
A Michigan spinach salad read more tried and true, but was interesting for making us wonder how to eat it without starting an avalanche: it was a tall tower anchored in goat cheese, topped with apple shavings (red skin on) and full of bacon flavor.
Every starter or salad we sampled was fabulous. We were less happy with lobster mac-and-cheese, even though Vaiciunas had blackened the pasta with squid ink; it was too salty and the cheese too runny. Cola-braised short ribs, though, were unexpectedly off the bone and shredded, served like a stew over Parmesan polenta, with plenty of fat and a good, herby flavor. Pork tenderloin with five-herb pesto was extraordinarily tender, again with goat cheese (clearly a chef's favorite) and a tangle of crowd-pleasing shredded fried potatoes on top.
Scallops were lemony and honeyed, served over luscious risotto. Calamari were just-right tender and bathed in a spicy black-bean sauce, with spicy-limey chorizo. The micro-greens here were baby beet greens — such attention to detail!
Vaiciunas has put a lot of work — and a lot of fun — into the $11-$13 cocktail list. You might find rhubarb jelly, scallions, cilantro or lychee fruit in your drink. The essence of "Urban Pear" was a vanilla wine reduction, with poached Asian pears. I played it safe with a "Pama Pontch" enlivened by basil.
Pastry chef Lindsey Barterian produced by far the most intriguing dessert we've had all year. "Dolce Caprese" is shaped like a ping-pong paddle with a very long handle. The round part is a charcoal-colored meringue with a circle of buttermilk panna cotta in the middle like a fried egg. The handle is a sweet pesto of basil with some balsamic-infused strawberry slices scattered about. If that weren't enough, three luscious chocolate truffles are added for good measure. Lots of out-of-the-way flavors going on, and each of them delectable in a different way.
A coconut lime crème brûlée was also marvelous, if not as startling, very eggy with a perfect crackling crust. Desserts are a surprising $7, low in relation to the rest of the menu. Servers said the chocolate sponge pudding with hazelnuts, Frangelico caramel, coco nibs and St. Germain ice cream is the most ordered thus far; no surprise there.
Chef and owners are, of course, hoping for a reputation and a clientele that go far beyond hotel guests. They want folks making the place a destination, and are offering free valet parking to restaurant customers; enter on Jefferson or Larned.
Jefferson House — and why such a stuffy name with such newfangled food? — will have its grand opening at the end of September. Another restaurant in the hotel, Top of the Pontch, will open around Thanksgiving or Christmas — with river views this time.
Jane Slaughter dines for Metro Times. Send comments to [email protected].