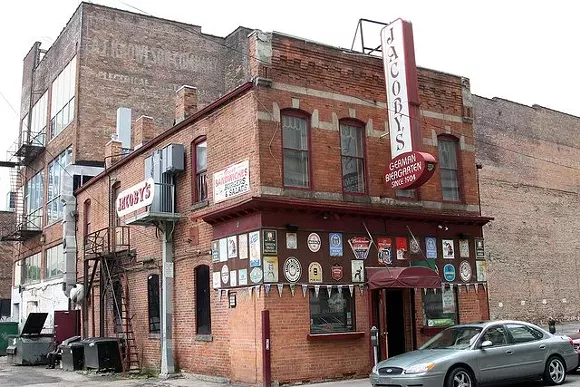 Jacoby's German Biergarten, dubbed downtown's "oldest saloon," has been sold, but fans can rejoice.
The drinking hall will be spared the fate of being retrofitted into a hipster cocktail bar because its new owners promise to keep its old-school vibe as is.
According
to Crain's, the new ownership under an entity called LVT Properties LLC, only plans to make needed updates, such as to the kitchen equipment and bathrooms.
The property had been on the market for more than three years, with a listing price of $799,000. A Larry Jacob, who tells the biz publication that he's the LLC's operating manager, says "we intend to keep it the way it is, as far as the heritage of the place" and that the food and drinks will remain the same.
That's perhaps welcome news for folks who lament the decline of Detroit's old-style bars.
Detroiters have a fierce loyalty to their favorite drinking spots, with writers publishing heartfelt eulogies about them when they close, and longtime fans making pilgrimages back to them to give them a proper send-off.
When these spaces are transformed into something else, the "New Detroit" red flags go up and the change, whatever it is, can be met with protest. Last month, for example, the now-shuttered Casey's Pub in Corktown became the target of upset when it was announced that it would become into a dive that bar specialized in Cali-style tacos and fresh-juice margaritas.
As for Jacoby's, the saloon opened its doors in 1904, first under the name Jake's Tavern. When bartender Albert Jacoby took over, it was renamed and he brought in his soon-to-be wife Mina to cook. It remained a family-owned business for four generations.
Most recently, Jacoby's had been owned by Chicago investor Wally Wolf, who listed the 3,900-square-foot building, liquor license, and equipment for sale 3 1/2 years ago, Crain's says.
While it remains to be seen whether Jacoby's new operators will honor their promise to respect its turn-of-the-20th-century German roots, we'll cautiously raise a glass in hopes that they do.
See also:
Casey's Pub in Corktown to be recast as a street food dive with 'killer' tacos