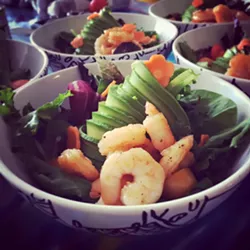 Once again 10 entrepreneurs are vying for $50,000 to help grow businesses in Detroit, as part of Comerica's annual Hatch Detroit contest. Today, the 10 semi-finalists were announced and once again, several food-related ventures were among the picks.
Now that the semi-finalists have been selected, the public can vote for up to four of the businesses. Voting closes Aug. 18 at midnight. After that, four finalists will be chosen, with a general election opening Aug. 19 at noon.
Making the list of food and drink startup proposals:
Brut Detroit, Grandmont Rosedale
A wine bar, aiming to make wine approachable and affordable for all. Featuring regular wine tastings and events.
Chugga's Main Street Bakery, Highland Park
All-women-owned, specializing in breads using all natural, healthy ingredients.
Coriander, Detroit
Urban farm and catering business, looking to expand to a casual, low cost, rustic brick and mortar café.
ITADAKU, Corktown
Pronounced it-uh-da-ckoo, a fine-casual sustainable sushi shop that utilizes organic ingredients.
The contest has played a hand at helping several eateries get their starts, whether they went on to take away the $50K grant or made it to the semi-finalist round.
Hatch alumni include Sister Pie (2014 winner) in West Village, Bumbo's (2014 semi-finalist), La Feria (2012 winner) on the Cass Corridor, Detroit Vegan Soul (2012 finalist) in West Village, Batch Brewing (2013 winner) in Corktown, among others.
Other non-food semi-finalists this time around are:
Ash & Anvil
Clothing designer targeting younger, shorter guys, seeking a brick and mortar space.
Bird Bee
Lifestyle boutique, featuring a mix bohemian, vintage inspired and contemporary clothing, shoes, jewelry, and accessories.
Corbé, North End
A ceramic design and manufacturing studio, featuring handcrafted porcelain home wares, seeking to opening a retail space.
Detroit Dart Club, southwest Detroit
Hosts of Nerf battles for kids and adults, Detroit Dart Club is looking to expand to a second, larger location.
Meta Physica Massage
A Wellness Center, offering therapeutic bodywork, full spectrum infrared saunas, a raw juice bar, an herbal apothecary, retail, meditation classes, and workshops.
The Natural Market
A boutique that specializes in handmade bath, body and home products, and customized fragrances.
For bios on the companies and for details about voting, click
here
.