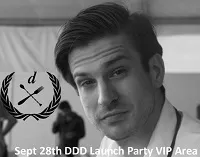 The celebrated chefs behind some of Detroit's most exciting
dining experiences - Guns + Butter and Antietam - have been added to the growing list of culinary talents lined up to cook at the Dine Drink Detroit launch party, presented by Brooklyn Outdoor, set to take place 6-11 p.m., Monday night at Gabriel Richard Park.
Craig Lieckfelt, the chef behind the super secret Guns + Butter popup (which has been featured on Anthony Bourdain's TV show a couple of years back), and Brion Wong, the newly-independent chef who helped open the acclaimed Antietam, will both provide the food for those who've purchased tickets for Riverfront Exclusive access. Those VIP ticket-holders will also be treated to drinks poured by Thomas Magee's Sporting House. Cost for that exclusive access go for $50. At 6:30 p.m., the party will liven up even further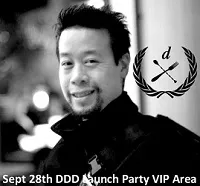 when the thousands of Slow Roll riders start their Monday night ride from the waterfront park. If you're not looking to drop that kind of cash, you can still enjoy the preview party for as low as $15, which gets you three drink tickets, or for $25, you'll get five food and drink tickets.
For ticket information, click here.
On Oct. 1, following the kick-off celebration, the third annual Dine Drink Detroit 10-day event will offer diners a unique chance to experience more than 25 Detroit restaurants, starting at $15. No reservations needed, but these tasting events do tend to get packed so make sure to bring some patience. Unlike Detroit Restaurant Week, guests can order off the regular menu and not be confined to special pre-fixe offerings.
Here's the lineup for this year's participating restaurants:
Antietam
Batch Brewing Company
Chartreuse Kitchen and Cocktails
Colors Detroit
Cutter's Bar & Grill
Detroit City Distillery
Firebird Tavern
Gold Cash Gold
Green Dot Stables
The Block
Harry's Detroit
Johnny Noodle King
Jolly Pumpkin
La Feria
Mercury Burger & Bar
Motor City Wine, Mudgie's Deli
Ottava Via
PJ's Lager House
Rock City Eatery
Slows
St. Cece's Pub
Townhouse Detroit
Traffic Jam & Snug
Town Pump Tavern
Bobcat Bonnie's
The Ghost Bar at the Whitney