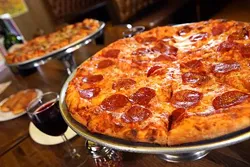 Gracie See Pizzeria
6889 Greenfield Rd., Detroit
313-581-8070
Pizzas: $6.99-$29.99
Entrées: $6.99-$19.99
Open noon-11 p.m. Sunday, 3-11 p.m. Monday, Wednesday and Thursday, 10 a.m.-1 a.m. Friday-Saturday; closed Tuesday.
Parking in the blacktop lot, and entering the low-slung, wood paneled, kitsch-clogged interior, the visitor to Gracie See will most certainly be transported back to the 1970s. It's surprising how little this venerable pizza spot, founded in 1969, has changed over the years. Sure, now there's no smoking and the vinyl jukebox — and its individual booth-mounted selectors — made way for an update, but an overwhelming historic charm still permeates the place. From the statuettes of cowboys in the windows to the variously decorated drop panels in the ceiling, it's a really quirky joint, comforting to those of us who've been coming back for decades.
And people do keep coming back. They're often recognized, as the rooms are patrolled by some servers who have worked there for many years, as well as by owner Grace Puleo, who still recognizes customers by face. And fans of the joint wear their love for the place on their sleeve, so to speak: The creative way Gracie See is rendered like the title of Mario Puzo's The Godfather is also rendered as a design on T-shirts that read, "I'm with the family."
You don't stay in business for 44 years by phoning it in. No doubt many customers keep returning for Gracie See's pies, which are unlike many other pizza offerings in metro Detroit. A Gracie See pie is a bit doughy, served very hot. Pizzas are served atop platforms to free up table space, and also to aid in serving them. Often, the cheese will be so hot diners will have to be deft with the pizza server lest cheese string across the table. Once you get it on your plate, your best bet is to attack it with knife and fork until the cheese cools a bit.
There are some very unusual pies on the menu, including a BLT pizza. Any doubts we harbored about this creation evaporated upon tasting it, the slices with bacon cooked into them, then heaped with mayo, chopped lettuce and tomato. It tasted very convincing to the BLT lover in our group. Other pizzas include the Hawaiian, the Sicilian, the Detroiter and the "Middle East Explosion" with cheese, halal pepperoni, turkey, onion, garlic, green olives, hot seeds, Cajun crust and oregano.
For a pizza joint that has been kept churning out pies for birthdays and post-game bowling league dinners, it's really surprising how good the other items on the menu are. The antipasto salad comes decked with peperoncini, wedges of salami and cheese, bits of radicchio, black and green olives, and cherry tomatoes in a simple vinaigrette. The pasta was quite excellent. The gnocchi were firm, clean dumplings without a hint of the gooeyness that sometimes plagues the potato-based pasta. Even a humble half-order of spaghetti was excellent. If you must have marinara when you order pasta, please specify, or it will come with the meat sauce, which we actually liked more.
What would a family restaurant be without a little competitive eating? In this case, the menu item is called "The Godfather," described as "an extra large order of pasta topped with Italian sausage, meatballs, mushrooms and meat sauce," which is then covered in melted cheese. The full order weighs in at 3 pounds. Should a diner be able to finish the whole thing in less than an hour, you get your picture on the wall of fame and a Gracie See T-shirt. Manly eating contests aside, however, the "Godfather" showcases the restaurant's strong suits well. The meatballs are made in-house, and the sausages are ground and cased in-house as well. And they are real Italian sausage, a slightly narrower gauge, a bit more finely ground than usual, but loaded with the anise-like tang of fennel.
The full bar often has drink specials, or deals on pitchers of beer. What's more, the kitchen is versatile enough to render good versions of American bar appetizers. A starter of pizza sticks called "dago fingers" was pronounced excellent by one co-diner. Another diner's request for 20 chicken wings was swiftly fulfilled, with a generous beaker of Buffalo sauce.
The service was prompt and nothing was forgotten. A waitress even walked outside to inquire about what one diner wanted. And if you're a fan of the kind of service where you get called "hon" by servers who will bring you a string of margaritas without a whiff of judgment, it will feel instantly like home.
Michael Jackman dines for Metro Times. Send comments to [email protected].