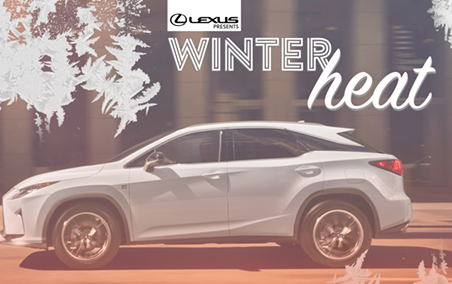 Where can you get food from Chef Hassan Musselmani — a local chef who was also just featured on Hell's Kitchen season 15 — and Chef Jeremy Kalmus — who you probably know from Novi Chophouse and Local Kitchen + Bar before he branched out on his own to start Rock n Rock + Caviar — and hear hot tunes from DJ Erno and, and, and get great cocktails courtesy of Detroit City Distillery? All for free?
That's a helluva collection and an opportunity and it's only happening once and it's only happening tonight from 6 to 10 p.m. at Shed 5 at Eastern Market thanks to Lexus.
It's Winter Heat Detroit, presented by Lexus, and it's totally complimentary and free once you RSVP, so obviously you should be there. RSVP online right now at
winterheatdetroit.com.
"Having the opportunity to not only share my food with guests, but also to interact and tell the stories behind the food and flavors is extremely gratifying and exciting for me," says Hassan Musselmani.
"The energy of Detroit during the North American International Auto Show, along with the sleek and sophisticated design and body of the vehicles displayed, are very inspirational in creating a simple, yet elegant, menu, with a unique edge and some of the local flavor that Detroit is known for," says Chef Kalmus.
Of course, there will also be tunes and fashion and drinks. RSVP now. As Lexus says, it's out with the cold and in with the new. And the warmth.
"FRIGID TEMPERATURES AND EXPANSIVE NIGHTS APPROACH.THIS JANUARY WE INVITE YOU TO STEP INTO A WORLD ALIVE WITH WARMTH. REJUVENATE YOUR SENSES AT WINTER HEAT, A LEXUS SHOWCASE THAT WILL TRANSPORT YOU TO AN EXPERIENCE UNLIKE ANY OTHER.IMMERSE YOURSELF IN A LAVISH EVENING OF COMPLIMENTARY FOOD, COCKTAILS, MUSIC AND VISUAL ADVENTURE, AS WE ENCOUNTER THE PURSUIT OF PERFECTION."