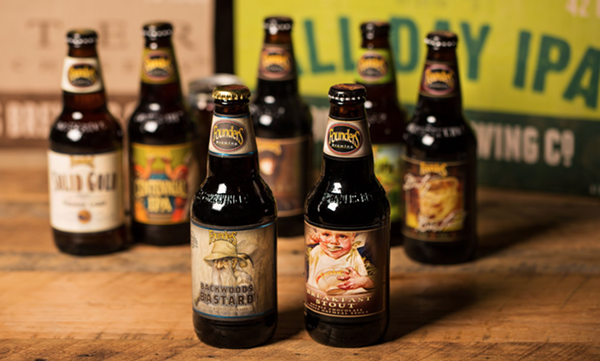 A federal judge dismissed one claim in a racial discrimination lawsuit filed against Founders Brewing Co. by a former black employee.
However, the plaintiff can continue with several other claims that are part of the suit.
The judge dismissed a claim that former employee Tracy Evans was passed over for a promotion in favor of two less qualified white employees, but only did so because Founders requires employees to sign a highly unusual pre-employment agreement. It significantly shortens the statute of limitations in such lawsuits, and Founders wasn't actually cleared of wrongdoing.
Evans can proceed with claims that Founders retaliated against him for complaining about racism in the work environment, and discrimination in how he was terminated. Those claims seek more in damages than what was dismissed.
The decision also comes after Founders in December gave up on an arbitration case with Evans. Evans' attorney, Jack Schulz, said arbitration is a venue that's generally more favorable to businesses, but, "I think there was some indication that I had a strong argument and I could possibly win."
Among other issues, Evans is alleging that multiple employees used the "N word" around him and were not fired, and the company labeled two printers the "white guy printer" and "black guy printer" — the white guy printer was for management while the black guy printer was for other employees.
Evans also alleges that white staff at the Detroit location spoke derisively about the taphouse's "dark" clientele. He says he was fired because he was in the process of filing complaints with human resources. The suit alleges "a racist internal corporate culture" and multiple examples of "blatant" racism that were exhibited by some white workers and managers during the nearly four years Evans worked there.
Founders has maintained that it has done nothing wrong and posted a lengthy response to the charges
on its website
.
"We are confident that we acted consistently with our values in every respect concerning this former employee," the statement reads.
The suit further alleges Founders promoted less qualified white employees whom Evans trained and had blemishes on their employment file. Not long before the promotions, one of the employees allegedly exposed himself at a holiday party at which staff were drinking heavily, while the other employee allegedly crashed his car in the parking lot. Still, the two white employees were promoted over Evans.
The pre-employment agreement that Evans signed moved the statute of limitations from three years — as is granted by federal law — to 180 days. Founders promoted the white employees more than 180 days ago, so Evans can't sue over it. He also can't bring up some instances in which employees used the "N-word" because they happened over 180 days ago.
Evans argued that he didn't sign the confidentiality agreement "intelligently, knowingly, and voluntarily," because he had to sign it to be able to be employed. He also says he only had a moment to read it over, didn't have an opportunity to have an attorney review it, and never received a copy. Evans also changed positions and locations within the company multiple times since signing the agreement, which Schulz claims nullifies the clause.
The judge, however, disagreed.
Evans also recently organized It's Not Right, an initiative designed to "start a conversation around issues people face with discrimination, sexual assault and sexual harassment in the workplace." It's Not Right is meeting at Grand On River in Detroit on April 18. Social workers and attorneys will be attending to provide advice. Find more info
here
.
So many restaurants, so little time. Find out the latest Detroit dining news with our weekly food newsletter delivered every Friday morning.