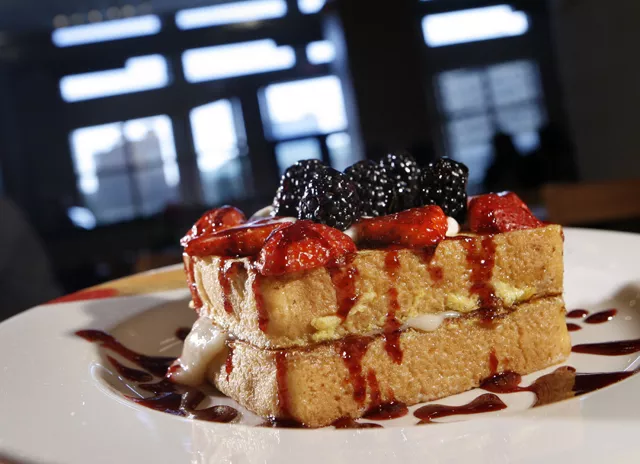 Hudson Cafe
1241 Woodward Ave., Detroit
313-237-1000
Handicap accessible
Most egg dishes: $9-$11
Sandwiches: $9.50-$12
Hudson Cafe, named for the J.L. Hudson's flagship that once stood across the street, does best when it sticks to familiar breakfast ingredients. In two visits, I was two-thirds let down the first time and mostly happy the second. Most of the offerings do hew close to typical breakfast fare; I wish they stuck closer to typical breakfast prices as well. Eleven dollars for an omelet? Five dollars for oatmeal?
The café opened Sept. 30 in the space that, until two years ago, was Frank Taylor's Detroit Breakfast House. I can't discern anything that cries "breakfast" about the space, but the new trio of owners has retained the concept and kept it simple, with minimal but cheerful decor, bare tables and lots of light. The view through the hole left by the dynamited Hudson's is of the People Mover and the downtown library.
Chef Tom Teknos wisely offers seven Benedicts, of which I found one disappointing and one excellent. The misnamed Voodoo puts the traditional poached egg atop a sweet corn cake with ranchero sauce and a ton of chorizo. Chorizo can be a great opportunity for the cook's creativity, but this one wasn't, and it was topped with a mix of tasteless orange-and-white shredded cheese that looked like it came straight off the truck from Sysco.
It's touches like this that make me wonder whether a restaurateur is trying, or perhaps thinks his customers won't notice. Ditto when I learned the fresh-fruit side would be watermelon, melon and grapes — cheap and humdrum. And the same when I sampled an ample but boring "skillet" ($11) — choice of three meats, veggies or cheeses, with the scrambled eggs on top.
To be fair, a skillet gives the cook little to work with, and the person who ordered it was quite satisfied. He likes a standard breakfast, he said. And Teknos confirmed that many, many customers order the tried and true. The club is his most popular sandwich. He said of his omelets, "but you can get those anywhere."
Much better was challah French toast — three large and thick slices, the edges perfectly browned, with a good eggy taste. (Challah includes as many as three eggs in a loaf.) Maple syrup is served in a warmed glass olive-oil pourer, and our experience was that, to get the syrup to pour, the vessel needs to be too hot to hold without a napkin, which is provided.
Challah was the least expensive of the French toasts, at $7.50; they go up to $9.50 for one with a graham-cracker crust or one with banana cream cheese and berries. These looked inviting, huge and fattening as they whisked past on their way to other tables.
A second Sunday, Teknos did the Benedict concept far better with a "Southern," though in truth the only thing Benedictine about it was the way the eggs were cooked. The housemade biscuits that served as the base were tall and tasty with fat (vegetable oil and butter). The ham was thick and plentiful, the poached eggs sat up tall and the "country gravy" was mellow. 
Other Benedicts are the Florentine with spinach and Hollandaise, and — at $9 — "fried egg, meat and cheese on house buns." Hmm, didn't some guy named McDonald make a fortune on that one?
I don't quite get the attraction of chicken and waffle, but it's a venerable combination, beloved by generations. Teknos uses buttermilk deep-fried chicken and a basic, not-too-sweet waffle. The three giant wings look overcooked but aren't, very, and they're a little spicy.
Fine corned beef hash was clearly made on-site, with a nice crust and lots of scallions. I actually prefer a higher potato ratio — the contrast of the softer and blander potatoes and the spicier and chewier meat is what does the trick — but perhaps Teknos' almost-all-meat policy helps to justify the hefty $5 charge.
I am compelled to get hot under the collar about "cheesy grits." The tiny pot of congealed grits (they should be a bit loose) was not very warm, and that same orange-and-white shredded cheese mix was sprinkled on top — not integrated into the grits. If I were to serve such cheese grits to my dad, he'd be bewildered; it would hurt his feelings mightily. 
A final disappointment was a roasted beet and artichoke salad. (The café serves seven sandwiches and five salads, and during the week a majority of its business is for lunch.) Rather than the mixed greens promised, I got iceberg! See what I mean about not trying? No goat cheese either. Teknos has proven he can and often does do better.
In Frank Taylor's time, the place marketed itself as the spot for power-breakfasters. Mayor Bing cut the opening ribbon Dec. 2, so maybe he'll bring in some of the same. Oh, but wait — Bing's not too powerful himself these days, is he? 
The café is open 7 a.m. to 4 p.m. Monday-Friday and 8 a.m. to 4 p.m. on weekends, but it stays open later for special events downtown. Lions fans are legion.