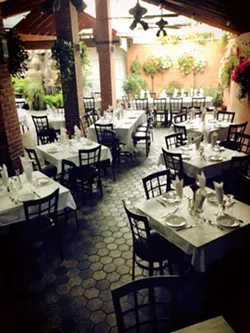 The lineup of participating restaurants at this fall's Restaurant Week, to be held Friday, Sept. 18 through Sunday, Sept. 27, have been announced and 11 eateries are being added. The newbies on the list of eateries that will offer diner three-course, prix fixe dinners include: Bistro 555, Centaur, Chartreuse Kitchen & Cocktails, El Barzón, Gold Cash Gold, Jolly Pumpkin, Mario's, Sindbad's. Townhouse Detroit, Town Pump Tavern and Traffic Jam & Snug.
Of these, several spots will offer signature dishes at a slightly lower price point of $25, including, Jolly Pumpkin, Santorini Estiatorio, Centaur, Bistro 555, Traffic Jam & Snug and The Block (formerly The Grille Midtown).
The Detroit Restaurant Week launched in 2009 as a partnership project between Paxahau Event Productions, the Downtown Detroit Partnership and partner organizations in Midtown, Corktown, Eastern Market and New Center to support and promote fine dining restaurants in the city. Each year, the event has grown to include more restaurants. This year's edition of El Barzón adds for the first time a Mexican establishment that's a bit further removed from the city center. Organizers Paxahau say that more than 380,000 diners have enjoyed DRW to date, generating more than $7 million in sales for participating restaurants.
Peep the full list of participating restaurants here:
24Grille - Westin Book Cadillac Detroit
Andiamo Italia Riverfront - GM Renaissance Center
Angelina Italian Bistro - Madison Building
Bistro 555 - Greektown Casino Hotel
The Block - Midtown
Centaur - Downtown
Chartreuse Kitchen & Cocktails - Park Shelton Building
Cliff Bell's - Downtown
Cuisine - New Center
Da Edoardo Foxtown Grille - Fox Theatre Building
Detroit Seafood Market - Paradise Valley
El Barzón - Southwest Detroit
Fountain Bistro - Campus Martius Park
Gold Cash Gold - Corktown
Jolly Pumpkin - Midtown
La Dolce Vita - Palmer Park District
Mario's - Midtown
Ottava Via - Corktown
PRISM - Greektown Casino Hotel
Roast - Westin Book Cadillac Detroit
Roma Cafe - Eastern Market
Santorini Estiatorio - Greektown
Sindbad's - Marina District
Townhouse Detroit - One Detroit Center Building
Town Pump Tavern - Downtown
The Whitney - Midtown
Traffic Jam & Snug - Midtown
Wolfgang Puck Pizzeria & Cucina - MGM Grand Detroit