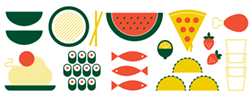 A group of Detroit pop up chefs are preparing a buffet based on the cuisine of Texas to help support the Hurricane Harvey relief efforts.
The lunch is planned from noon to 4 p.m. on Sunday at El Club in Southwest Detroit. All proceeds from the event will be donated to the Greater Houston Community Foundation. A $20 donation is suggested.
The chefs and their dishes include:
MaMang - A five-spice roast pork done Vietnamese-style
Dr. Sushi - Vietnamese-style spring roll with pickled mackerel
Geisha Girls - Sushi table
Brunchify - Vegan waffles prepared in the shape of Texas
Jane's Soups - Signature chili
Sisters on a Roll - Texas caviar and jambalaya
Potluck Kitchen - Mexican-inspired macaroni and cheese
Simple Goodness - A take on shrimp and grits with shrimp and beef andouille gravy over parmesan polenta grit cake w/collard chimichuri and pineapple cheddar cornbread w/avocado butter.
Checkout the Facebook
event page
for more details.