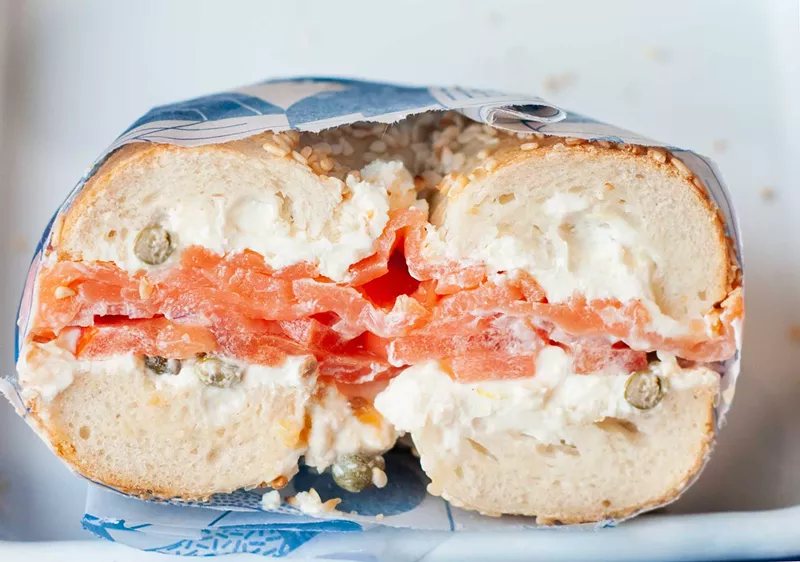 The great thing about an everything bagel with lox, tomato, and a schmear is… everything. It's a flavor binge — garlicky bagel, salty lox, the cool richness of the cream cheese — and if you add, as the Detroit Institute of Bagels does, lemon zest to the schmear — a smart touch — and some tart capers, what's not to like? If the tomato is the same color as the lox, i.e., pale, well, what do you expect in April in Michigan?
If somehow you've been unfortunate to nosh only bagels that present like stones, please learn that they can be bite-able. Detroit Institute of Bagels owner Ben Newman gives credit for his crunchy exterior and soft and chewy interior to baker Jeremiah Kouhia, who used to own Mother Loaf in Milan and also worked at Zingerman's. Kouhia developed a method that involves levain starter, which both shortens the process and adds more flavor. The dough is boiled, dipped in seeds or salt, placed on burlap bags for three minutes in the oven, then flipped onto a stone shelf for more baking. The Institute's oven is small, so the bagels delivered are fresh throughout the day.
I asked how the store keeps the seeds on the bagels — they are remarkably unmessy. Newman says other bakeries have asked the same question, and he doesn't know the answer. Believe me, the seeds stick. The everything bagel comes with sesame and poppy seeds, sea salt, garlic, and a tad of fennel.
The other bagels are classics or those that have become standard in the bagel biz: salt, sesame, cinnamon raisin, rosemary-olive oil-sea salt, Asiago, plain, poppy seed. I found the salt bagel just salty enough, the Asiago too mild.
Newman's aim is to make "Jewish-inspired comfort food" that's worthy of a "trek" to Core City. Kosher it's not — sausage and bacon are on the menu, and neither comes from a bird. He wants to offer the "classic things from Jewish delis that have not been options in the city."
To that end: a new matzo-ball soup, with all the pitfalls of serving a dish that grandma used to make, thus creating opinionated diners. Again, Kouhia came through, testing different brands of matzo flour (Manischewitz won) and of course making chicken stock in house. An $8 serving includes three giant matzo balls and is thick with breast of chicken and plenty of dill.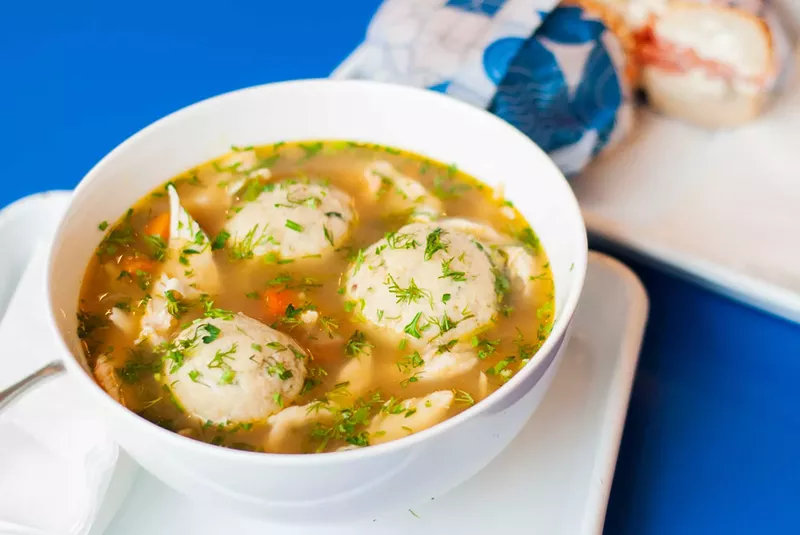 (My first visit to Detroit Institute of Bagels, maybe nine years ago, was for a bris, the circumcision ceremony. Now that's Jewish-inspired.)
DIB opened first in Corktown in 2013, closed in 2020, and reopened in Core City this year. The first iteration put all its sandwiches on bagels, but now breads — rye, challah, and sourdough — are options too (more praise for Kouhia). I took home a $9 loaf of sourdough ($5 for day-old) and found an airy crumb and a subtle level of sourdough flavor.
The sandwiches are either "deli" (lox, egg salad, whitefish salad, tuna, or turkey-bacon-smoked Gouda-avocado) or "breakfast" (scrambled eggs and cheese with various meats or avocado). While the breakfast sandwiches are good enough, with plenty of meat, they aren't different enough to warrant a trek. My whitefish salad was too mild, not smoky enough, overshadowed by the cucumbers in the sandwich, and egg salad needed some oomph. In fact, I'd say stronger flavors would help the Institute all around.
Schmears can be dressed up with strawberry, jalapeño, scallions, lemon zest, or a mix of peppers, radishes, scallions, and carrots. Or you can skip the cream cheese and just spread a "fresh-smashed" avocado.
Sides are well done. A veggie salad of radishes, red onions, cherry tomatoes, and cucumbers was made special by a vegan dill-lemon-garlic dressing, emphasis on the dill. And a large and weighty rye brownie was solid and thick, not crumbly, covered in hazelnuts, with a strong coffee taste. It contains espresso, dark chocolate, and bourbon-soaked cherries: so rich your face sweats.
Potato latkes are in development, requiring, Newman said, "more r&d than I expected." Whatever shape they turn out to be, these will not be French fries! They'll be offered with sour cream or applesauce, of course.
The store is working with Detroit-based vendors: Ma Cohen's for smoked whitefish, Slow Jam for jams, Coffeehaus in Island View for bespoke roasting. Free-range eggs are from the Grazing Fields co-op in Charlotte.
As might be expected, half of DIB's business is carry-out, but I'd recommend Core City Park, which is right out the door, a tree-filled patio ideal for an unhurried Sunday brunch. Delivery is available for $3.99.
Coming soon: Metro Times Daily newsletter. We'll send you a handful of interesting Detroit stories every morning. Subscribe now to not miss a thing.

Follow us: Google News | NewsBreak | Reddit | Instagram | Facebook | Twitter