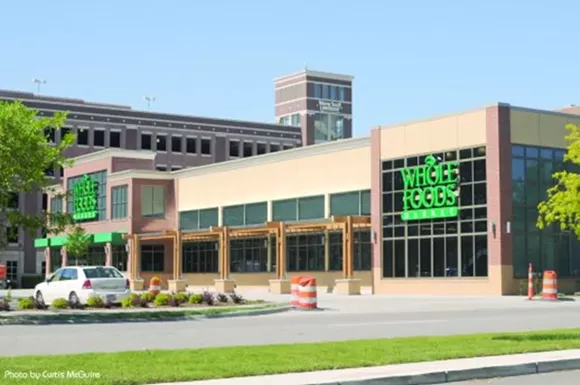 The Detroit Health Department is investigating two Hepatitis A cases possibly related to the prepared foods section at the Midtown Whole Foods Market.
A customer was diagnosed with the highly contagious liver disease after eating prepared food from the store. Health officials found that a worker at the location also carried the illness, a city news release says.
UPDATE: Whole Foods has issued a statement saying that once the store became aware of the worker's illness it contacted the health department and reviewed food logs and safety procedures.
A corporate spokeswoman tells us that the rest of the store has not been impacted. The prepared food section includes the hot and cold delis, salad bar, pizza station, and packaged meals.
Given the risk that the two are connected, the city health officials recommend that anyone who may have consumed prepared foods at Whole Foods Detroit between Oct. 6 and Oct. 12 see a doctor right away.
Those who potentially have been exposed can take a preventative vaccine.
The health department will also offer screenings and treatment for anyone impacted at its two clinics (The Samaritan Center at 5555 Conner St. and The Family Place at 8726 Woodward Ave. Clinics are open 8 a.m.-5 p.m., Monday through Friday, from Oct. 20-Oct. 26.)
"While it remains unclear exactly how either of these individuals contracted Hepatitis A, and we know that Whole Foods Market Detroit has a comprehensive food safety protocol, we want to do our best to protect our residents and those of surrounding communities who may have been exposed. Whole Foods has been nothing but cooperative throughout this process," Dr. Abdul El-Sayed, executive director and health officer at the Detroit Health Department, says in a statement.
No other cases have been reported, but Whole Foods employees are being monitored. The city health department is working with the Michigan Department of Agriculture & Rural Development (MDARD), which has jurisdiction over licensing and food safety in grocery stores.
Hepatitis A is usually spread when a person ingests contaminated food or drink. Symptoms include fever, diarrhea, nausea, vomiting, abdominal, yellow eyes and skin, as well as dark urine, though many people who have Hepatitis A may show no symptoms. Symptoms can range in severity from a mild illness that lasts a few weeks to a severe illness that continues for several months.
The Detroit Whole Foods Market opened its doors in 2013, marking the first major grocery chain to venture into the city in a decade.
Though the chain is as a whole is widely referred to as "Whole Paycheck" for its high prices on organic produce and other food staples, the Detroit location was considered a social experiment. It offers lower prices in an effort to break into urban communities. Since then, it's moved into other neighborhoods considered food deserts, including a
recent opening
in the south side of Chicago.
The Midtown prepared foods section is wildly popular as one of the area's few cheap-ish healthy dining options.

See also:
Whole Foods Opens in Midtown