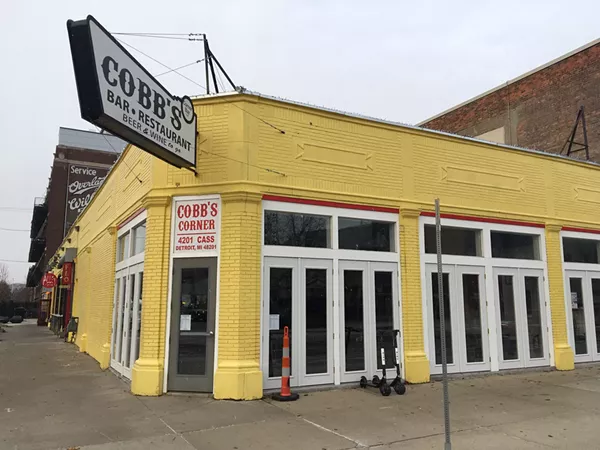 Cobb's Corner Bar has officially become the latest restaurant to open its doors in Detroit's Cass Corridor.

The bar and restaurant announced a soft opening on Nov. 24, inviting guests to visit the establishment on the corner of Willis Street and Cass Avenue. Its menu includes traditional pub fare, such as wings, mozzarella sticks, a variety of sliders, and fried green beans. Signs in the windows say the spot is cash only.
The bar originally opened on Feb. 13, 1970 by Robert Cobb and Greg Murphy, and soon became known as a jazz venue and art gallery
where you could catch acts
like Marcus Belgrave, Griot Galaxy, and occasional national acts.
"When we opened this place [in 1970], Cobb's was a destination, you had to be coming here," Cobb previously told
Metro Times
.
In 1979, a manager was shot dead in a passageway behind the bar. The venue was only open a few more years before closing in the early '80s; since then, the space subsequently housed a food co-op and the former Spiral Collective, which closed in 2016.
The new spot also shares its space with Willis Street gallery. In a nod to its Cass Corridor past, the gallery will feature works by local Detroit artists.
According to signs posted in the windows, the restaurant is hiring bartenders, bookkeepers, cashiers, cooks, and waitstaff.
So many restaurants, so little time. Sign up for our weekly food
newsletter
delivered every Friday morning for the latest Detroit dining news.