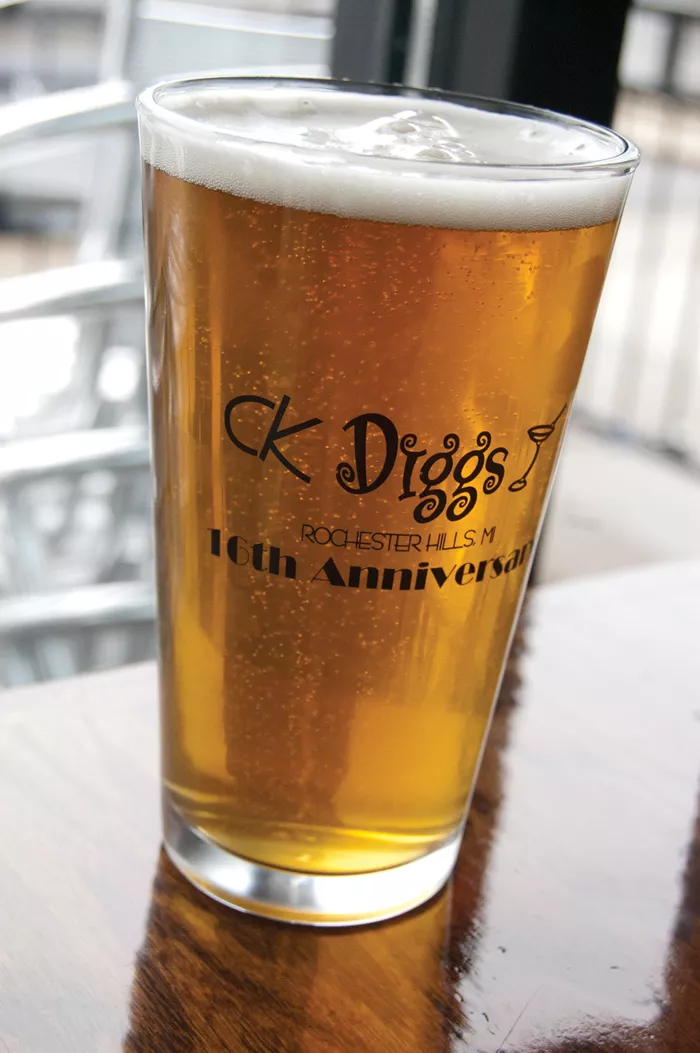 2010 Auburn Rd., Rochester Hills
Open 11 a.m.-midnight Monday-Thursday, 11 a.m.-1 a.m. Friday-Saturday
Offering beer, food, and an authentic atmosphere free of hipsters, pretension, and disingenuous style, Rochester Hills' CK Diggs is celebrating 16 years in business this weekend. A two-day party featuring a Michigan tap takeover will serve as apt festivities for the establishment's "Sweet 16," while a continuously available menu of 40 drafts and upward of 90 bottled beers offer enough excuses to visit the bar, anniversary or not.
Gracious and warm from the onset, owner Chris Khami is addressed by several patrons by name when we arrive by invite to enjoy the bar. He shakes their hands and greets them personally. He knows them by name, too. When he steps behind the bar to show us the newest addition to the bar's anniversary pint glass collection, another guest pipes up, noting she can't wait to get her own, as it's something she anticipates all year-round.
The atmosphere at CK Diggs is similarly warm, although a touch loud. Industrial ceilings with exposed venting vault the place's acoustics, but are softened with warm- wood tables and chairs and stone tile floors. The decor is eclectic in the exact opposite way that Applebee's cheeses it up with contrived school sports gear and faux-vintage posters. CK Diggs' walls are adorned with three original John Gilroy Guinness prints, one of which is signed by the artist. Other odd decorations include a Greek-style statue covered completely in bottle caps. Abstract lighting fixtures, enormous paintings, and a huge American flag are all part of the design scheme, as well.
Khami pours us a draft of OddSide Ales' Bean Flicker Coffee Blonde (which is seriously delicious, by the way, its flavor rich like coffee and chocolate, despite its beautiful, light-gold hue), and we briefly chat about the beer menu and what will be available throughout the anniversary celebration.
Starting at 4 p.m. on Thursday, June 5, the Michigan Tap Takeover will commence, featuring 40 beers from 13 of the state's breweries. Selections from Arbor Brewing Company, Arcadia Ales, Bell's, Boatyard Brewing Company, Brewery Vivant, Dark Horse Brewing, Perrin Brewing, Short's Brewing Company, Dragonmead Brewery, and more will appear, most being poured in those special anniversary glasses for guests to enjoy alongside swag giveaways and free appetizers from 5:30 to 7 p.m.
While CK Diggs specializes in craft beer, even offering growlers that can be purchased in-house and brought back for a refill, they also have a full-service bar. Though they don't offer craft cocktails, a selection of sweet martinis is available; but call drinks are more the fashion here. A few white and red wines are on the menu and three Champagnes are available by the bottle as well, rounding out the offerings if you're looking to bring someone who isn't into Michigan craft beers these days — should you be able to find one.