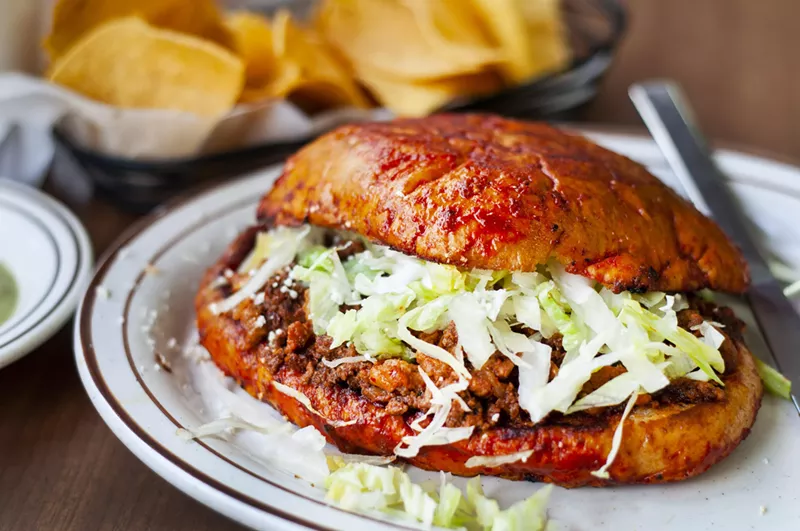 Chowhound is a bi-weekly column about what's trending in Detroit food culture. Tips: [email protected].
Another coat of paint on the praiseworthy: Last spring, Metro Times heaped praise on Southwest Detroit's La Jalisciense Mercado. Now, I'm piling on a little more. While having a Hornitos and soda at a South of the Border hang near home recently, I rubbed elbows with a savvy diner who suggested I try La Jalisciense after we struck up a conversation about our mutual love for chicharrones (crispy fried pork rinds) and tripas (intestines). When I went there, sure enough, it was all that. I found chicharron the size of two-by-fours and copper pots for sale that any proper carnitas-cooking kitchen would be proud to own. And I met Juan Vargas-Lopez, whose family owns the place. He offered me free samples, including a whole, cinnamon and orange-spiced custard (not garden-variety flan, per se, Juan insisted), still warm, cooling at the check-out counter. I let him lead me to the dining room with the promise of a Lent quesadilla that looked more empanada to me when I sat down to enjoy it; stuffed with a filling of some fresh, pre-spring vegetable Juan assured me is harvested just for the occasion. Coupled with a killer relleno-style stuffed poblano and more bite-sized pork rind fritters, it proved a game-changer chow-down that leapfrogged La Jalisciense over my former, longtime Mexicantown favorite, Xochimilco. Muchas gracias, Juanito. Oh, and before I forget, can you get me some tripas? I've got new friends here that I'm dying to feed some to; cut, prepped and cooked like fried calamari. These gringos will never know the difference. Until I tell them afterward, like I love to do.
Skipping church: Weeks ago, I emailed a few fellow food scribes, inviting them to coffee and some conversation regarding what we do for a living. "Critics" (as we're often considered) occupy what's generally perceived as a bully pulpit from which a privileged few preach on restaurant industry vice and virtue. Most people I've known who've learned I'm one such pontificate have tended to assume my job's just about eating for free and passing judgment as I see fit. The reality's a bit different, and something I'm working on revealing to foodie readers through a piece I recently pitched to other dining editors around town. In "Critical Mass: Opening the Restaurant Reviewer's Bible," I'd like my colleagues and I to speak candidly about our craft, in all its privileges, potential pitfalls, and absolute responsibilities. I'd orchestrated the same roundtable talk previously in a Phoenix publication (Serving Arizona magazine). It triggered quite a reaction from restaurant-goers and restaurateurs alike, further informing everyone involved on what readerships really look for and respond to on the foodie news front. Alas, I've yet to hear back from anyone else covering Detroit's dining scene. Granted, new to their company as I am, they don't know me from Adam. If they did, they'd know I'm dead serious about making a collective commitment in our service to consumers and food businesses across the great gastronomic State of Michigan. Hopefully we can all get together on this someday soon and make such a statement, for the record. (You can reach me at [email protected])
Restroom Robin Hood: It cost me $200 once to drop a deuce. Highway robbery you say? Exactly. It happened one night when I felt the need to do my business at work. My wallet must have fallen out of my pocket when I dropped my pants. Unaware, I returned to my post-doody duties, never realizing what I'd lost until getting home late from the restaurant. After futile searches of my car and the house, and a call to the opening crew early the next morning, I did what I had to; canceling my credit cards while checking anxiously for any transactions made by anyone who might have picked up the wallet with the $195 I knew I had in it.
Days passed. Happily, no illegal card purchases happened. Sadly, it was the early '90s, so it took a week or so for my new cards to arrive. A few days after that, somebody sent a package to me at the restaurant. There was no return address. Sure enough, my wallet was packed neatly inside, still filled with my now-canceled credit cards and I.D. The money, though, was gone.
In a column I wrote for the then-Scottsdale Progress newspaper, I thanked my bathroom bandit for not trying to run-up my credit limits and for sparing me a trip to the DMV to replace my driver's license. But I also questioned his selective sense of chivalry; cleaning me out of my cash and yet going to the trouble and expense of mailing me back my billfold (then again, I'm pretty sure I paid that postage). At the end, I offered Mr. Felonious a few theoretical thoughts to consider. What if I had needed that $195 to feed my family, or to buy diapers and such? What if the loss of those dollars meant missing a car payment (again, it was the '90s)? As things were, it wasn't that big of a deal, thank God. Still, my robber's joke of a gentlemanly gesture demanded I return something apropos to the sender. Tipping him off to a potentially even more profitable next heist, I closed by telling him my dog had just eaten one of my wife's pearl earrings and suggesting that stopping by the house, scooping up the doggie doo in our yard, and picking through it might continue to make my world his oyster.
In hindsight, the whole episode reeks with outhouse humor. This guy was a thief trying to get away with imagining himself a better man: something of a swashbuckler, I suppose: able to swoop in after a poop and daringly claim his booty just inches from where mine had just sat and shat. Now, there's a hero.
Coming soon: Metro Times Daily newsletter. We'll send you a handful of interesting Detroit stories every morning. Subscribe now to not miss a thing.

Follow us: Google News | NewsBreak | Reddit | Instagram | Facebook | Twitter