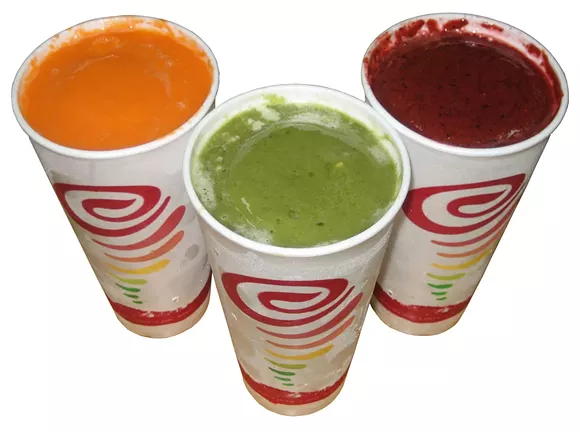 Seems metro Detroit will caught up on the early aughts Jamba Juice craze when the chain expands to several locations in metro Detroit, starting next year.
Per an
MLive
report
, franchisees Kevin Denha and Omar Ammori will run 20 new locations throughout the area. Currently, we've got the smoothie chain in Canton and Livonia.
Starting in 2017, the blended drink spots will be added inside five Meijers and three individual stores, the website says.
Jamba Juice, founded in 1990 on the granola-ish central California coastal town of San Luis Obispo, the chain exploded in popularity throughout the '90s and 2000s, with more than 800 locations in North America for its variety of smoothies, fresh juices, and light bites (in fact, at one point in this writer's college days, you would have likely seen her gulping down a banana berry smoothie between classes).
Its expansion in metro Detroit could be met with some healthy competition from the many independent smoothie and juice shops already enjoyed throughout the region.
Some of our favorite spots to grab a blended fruit treat include: local chains like Beyond Juicery+Eatery chain (Birmingham, Troy, Southfield, Eastern Market), Seva (66 E. Forest Ave.), Cacao Tree Café (204 W. 4th, Royal Oak), the pricey but freshly-pressed Drought juice line, and shawarma joints like Royal Kabob (3236 Caniff).