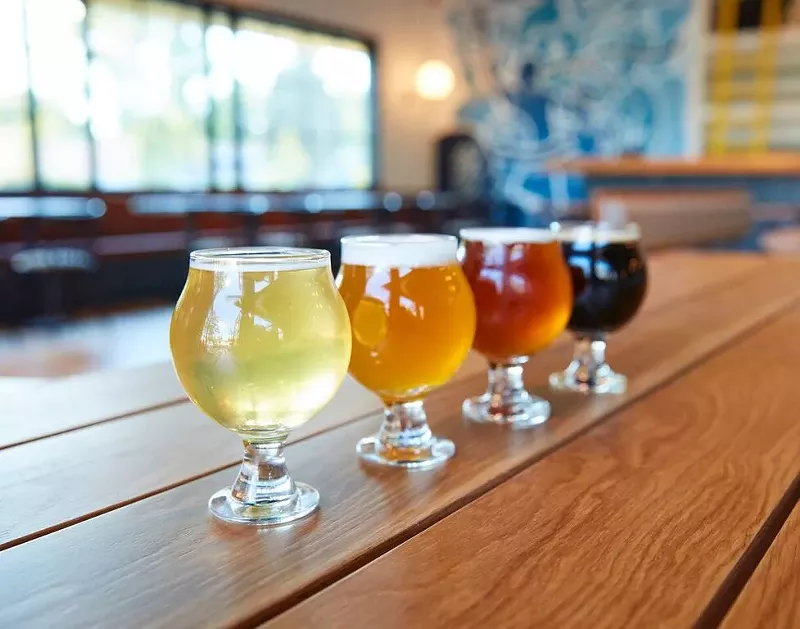 Camp Bacon
Zingerman's five-day festival celebrating all things bacon returns for its ninth year on June 1, with a variety of events, including a visit from Rick Bayless, films, cooking classes, kids events, and sample-heavy street fair.
The main event on Saturday, June 1, features a wide range of speakers presenting a variety of bacon-themed talks, including snout-to-tail cooking, the role of pork in African-American cuisine and culture, bacon and architecture, sustainable pig farming, the history of pigs in dinnerware, and a lot more. Featured speakers include Rolando Beramendi, François Vecchio, Stephen Satterfield, Arturo Sanchez, Eddie Hernandez, Margaret Carney, and Susan Schwallie.
See Camp Bacon's
website
for more info and to purchase tickets.
Livernois Tap's one-year anniversary celebration
Axle's Livernois Tap is celebrating a year in which it crafted more than 40 new beers, hosted a number of dining events, including their first Oktoberfest, and launched the Livernois Barrel Project with the release of the critically acclaimed barrel-aged imperial stout Wolf Tone.
During the June 1-3 celebration, guests can expect throwback menu specials, beer releases, and a raffle. That means well-loved menu items from the opening menu, such as the iconic Bologna Corn Dog, Coney Island Paté, and Crispy Animal Parts. Additionally, all visitors will be entered to win prizes such as access to beer dinners, the Tap's October 13th Oktoberfest celebrations, and 'Beer for a Year' to the ultimate prize winner.
See Livernois Tap
here
for more info.
Metro Detroit's best brisket at Painted Lady Lounge
For 364 days out of the year, metro Detroit is devoid of truly excellent brisket. Then Painted Lady Lounge owner Andrew Dow makes brisket on Memorial Day, and the sky splits and angels sing above his small Jacob Street bar in Hamtramck.
The Painted Lady is at 2390 Jacob St., Hamtramck.
BravoBravo! black tie gala at the Detroit Opera House
This year's BravoBravo! will offer three floors of music, dancing, food, and booze all put together with a theatrical decor inspired by
Don Giovanni
,
La Bohème
and other operas. That also includes a
Hansel and Gretel
dessert room, a
Die Fledermaus
champagne bar and a
Carmen
sangria station. Guests are encouraged to embellish their black tie attire with theatrical accessories to take part in the theme.
The food and beverage roster is filled with some local favorites including Cheli's Chili Bar, Detroit Beer Company, Dilla's Donuts (serving its donuts in Dilla-themed room in which Dilla's nephew will deejay), Good Cakes and Bakes, GO! Smoothies, MGM Grand Banquets, Palette Dining Studio, Ruckus Taco Co., Small Plates, TAP at MGM Grand Detroit, the Melting Pot, YumVillage, and Wolfgang Puck Steak.
Spacecat V-stro Vegetarian Comfort Food pop up
Spacecat pops up on Sunday in Nancy Whiskey in Corktown for delicious vegetarian comfort food, cheap drinks, and Cornhole! On the holiday weekend menu are beet and lentil sliders, vegan chili mac, crispy "chkn" sandwiches, vegan Philly cheesesteaks, vegan kale slaw, and whiskey blondies.
Find info
here
.
Dr. Sushi, Street Beet at Cultural Traffic
The independent publishing fair hosts on Memorial Day independent and experimental publishers, artists and dealers of vintage books, ephemera and pop culture. The schedule also includes a program of live events, exhibitions, readings, music and artist-led performance, which, for this edition, will feature the Mott Collection exhibition.
Street Beet and Dr. Sushi will be taking care of refreshments. Dr. Sushi will be offering hiramasa, bigeye tuna, red snapper, and vegan futomaki.
Giordano's Pizza
Chicago deep-dish pizza maker Giordano's is launching "spunky drinks" in time for Movement. That means fish bowls of Massive Mules, Jack the Big Lemonade, and so on for $24, as well as a You Call it Flight and Yard 32-ounce beer both for $12.
Giordano's Pizza is located at 1224 Randolph St., Detroit.
So many restaurants, so little time. Find out the latest Detroit dining news with our weekly food newsletter delivered every Friday morning.